Network Operation Center (NOC)
As networks are converging, so are network operation centers. Today, there is no longer a separate radio, TV, broadband, cable, telco, satellite, or IT operation. Instead, NOCs are built to be an "AND" story, where media, broadband, different access networks and IT seamlessly melt together into a single and smooth "service operations center". DataMiner is the glue across all network segments, technology domains, business areas and teams.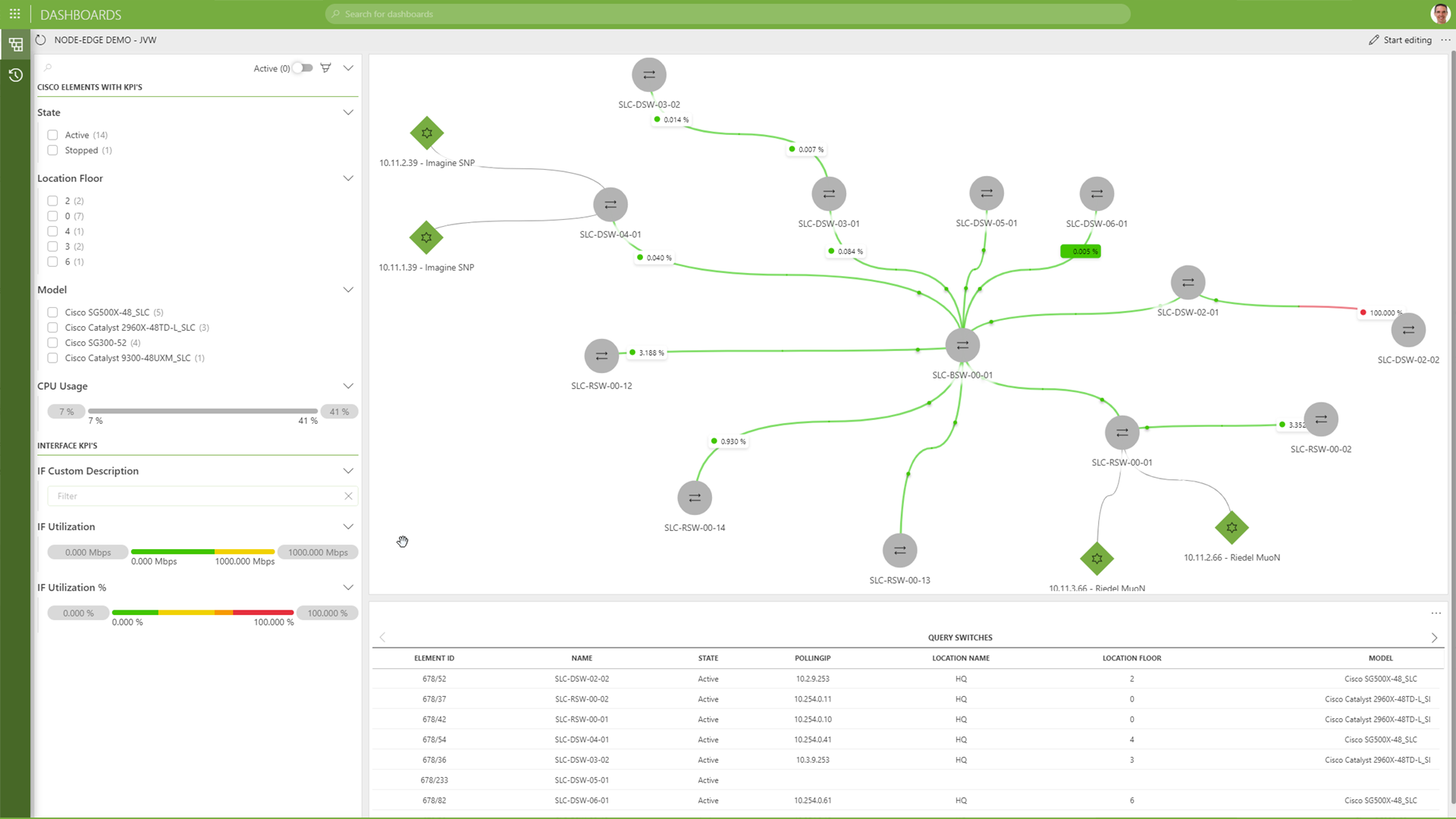 DataMiner serves as a single pane of glass and single source of truth for your entire operation.
Integrate any data source from any vendor. As an open platform, DataMiner is integrated with 6000+ APIs out of the box, and new APIs are integrated on a daily basis by Skyline Communications, system integrators and customers.
DataMiner includes specific applications tailored towards media, broadband and IT services.
Integrate with any network technology and architecture: dark fiber or CWDM, L2/L3 or MPLS IP networks, SONET/SDH/TDM, CDN, satellite SCPC or VSAT, cable HFC and DOCSIS, DSL, FTTx, Wi-Fi, 4/5G RAN, cloud interconnects, etc.
Manage any hardware product, appliance, software system, telemetry data source, virtualization layer, container deployment or multi-cloud deployment, as the DataMiner NMS is fully agnostic to network deployment.
DataMiner IDP includes workloads for inventory discovery, zero-touch NMS provisioning, network element configuration management, software image management, automated rack visualization, etc.
Eliminate network and infrastructure oversubscription at all times, even when services are scheduled ahead of time with DataMiner resource and capacity-aware service life cycle orchestration (LSO).
Deterministic implementation of network security workloads: Network security is embedded into the service life cycle orchestration, e.g. dynamic setup of access control lists, host and flow policies, etc.
Multi-point and multi-format service confidence monitoring from ingest to distribution.
Local and remote eye: single-touch local and remote feed backhaul, either full resolution or compressed.
Monitor by exception with user-configurable penalty box behavior and look and feel.
User experience (UEx) monitoring with powerful KPI and KQI aggregation, trending and alarm monitoring on network and service topology, CPE device brand/OS/SW version, network provider, etc.
Comprehensive service overview dashboards with detailed drill-down to service east-west (E-W) topology views as well as the service north-south (N-S) deployment stack.
Manual and automated service redundancy and restoration.
On-screen operator guidance showing suggested corrective actions (AIOps).
Support operators with constant artificial intelligence (AI) assistance:

Forecast of metrics and counters, trend analysis.
Intelligent fault detection such as configuration and behavioral anomaly detection, and also proactive warnings (proactive cap detection).
Incident detection using smart alarm grouping, focus alarming, automated root cause detection.
Augmented operation based on assisted data analytics and adaptive dashboards, and a continuous roadmap to add more AI into all aspects of the operations.

Full control and setup of NOC infrastructure including video walls, desks, intercoms, T&M, confidence monitoring probes, signal processing, signal routing and switching, signal backhaul, etc.
Fully automated scheduling of desks and staffing to the work schedules.
Virtual desks with context-aware signal and flow routing that is fully transparent to the operator: "Follow the service", "Follow the operator", "Follow the schedule".
Integrates with fixed hardware panels and smart panels for intercom, signal routing or any other workflow execution.
User-configurable software routing and button panels can trigger simple routing commands but also the most complex redundancy or service life cycle orchestration scenarios.
Integrates with your existing OSS tools and databases including trouble ticketing, incident handling, network implementation, field operations, planned maintenance, CRM, network inventory, interactive voice response systems, first-line call management, etc.
DataMiner acts as an "OSS message bus", connecting all your OSS systems together in the most efficient manner. DataMiner shares all data sources with your L1/L2/L3 operations and engineering teams, but also exchanges data from one OSS tool with another OSS tool (push/pull). DataMiner can for example easily create a trouble ticket containing real-time stats measured from the network, the network access node, planned maintenance records, customer information, geo-information, etc.
M2M integration with collaboration tools such as Microsoft Teams and Slack.
Associated Markets:
Media Production
Media Production - News Gathering
Media Production - eSports
Service Providers
Service Providers - Cloud
Service Providers - Cloud - Media
Service Providers - Cloud - Broadband
Service Providers - Satellite
Service Providers - Satellite - Teleport Operators
Service Providers - Satellite - Media
Service Providers - Satellite - Broadband & ISP
Service Providers - Satellite - Cellular (Cellular Backhaul & Trunking)
Service Providers - Network
Service Providers - Network - Data
Service Providers - Broadband
Service Providers - Broadband - Cable & MSO
Service Providers - Broadband - Telco
Service Providers - Broadband - VSAT
Service Providers - Broadband - WiFi
Content Distribution
Content Distribution - DTT
Content Distribution - Cable & MSO
Content Distribution - IPTV
Content Distribution - MobileTV
Content Distribution - OTT
Government & Defense
Government & Defense - Border Security
Government & Defense - Disaster Recovery