Service Providers - Broadband
Wi-Fi
Enterprise customers and communities increasingly rely on service providers to deliver broadband Wi-Fi connectivity across their widespread network of offices, facilities, stores and public place. In fact, service providers have the knowledge and scale to build broadband networks that can be shared with many organizations in a cost-effective manner. Reliability, performance and uptime of the networks is business critical, but equally high (or higher) ranking is network security. Since a single network is shared by multiple customers, security workflows need to be automated and be made an integral part of the service life cycle orchestrator (LSO). DataMiner is the platform of choice; not only does the platform integrate with any API from any element and system in the network, end to end, the platform also comes with the necessary security and access control that enables VNO type of operation. When sharing network capacity and network infrastructure, care must be taken to securely orchestrate the network.
The same goes for granting business customers access to the status of all Wi-Fi access points, service quality, capacity utilization and planning portals, and much more. In such networks, DataMiner is the secure agent that sits between the network, the Wi-Fi access points, and tailored customer portals for your enterprise customers.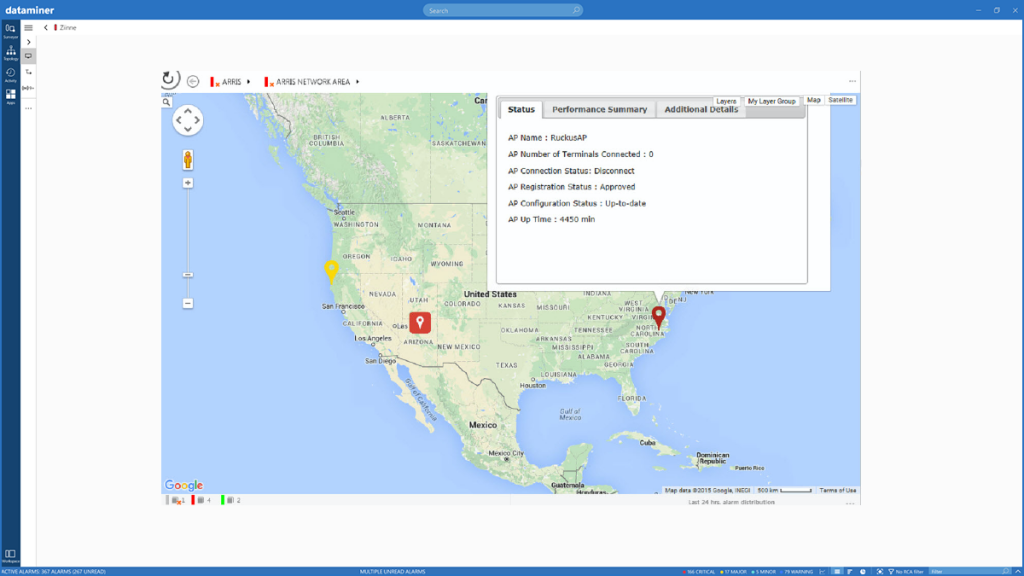 Workflow automation
DataMiner supports workflow automation for network implementation, service creation, service provisioning, service troubleshooting (e.g. tune to another Wi-Fi channel), capacity planning and allocation, maintenance planning, helpdesk automation such as automatic IVRS programming, etc.
Performance KPIs and SLA conformance
Measures, monitors and tracks performance KPIs and SLA conformance on all levels and for all customers: broadband service quality (speed, jitter, latency, availability, etc.), RF performance (channel performance, interference, etc.).
Intuitive dashboards
Intuitive and analytical dashboards with full details are available to the SP ops team, whereas filtered dashboards are available to the business customers. Everyone wins with DataMiner.