Service Providers - Satellite
Cellular backhaul & trunking
Higher broadband speeds, lower latency and better coverage: 5G is definitely here to stay. Satellite plays a key role in getting every business customer and consumer connected at all times. Converged networks rely on both GEO and LEO constellations to balance cost, reach, throughput and latency. The wide variety of services on the network, ranging from human critical voice services, low volume IOT, to high throughput media consumption, put a strain on the management of available capacity and service quality. DataMiner is an essential platform that gives full visibility and control, but also process automation across the entire infrastructure and all services.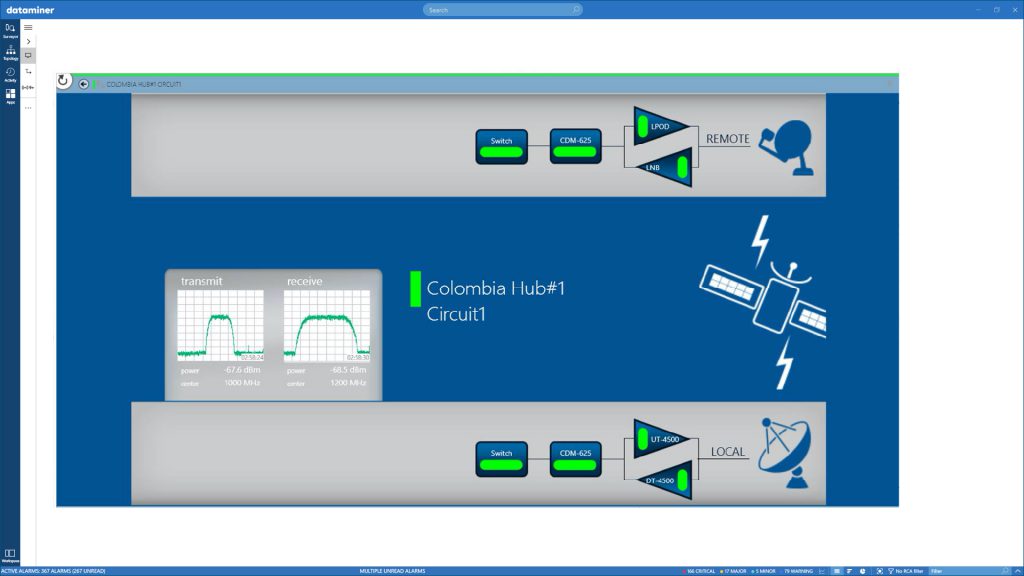 Remote monitoring and control of all facilities, stations, towers and Wi-Fi hotspots
Remote monitoring and control of all facilities, stations, remote cells and even Wi-Fi hotspots. Manual or automated service restoration including geo-redundancy, fiber restoration over satellite including reliable capacity allocation, antenna backup, RF chain redundancy, etc.
Manage data plane, control plane and environmental infrastructure
Manage IT infrastructure, fiber and satellite SCPC & VSAT connectivity, IP compression and acceleration, and environmental.
Measure, aggregate and report performance, utilization and service availability (SLA) KPIs
The DataMiner platforms comes with a vast range of artificial intelligence (AI) algorithms to provide deepest insights into metrics and counters, forecast behavior and proactively raise alarms before services get impacted, report abnormal configurations and behavior in the system, group alarms automatically into incidents, automatically pinpoint root causes of incidents, and much more.