Become a certified
Scripts & Connectors Developer in SNMP Basics
This certification is intended for developers who will handle basic SNMP integrations with any type of vendor including other DataMiner components.
---
Price per user: 1600 EUR/2200 USD/2640 SGD excl. VAT
Optional: 3 months DaaS: 1200 EUR/1650 USD/1980 SGD (excl. VAT) (price per company)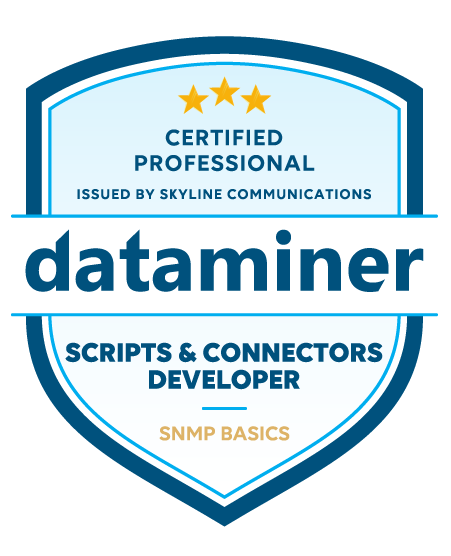 Summary
To become a certified Scripts & Connectors Developer in SNMP basics, you will need to pass our hands-on, performance-based exam. Your knowledge will be tested with different types of assignments via hands-on tasks on an online DataMiner certification platform. Your assigned examiner will guide you through the certification process.
The exam consists of:
An offline test with multiple choice questions.
An assignment where you will need to create your own connector.
Topics
The topics that will be quoted during the exam are:
Front-end
Card layout.
General guidelines like tooltips, ranges, etc.
Alarming and trending.
Etc.
Back-end
General coding guidelines such as names, IDs, and structuring.
Timing strategy.
Maintainability, readability, performance.
Etc.
Communication
HTTP API.
Polling strategy.
Port settings.
Etc.
Prerequisites
In order to be fully prepared for the Certified Scripts & Connectors SNMP Basics exam:
Requirements
You have successfully obtained the DataMiner Operator and DataMiner Administrator  certificate of expertise, or gained expertise through experience.
You've got questions?
We have answers! Have a look at some frequently asked questions about the DataMiner Certification Program.