Cable and MSO
Cable operators and MSOs are going through large-scale changes in business models driven by competitive broadband, TV and OTT offerings. The resulting digital transformation programs are driving technology and operational transitions. CFOs help to make technology choices, with in mind financial risk reduction and transparent activity based costing programs. Choices for virtualization and cloud tech is in many cases the result. Similarly, operations need to be streamlined and automated to support modern agile processes, increase reliability, reduce overhead, and to integrate with newest complex and cloud enabled media networks.
Never has a multi-vendor, AI-enabled network management and OSS platform been so strategic to MSO's and cable companiess. That is why a vast majority of operators selected DataMiner to be their single end-to-end orchestration and monitoring platform for media.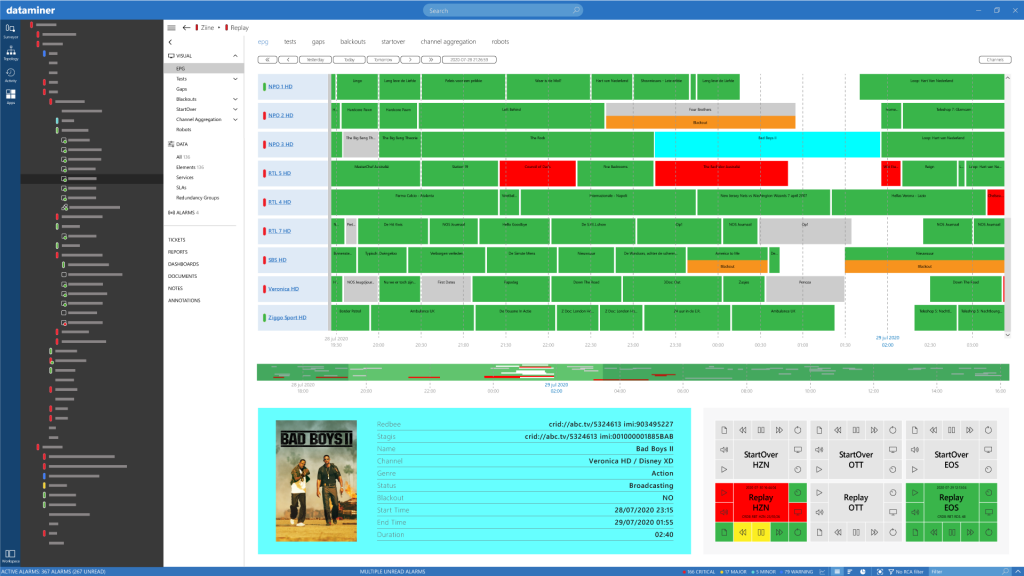 Single pane of glass
A single pane of glass for service implementation, deployment, orchestration, delivery, troubleshooting and quality assurance workflows.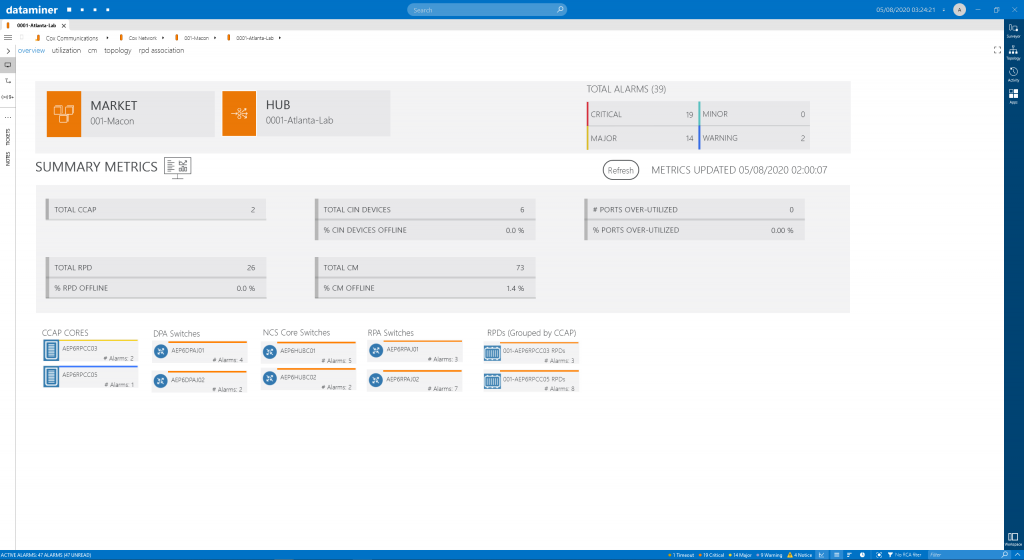 Management of media and broadband pipelines
Management of broadband and media (OTT/broadband IPTV/broadcast MPEG-TS) pipelines deployed on premises, in the cloud or hybrid. Those pipelines may contain an unlimited number of media functions such as transcode, packaging, mux, Conditional Access (CA) and Digital Rights Management (DRM), Dynamic Ad Insertion (DAI), origination, streaming, etc. DataMiner also manages the full underlying broadband pipeline including CCAP and media service cores, CIN network, HFC distribution over analog and digital fiber, or FTTx.
Experience & Performance Management (EPM)
State-of-the-art Experience and Performance Management (EPM) ingests data from multiple millions of CPE devices, and aggregates network and service performance KPIs on network topology (RF, DOCSIS, broadband and media KPIs) and service group topology (capacity management for broadband, VoD, broadcast service groups).