DTT
Whether you operate a DVB-T(2), ISDB-T or ATSC network, the challenges to deliver services to the SLA targets are the same. Terrestrial networks are unique by nature. There is the need for managing workloads that are spread over a large geographical area. Remote connectivity to regional or transmitter sites may be a challenge, relying on low bandwidth/high latency pipes or even running in-band and unidirectionally. Given the limited terrestrial bandwidth, complex automation is required to schedule timesharing of services, and change the service audio, video and metadata components on the fly. Furthermore, as new standards such as ATSC 3 emerge that combined OTT with terrestrial delivery, the complexity of the network increases, as does the level of cloud deployments. Consequently, an end-to-end multi-vendor and AI enabled platform is of great strategic importance to any DTT operator.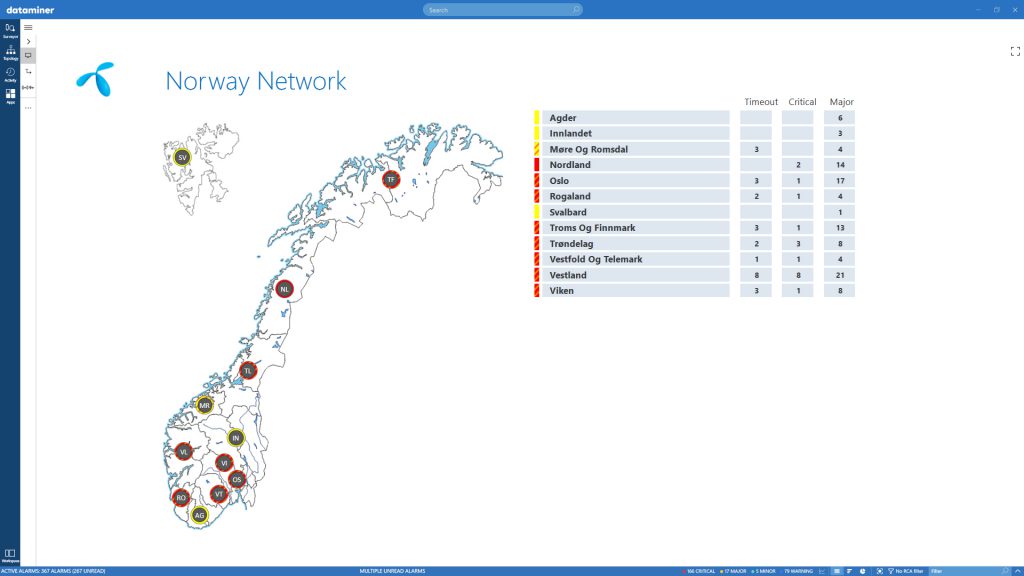 Single pane of glass
DataMiner makes your wish come true: the world-leading platform gives you a single pane of glass to control and monitor the entire network across any product and technology boundaries. Media and advertisement ingest, orchestration of master and regional headends, management of transmission links to towers (microwave, satellite SCPC & VSAT, fiber), monitor and control of the full transmission tower infrastructure including redundancy switches, media gateways, transmitters and RF, monitoring probes, but also facility security switches and cameras, sensors for temperature, generator fuel levels, fire detectors, etc.
Interactive experience
DataMiner lets operators enjoy the richest interactive experience through comprehensive system overview dashboards, contextual and intuitive click-through to infrastructure, services and SLA domains, process automation for ticket handling, planned maintenance, and many other workflows. You have it all right at your fingertips with a single NMS/OSS platform.
Dashboards
As a network operator, you can also share dashboards in real time to the broadcasters. Such dashboards contain alarm information, KPI performance tracking and SLA compliance stats amongst others.