OTT
The landscape of pay-TV operators, content aggregators and broadcasters is changing fast: OTT streaming companies create original content and deliver live broadcast. Service providers bundle OTT in the package, and broadcasters launch tailored OTT bundles. The dynamic is accelerated by the COVID-19 pandemic, further driving CTOs to push processing and media edges into the cloud.
Whether we consider pipelines for content creation, aggregation of linear and file assets, playout, distribution headend, ad insertion, CDN delivery, etc., virtualization and cloud deployments have become the norm. The reality is that operators are often forced by different technology suppliers to use their proprietary monitoring, deploy and orchestration stacks that are not up to the challenge of managing cloud workloads. Obviously, NMS and OSS stacks are not the core business of those vendors, but they do create a strong vendor lock-in, result in a siloed and expensive operation, and against all odds, most often demand a fixed capacity allocation in the data centers! Wasn't the whole idea of data centers to share infrastructure dynamically over different functions?
DataMiner is an NMS/OSS stack that is fully multi-vendor, guaranteed to interoperate with just any technology and API in the control and data planes.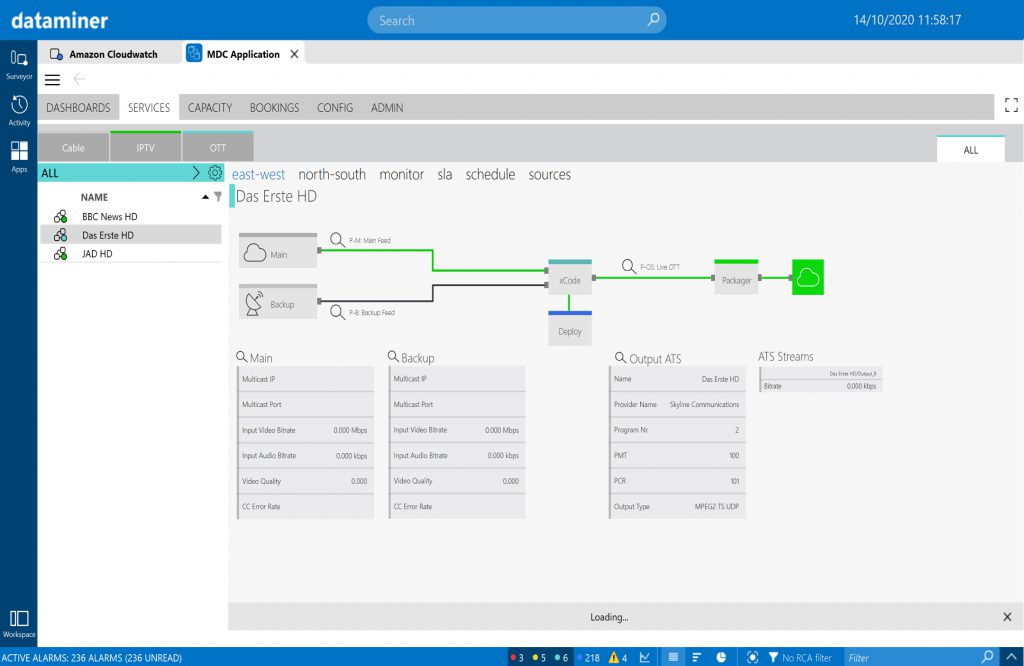 E2E Service Delivery
End-to-end service delivery pipeline automation for content production, playout and streaming in a multi-cloud/multi-vendor environment: choose the best fit technology or cloud provider at any moment in time. Benefit from redundancy across functions provided by different suppliers (technology redundancy) and enjoy the freedom to switch technology easily!
Single pane of glass
A single pane of glass to deploy, orchestrate and monitor the full media and IT stack for OTT and the content delivery network (CDN). DataMiner even collects stats from end user player and report user experience (UEx) per channel, channel category, content provider, per CDN, per format, per handheld device, per OS, per player, and much more.
CI/CD
DevOps-style systems management: Continuous Integration (CI) of APIs and workloads, Continuous Deployment (CD) of data and control pipelines on premises, in private or public cloud, and Continuous Operations (CO) fully aligned with the actual deployment at all times.