Satellite B2B and B2C VSAT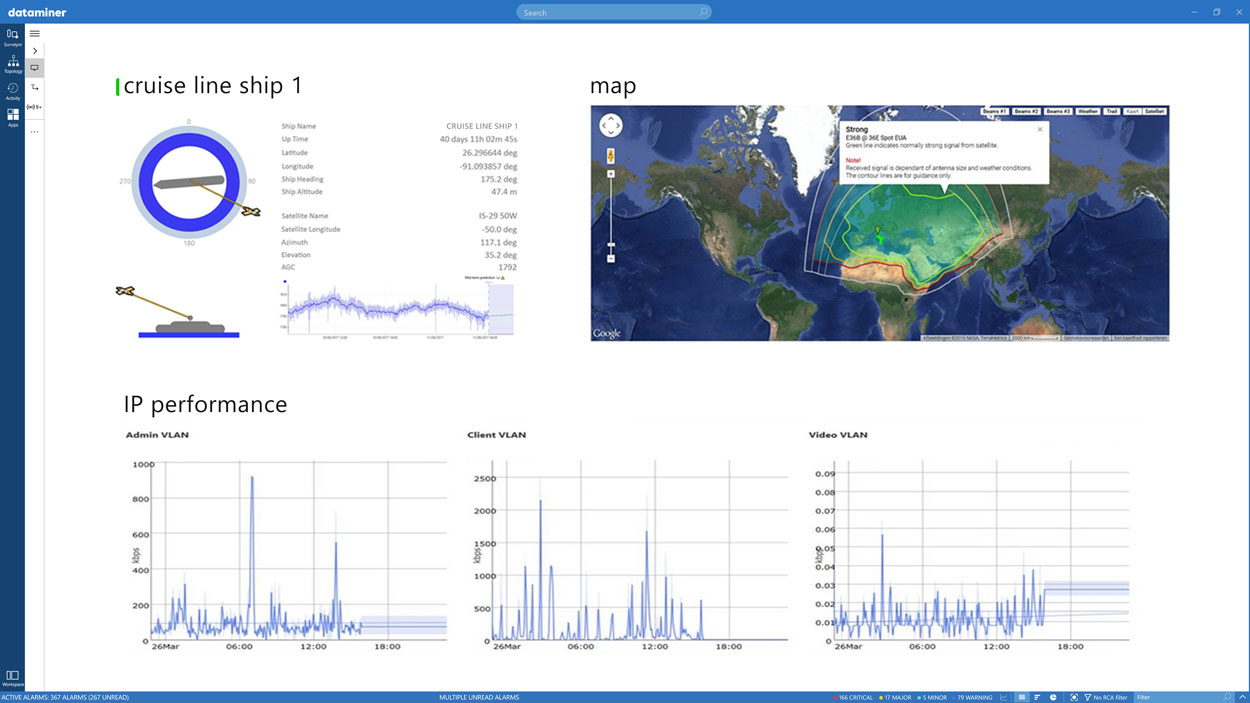 The need for broadband connectivity and access to data at any location is booming. Whereas telco ecosystems are largely built using fiber, 4G/5G network access and global cloud connectivity, satellite has become an almost ubiquitous technology in many communication systems. And it is growing. At present, huge investments in space, launchers and ground segment are witness to the need to be connected everywhere, conveniently, securely, and above all with a good user experience.
Innovations in space are outperforming those in ground segment technologies; the advances made in LEO/MEO constellations are massive, and new space is here to stay. Satcom technology vendors are in a race to catch up, realizing that improving VSAT efficiency (bits/Hz) is no longer sufficient to stay relevant. The mandate is to turn what were traditionally closed ecosystems into open platforms (open API and interoperable RF), while leveraging ICT cost points, and of course use the agility and scale of cloud processing and networking (virtualization).
While ground segment data plane innovations are accelerating, the need for intelligent orchestration, convenient collaboration in the digital value chain, and user-experience management bubbles up high on the priority list of service operators. DataMiner rises to the occasion perfectly, bundling domain knowledge of its vast base in satcoms today with extensive experience in managing converted IP networks and cloud platforms.
Integration with any API
The DataMiner ingest and control plane integrates with any API in the network: legacy VSAT hubs and remotes, RF fixed and steerable antennas and RF processing, IP networking and acceleration, ICT data centers and multi-cloud platforms & services, etc.
Modem virtualization
Modem virtualization comes with many operational changes. DataMiner deploys virtual modems on demand, in your private data centers or in the public cloud. Managing software images, activating the correct waveforms in the right locations and at the right time, and planning and tracking license utilization: these are just some of the new requirements operators face. DataMiner orchestration and monitoring is indispensable to run your operations.
Satellite capacity management
Satellite capacity remains an important cost factor in any VSAT operation. Well-conceived and automated planning of bandwidth on GEO satellites, HTS beams and LEO constellations is vital. While DataMiner does not schedule VSAT packets itself (that is the task of the VSAT hub packet schedulers), it does manage bandwidth allocation and VSAT terminal policies.
Operating NGSO constellations
Operating NGSO constellations has its own very specific challenges. Compared to GEO satellites, speed in operations is critical. Any event, incident, performance analysis, etc. must be completed and analyzed within the satellite contact schedule time limits.
DataMiner ingests ground station connection schedules, satellite tracking data, beam plans, and much more into its unified data lake. Consequently, operators always have the convenience of instant and rich contextual info with any data set they work with. There is no time to swivel chair across systems, or even to have one management system report to another. In NGSO, full observability and actionability means so much more: speed of data ingests and processing, well-designed UIs, live countdown of tracking slots, etc.
Satellite VSAT broadband connectivity management
Satellite VSAT broadband connectivity is essential to the delivery of a vast set of commercial and government communication services. Fixed and mobile broadband, data links, 4G/5G backhaul, voice calls, live media exchange, OTT delivery, file transfers … just to name a few.
Within this diversity of services, there are also very different user expectations. The impact of raw broadband KPIs such as speed, latency, jitter, and availability may affect the user experience in very different ways.
DataMiner ingests raw RF, VSAT scheduling and IP broadband KPIs, and augments those with end-user service quality indexes such as file re-transmissions, OTT delayed start and rebuffering events, media transport stream continuity count errors, and much more. Full observability on network QoS and end-user UEx is essential to delivering on commitments.
The DataMiner Aggregation Module processes and aggregates vast sets of data in near real time from all network and cloud systems, as well as user terminals, and presents an actionable environment to operators, capacity planners, service assurance teams, etc. Since data is nicely aggregated to carriers, satellites and transponders, frequency bands, service QoS groups, VSAT terminal types and software versions, VNO operators, and any other imaginable aggregation rule, teams can act fast and accurately at all times. Automated SLA tracking and reporting is therefore at the fingertips of any service operator.
Management of terminals
Managing terminals, hardware-based or virtualized, is an ever-increasing challenge. The breadth of terminal functions – often downloaded as apps on the terminals – grows with the number of applications.
Terminals may be consumer modems, B2B business terminals or Wi-Fi hot spots. Complexity of mobile land, airborne and maritime terminals is even higher; think for instance of tracking movement and position, beam switching, network roaming and even weather forecasting.
If terminals are not continuously fed with the right data, they run idle. DataMiner is most often the glue in collecting and sharing data across the VSAT infrastructure.
Augmented operations
Turning chaos and complexity into simple operations can no longer be done using fixed configurations. Fixed alarm thresholds, correlation and RCA rule sets, fixed visuals and static dashboards … those techniques still bring value but no longer meet the needs to operate a highly dynamic and diverse network.
DataMiner artificial intelligence augments the operator experience without supervision or configuration. Several algorithms in DataMiner assist in detecting anomalies, signaling upcoming SLA breaches, monitoring trend changes, filtering focus alarms, and much more.
Digital transformation
Nowadays, every service provider and operator has to become digital to participate in the value chain with success, and that is no different to VSAT service operators. Whether you're operating in a B2C, B2B or B2B2C model, digitization of OSS/BSS and provisioning workloads brings speed, reliability and cost reduction in your operations.
DataMiner interacts with any system in your enterprise, with systems of your suppliers (satellite capacity providers, cloud providers, fiber connectivity providers, etc.), and with customers, providing them for example with self-service portals and real-time SLA reporting. The DataMiner Cloud Platform (DCP) is instrumental in facilitating x-enterprise digitization of processes.
---
Learn more about DataMiner for Satellite B2B and B2C VSAT with our Free Webinar
Please note that you need to be logged in to access our video library: in the top corner of the screen, click LOG IN and authenticate yourself with your corporate email address.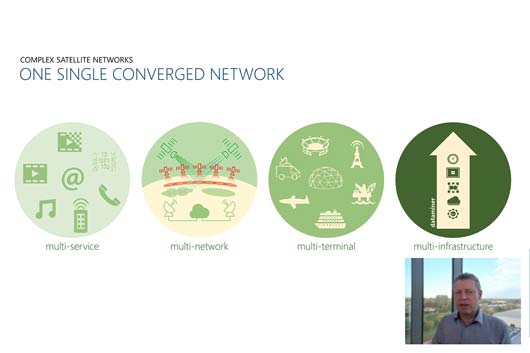 DataMiner for Satellite Networks
YOU'LL LEARN
how to steer your uptime to greater heights
how to use precious resources efficiently
how to wipe away all barriers towards a flexible business
---
WTA Research Report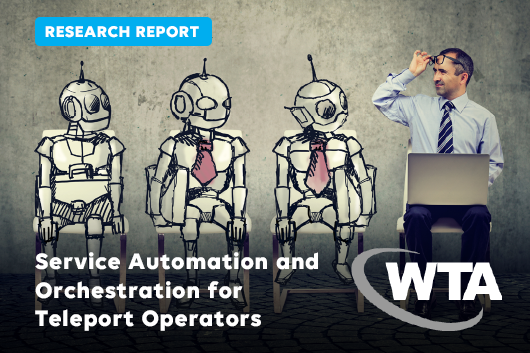 Service Automation and Orchestration for Teleport Operators
In this report, which cites DataMiner as key technology for the future, WTA examines the growth of automation and orchestration of network operations in the satellite and teleport sector. They explore the extent to which satellite and teleport operators have embraced automation and orchestration, the benefits, the barriers and challenges it presents, the opportunities it creates and what the future might hold.
---
Let's talk about your project
Are you interested to know if this standard solution also offers possibilities for your project? You can either ask your question right here on our Dojo community. Or, if you prefer the more personal touch, you can also contact your local sales representative. Either way, our DataMiner experts will be happy to discuss all the possibilities with you, down to the smallest detail.
Associated Markets:
Media Production
Media Production - Studios & Production
Media Production - News Gathering
Service Providers
Service Providers - Satellite
Service Providers - Satellite - Satellite Operators
Service Providers - Satellite - Teleport Operators
Service Providers - Satellite - Media
Service Providers - Satellite - Broadband & ISP
Service Providers - Satellite - O&G (Energy, Oil, Gas)
Service Providers - Satellite - Cellular (Cellular Backhaul & Trunking)
Service Providers - Satellite - Mobility (Mobile, Land, Airborne & Maritime)
Service Providers - Network
Service Providers - Broadband - Telco
Service Providers - Broadband - VSAT
Government & Defense
Government & Defense - Border Security
Government & Defense - Fixed & Mobile Com.
Government & Defense - Disaster Recovery
Government & Defense - MWR Networks