Service Providers - Satellite
Mobile land, airborne & maritime
Keeping communication lines up while travelling over land, water or air requires not only specialized RF and terminals, but also an end-to-end advanced network and services management. Built upon a variety of IT, hub, RF, antenna and terminal technologies – sourced from multiple vendors -, managing services, service assurance and network resources easily becomes a nightmare when using a vast number of vendor-specific tools. DataMiner however monitors, controls and automates workloads across any vendor and technology boundaries.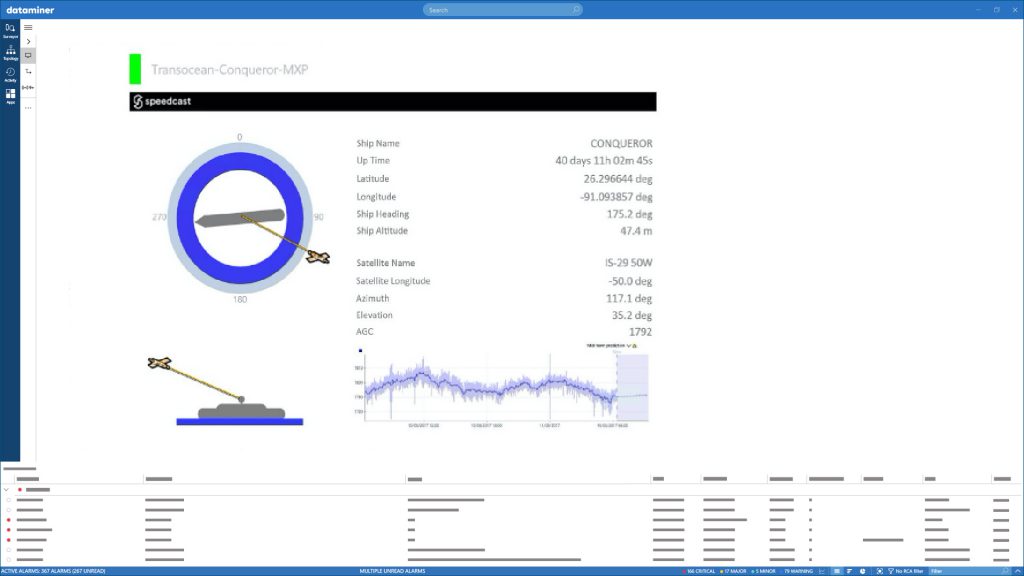 Far-reaching automation
Benefit from advanced yet customized automation for network roaming, on-shore network connectivity, beam switching, band and terminal switching (X, Ka, Ku, C, but also L-band) blackout management, antenna steering and switching, etc. Business (costing, regulatory, location, etc.) and technical rules (bandwidth, QoS, etc.) can be set up in DataMiner to steer the automation engine and its decision making.
Freedom to deploy any technology from any vendor
Grant yourself the freedom to source best-of-breed technology from just about any technology provider: baseband, RF, hubs, fixed and steerable antennas, smart LNB's, remote modems and IT infrastructure, Wi-Fi hot spots, etc.
DataMiner nodes
In-band or out-of-band remote control and monitoring. Option to deploy a cost-effective local DataMiner node on board of the vehicle, vessel or aircraft. The DataMiner node automatically synchronizes actual but also historical data with the main DataMiner cluster when connection is established. Furthermore, the local DataMiner node also provides a highly tailored yet simple and comprehensive UI to the remote personnel - who are often not familiar with satellite or telecoms as a whole.