Service Providers - Satellite
Energy, Oil & Gas
Customers in the energy and O&G markets demand reliable connectivity and high service availability at all times. Their operations depend on IT, broadband and data services delivered over satellite to remote vessels and rigs. They do not only require network connectivity but also management of the full remote IT infrastructure, virtualization layers, file exchange planning and orchestration, variety of IT services such as email and collaboration apps, remote personnel welfare services (broadcast and OTT, gaming, eSports, etc.) and much more.
DataMiner is the best-fit platform to manage this vast variety of technology, systems and services end-to-end and across any technology from any vendor.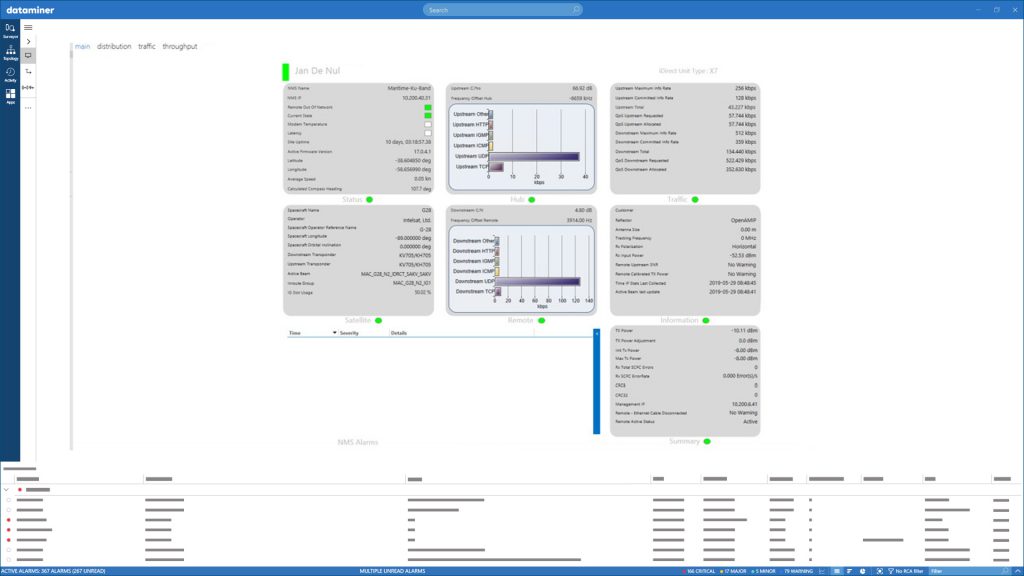 Consolidated monitoring and control platform, on shore and off shore
DataMiner integrates with any and all infrastructure elements, data sources and appliances, resulting in a single pane of glass that spans across the entire infrastructure: on shore and off shore, IT & data & media, satellite and fiber, VSAT and SCPC, compute & networking & storage, etc.
Use available satellite capacity in the most optimal manner
Use available satellite capacity in the most optimal manner including overnight scheduling of large file transfers, dynamic selection and activation of VSAT and SCPC connectivity, and much more.
Manage and measure your service performance KPIs
Automated measurement and reporting of your service performance KPIs and SLAs for broadband, data, media and voice services enhance collaboration across teams and end customers.