Satellite earth stations and teleports
As a modern earth station or teleport operator, you are responsible for a complex, high-tech operation that needs to be reliable but at the same time highly flexible, scaling closely with the varying demand over time. You therefore need to leverage the possibilities of the evolution to virtualized operations and data center automation, on premises as well as in the cloud and hybrid. You also need to closely monitor and orchestrate your network and your facilities themselves. This holistic, 360° management of a satellite facility is what DataMiner excels at. DataMiner is the engine behind repetitive network automatization workloads, but also monitors and orchestrates your virtualized equipment, your facility, and your power management. Having this kind of control, all on a single pane of glass, is what makes the difference for you as an operator.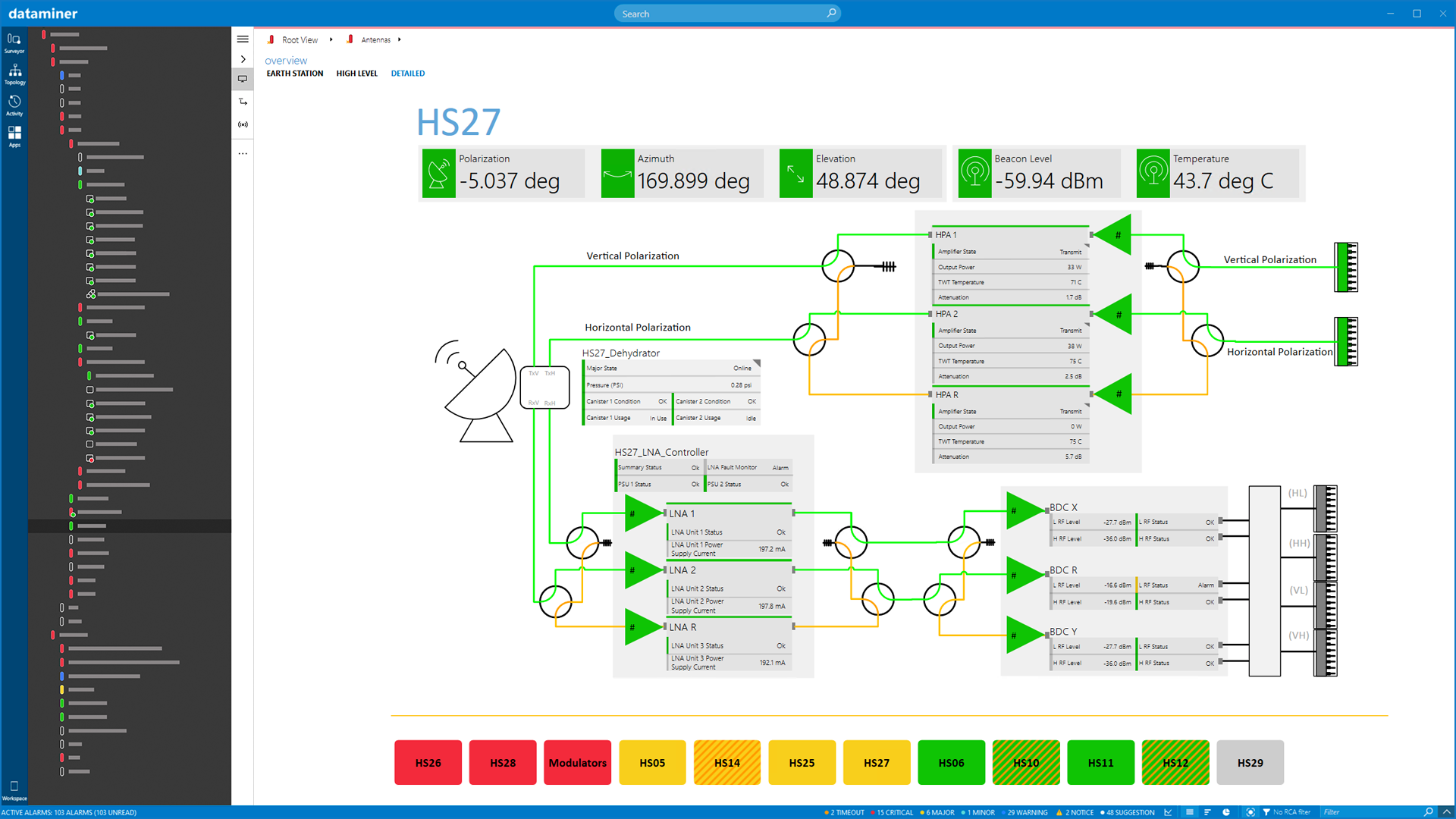 DataMiner monitors and manages any equipment from any vendor, be it hardware or software. This makes DataMiner the ideal companion for your migration from a hardware-based operation to a highly virtualized one.
Satellite operations are becoming more virtualized, following the evolution to ICT and cloud-based operations, with even satellite modems becoming virtual through SDR. When you use virtualized operations, DataMiner will not only monitor, but also deploy and orchestrate your services across the entire stack, from the hardware platform, over the deployment of Kubernetes PODs, up to the orchestration of services running in these PODs. DataMiner will even offer cloud connectivity and scale out from on premises to cloud when necessary, optimizing the total cost by enabling flexible elastic scaling.
As you are looking for a reliable and therefore redundantly designed operation, DataMiner orchestrates your equipment redundancy as well as connection redundancy, orchestrating both endpoint and network failover procedures.
Operate in a true multiservice environment. DataMiner will assist in the monitoring of broadband, data and media services, with dedicated applications and solutions for each, all integrated in a single system, with a single interface.
With DataMiner, you have full service and SLA management at your disposal. You can closely follow up QoS on every level, and perform detailed root cause analysis, aided by the DataMiner AI-augmented operations. This allows you to follow up and manage SLAs with your customers.
With shareable dashboards, you can even share certain information in real time with your customers, while staying in full control of what you share, and what you don't share.
With a satellite earth station always comes the challenge of location management. DataMiner has a full facility management solution, enabling efficient management of your locations, cutting down on services times, and enabling simple collocation management.
In these challenging environments, careful power management is essential for a reliable operation. DataMiner provides this power management, automating power backup and UPS scenarios.
Offering powerful remote operation workflows, DataMiner will help you manage your remote locations even in the most challenging scenarios, limiting the number of physical interventions.
In all of your operations, security needs to be built in from the start. Security operations are built into DataMiner. DataMiner will assist your SecOps team by automating security procedures, like password and firmware checks, but will also notify operators of any unexpected network traffic or events.
Associated Markets:
Service Providers
Service Providers - Satellite
Service Providers - Satellite - Satellite Operators
Service Providers - Satellite - Teleport Operators
Service Providers - Satellite - Media
Service Providers - Satellite - Broadband & ISP
Service Providers - Satellite - Cellular (Cellular Backhaul & Trunking)
Service Providers - Satellite - Mobility (Mobile, Land, Airborne & Maritime)
Service Providers - Broadband
Service Providers - Broadband - VSAT
Content Distribution
Content Distribution - DTH
Government & Defense
Government & Defense - Border Security
Government & Defense - Fixed & Mobile Com.
Government & Defense - Disaster Recovery
Government & Defense - MWR Networks