Spectrum analysis, monitoring and management
With more and more non-licensed spectrum in use and a general trend towards higher digital modulation indices, the necessity for you as an operator to closely monitor your operating spectrum has only increased. Spectrum analysis has in fact become a necessity for every means of communication, from low-frequency DSL to high frequency (cable, UHF). Naturally, you want to know as early as possible if any your communication channels are facing issues caused by a reduction in signal-to-noise ratio. When you have anywhere from 10 up to 10,000 interfaces to monitor, distributed over your entire service area, there is no alternative but to go for a platform like DataMiner, combining fully automated remote measurements with a seamless integration in your OSS system. DataMiner combines the measurements from an unlimited number of devices, for every possible spectrum, be it GEO or LEO satellite channels in C, KU, KA (multispot) or X-band, cable HFC (forward or return spectrum), mobile 4/5G or WiFi6 (802.11ax), with the analysis tools of your choice.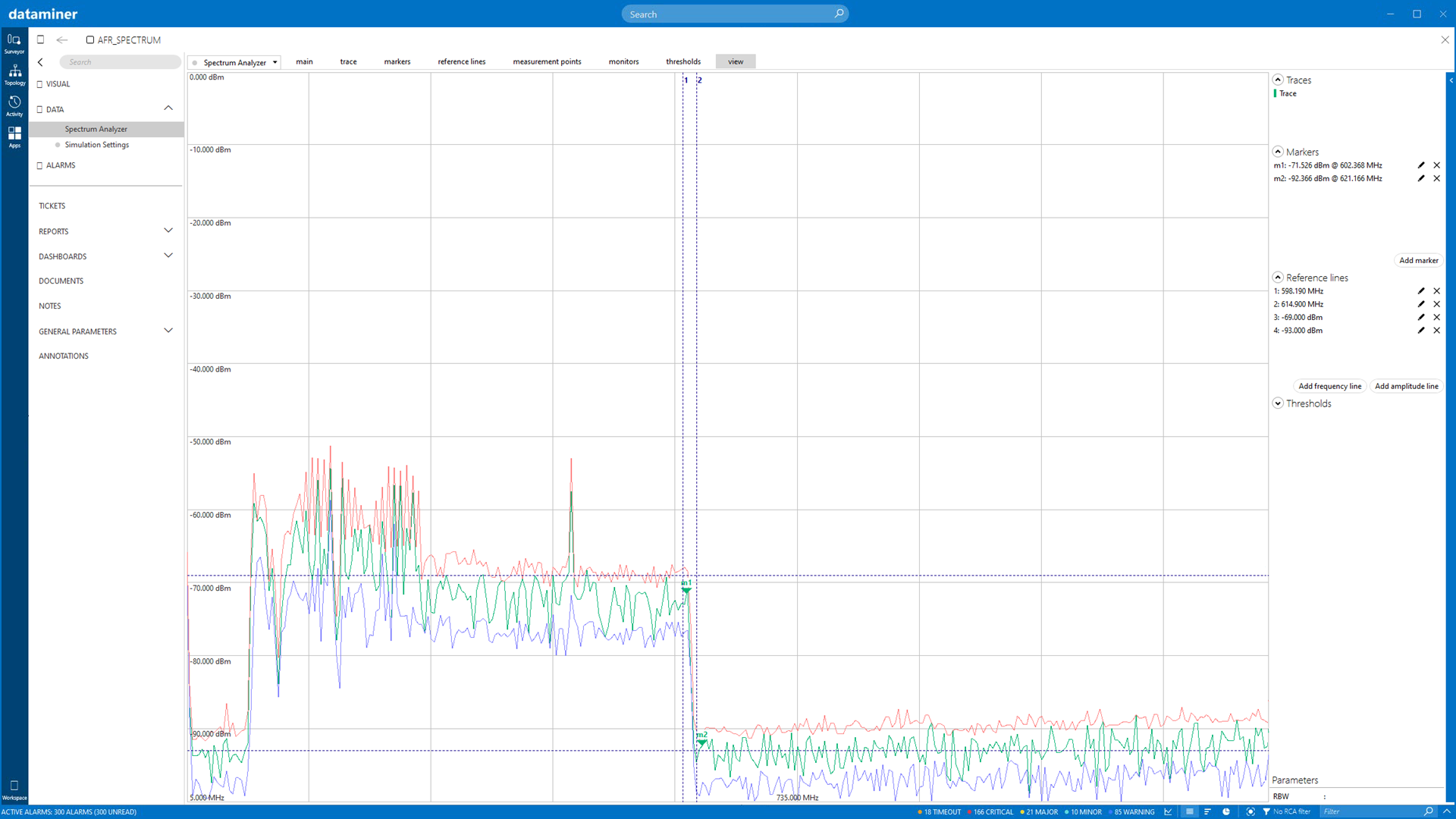 Manage your RF with care!
DataMiner Spectrum Manager is entirely network agnostic, with multiple use cases in e.g.

direct to home (satellite C-band, KU-band, KA-band)

satellite data trunking and backhaul (including X-band)

fixed access (twisted pair, fiber, coax)

small cell (Wi-Fi hotspot)
DataMiner Spectrum Manager is interoperable with any spectrum capture and analysis product, regardless of the vendor (e.g. Rohde & Schwarz, Kronback, Viavi, Agilent, Promax, Spectran, Emitor, …), and regardless of whether it is implemented as a standalone T&M device or integrated in a network element itself (e.g. CCAP core, remote phy device, etc.).
DataMiner Spectrum Manager supports tests and measurements:

Across any band (LF, MF, HF, VHF, UHF, SHF (satellite, 4G), EHF (802.11ad, 5G)

Both in real time as well as at custom intervals

Based on fully user-definable measurement scripts

DataMiner supports continuous testing (automatic synthetic testing), and orchestration of automatic recordings, and allows you to do this with one set of equipment shared between your test and measurement setup.
When the capturing of spectrum data is distributed in the network, even if the analysis tools are centralized and often software-based, DataMiner combines both types of tools, allowing you to optimize the number of capture points, while taking advantage of the most sophisticated analysis tools available.
DataMiner Spectrum Manager features templates to define various properties of your tests, including start and stop frequency, scale, resolution and FFT size, allowing for easy operation at all times, while retaining the highest flexibility.
DataMiner enables straightforward spectrum monitoring using fully customizable scripts defining measurement interfaces and alarm thresholds. It integrates seamlessly with your OSS/BSS systems, monitoring not only on the physical level, but also on service and business level.
AI-augmented services help to predict trends in your monitoring and enable you to identify issues before they might cause a problem.
Spectrum traces are available both in DataMiner Cube and on the mobile DataMiner dashboard, enabling easy sharing and collaboration between users inside and outside your organization.
Other features for DataMiner Spectrum Manager include:

Spectrum replay: Replay historical spectrum data at a configurable rate between a configurable start and end time in the past.

Spectrum overlay: Overlay traces from different sites or time intervals for easy analysis towards relative performance or signal degradation.

Data retention is fully configurable, including the option of a periodic offload to an external database.
Associated Markets:
Service Providers
Service Providers - Satellite
Service Providers - Satellite - Satellite Operators
Service Providers - Satellite - Teleport Operators
Service Providers - Satellite - Media
Service Providers - Satellite - Broadband & ISP
Service Providers - Satellite - O&G (Energy, Oil, Gas)
Service Providers - Satellite - Cellular (Cellular Backhaul & Trunking)
Service Providers - Satellite - Mobility (Mobile, Land, Airborne & Maritime)
Service Providers - Broadband
Service Providers - Broadband - Cable & MSO
Service Providers - Broadband - Telco
Service Providers - Broadband - VSAT
Content Distribution
Content Distribution - Cable & MSO
Government & Defense
Government & Defense - Fixed & Mobile Com.