Primary Content Distribution
Primary distribution networks are very often the first place where content really getsis the most vulnerable to abuse and theft. Coming from a handful of vendor-proprietary (satellite) distribution systems –, all of them which have been hacked at some point in time -, the emergence of IP over fiber, public cloud and satellite makes security operations rank even higher on the priority list of programmers and content networks. Another challenge lies in the number of flavors of content that needs to be distributed. The distributed content ever continuously grows due tobecause of regulatory restrictions, number ofadditional languages, new OTT and MVPD platforms, additional consumer screens, etc.. Depending on the operations, both clean and dirty feeds may be distributed over the same network. DataMiner will help you distributeing your content in a safe manner, while keeping a comprehensive overview.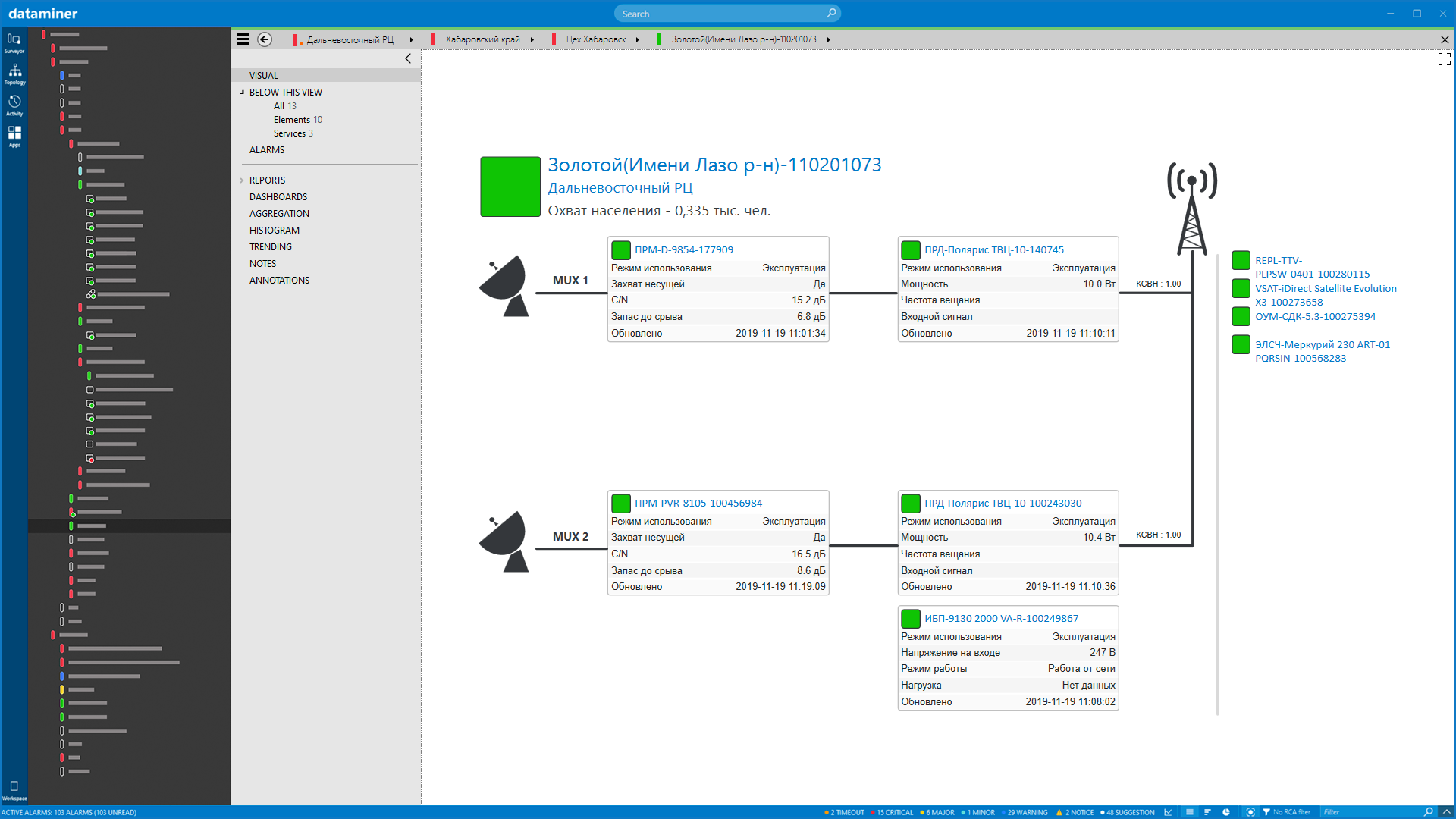 Manage the entire primary distribution ecosystem including headend compression systems, encryption systems, watermarking, PSI/SI/PSIP systems, IRD in-band control gateways, satellite uplink facilities, IP distribution networks, file exchange systems, remote bulk decryptors and IRDs, and any other product or technology, from any vendor.
DataMiner is a robust and scalable NMS and OSS platform that integrates with the newest ICT and cloud technology as well as with any media processing and transmission system deployed as hardware, appliance or containers, on premises and in the cloud.
DataMiner automation brings reliability, repeatability, efficiency and security in the organization.
Manage converged headends and streaming platforms for primary distribution as well as direct to home (DTH, OTT, etc.), all from one single pane of glass.
DataMiner offers manual and scheduled service lineup orchestration, including advanced service life cycle management (LSO) such as content bandwidth timesharing.
Context-aware confidence monitoring with fully automated probe configuration aligned with the channel lineup and the EPG data.
Orchestration and monitoring of your distribution network, supporting an unlimited number of media formats on a single converged network including low resolution (e.g. Adaptive Transport Stream), traditional SD/HD/UHD over SPTS, MPTS (e.g. SMPTE ST 2022) and uncompressed (e.g. SMPTE ST 2110).
A 360° view, control, performance tracking and deep insight into the entire PTP architecture.
In-band and out-of-band remote receiver, gateway, descrambler, and storage node control, including management of blackouts and program switching (national/local content).
Automation of media file distribution pipelines, including optional network capacity reservation, scheduling of overnight file transfers, etc.
Comes with built-in flexible SDN controller (source-, destination- and network-based switching): source multicast control, IGMP v2/v3 destination setup, static multicast network setup, NAT-ing setup network and edges, even satellite SCPC/MCPC link setup.
Achieve higher uptimes with end-to-end (semi-)automated redundancy: source, geo-headend and/or uplink, transport (SMPTE ST 2022-7 and other), edge receiver, etc.
DataMiner assists your SecOps team with a rich set of security ops tailored to the workflows: host policy configuration, flow policy and ACL management, remote receiver/IRD tiering and grouping, etc.
Fully featured Service Level Agreement (SLA) management including SLA editor for each individual service, compliance configuration and tracking, SLA reporting, SLA breach prediction, and much more.
DataMiner cloud-connected live dashboard sharing facilitates real-time and secure access of MVPDs to your service quality, service configuration and SLA performance, enabling a new level of collaboration.
Associated Markets:
Content Distribution
Content Distribution - DTH
Content Distribution - DTT
Content Distribution - Cable & MSO
Content Distribution - IPTV
Content Distribution - MobileTV
Content Distribution - OTT
Government & Defense
Government & Defense - MWR Networks