Media Data Center (MDC)
Media function virtualization is an efficient way to set up your media data center, giving you the agility to change and the flexibility to scale services up and down depending on your needs. This is especially the case when using hybrid cloud and multi-cloud models, where you plan a baseload capacity on premises and alleviate peak loads with cloud capacity. Naturally, with this flexibility of virtualized pipelines comes increased complexity. How to orchestrate your services and virtual machines in the most efficient way possible? How to avoid oversubscription, or plan for sufficient processing, storage and network? DataMiner offers a full-fledged solution for managing media data centers end to end. With the DataMiner Media Data Center (MDC) app you can book, deploy, run and monitor all your virtualized services in a convenient, reliable and automated manner. For customers who already have playbooks in place, the MDC app can be configured to run in a monitoring-only mode, extracting all service lineups from the on-premises and cloud deployments with minimal or no effort. Zero-touch provisioning at its best.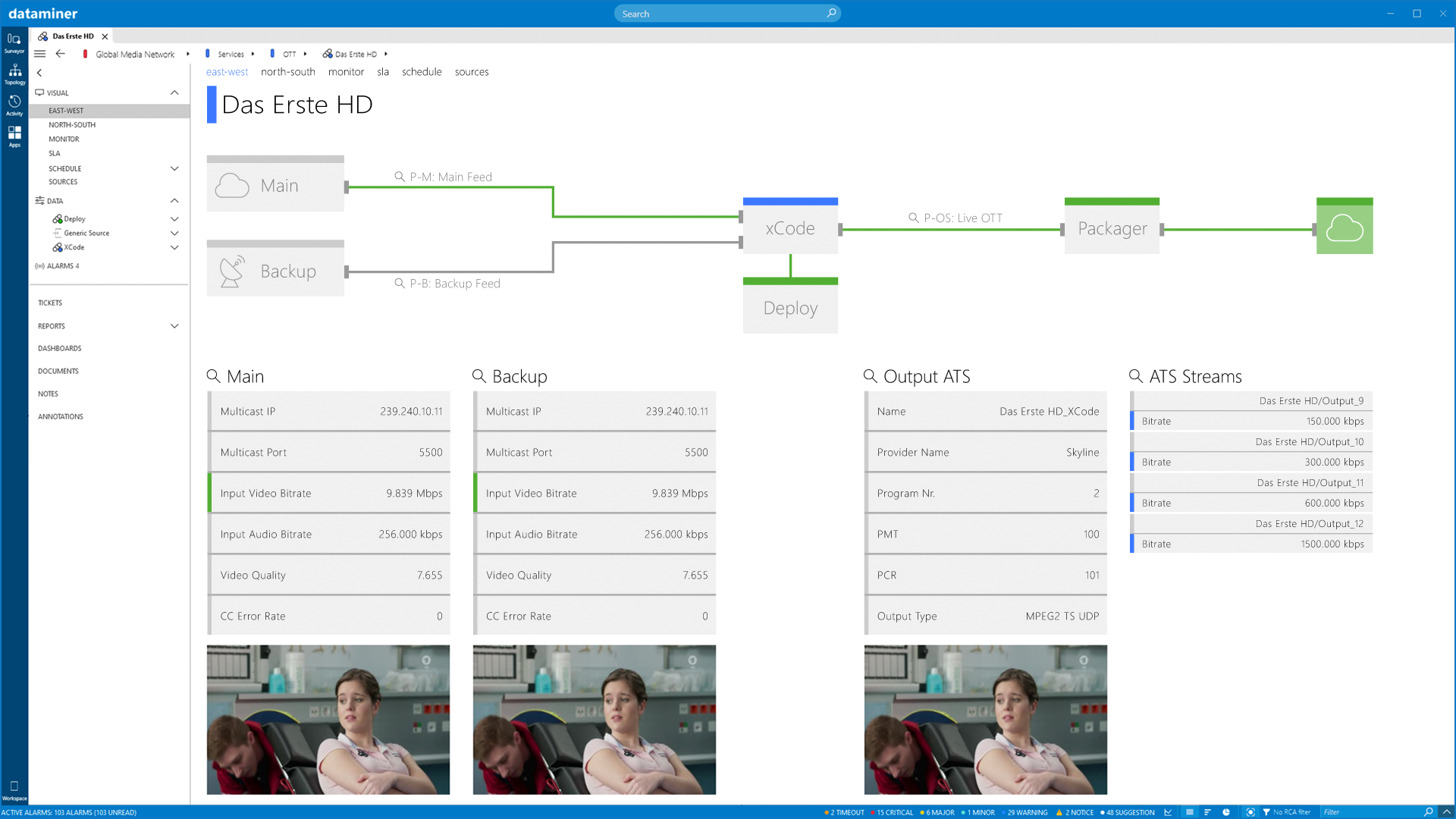 The DataMiner Media Data Center solution manages the entire life cycle of the infrastructure and services (full stack). It is fit for OTT, IPTV, transport stream–based media systems, and also audio including DAB+.
DataMiner automatically scans the on-premises hardware products, appliances and virtualized media instances (NFV), and connects to the public cloud to manage cloud capacity and services. Onboarding of inventory is automated in a secure manner by the DataMiner IDP app.
Book services to the desired schedules:

DataMiner allows you to book your services and virtualized resources beforehand. Based on your predefined service profiles, you can schedule a service to be active in the future. DataMiner will reserve all necessary resources (on-premises CPU cores and memory, cloud capacity, etc.) accordingly, in the most efficient way possible.
Reservations are done seamlessly across on-premises and cloud infrastructures. DataMiner can give priority to on-premises infrastructure, and deploy peak loads to cloud-based infrastructure, all based upon the rules you configure.
Comprehensive capacity management is present to make sure no infrastructure is oversubscribed at any point in time, and costs remain within budget.

Deploy your pipelines in the cloud and on premises:

DataMiner deploys pipelines automatically across the full stack. DataMiner can deploy PODs and containers in a Kubernetes cluster, and deploy pipelines in any cloud environment.
DataMiner keeps track of the health and load of all infrastructure involved, and can move services to different clusters automatically when necessary, minimizing any impact on the media services involved.
DataMiner also deploys monitoring probes in the cloud as part of the media pipeline, or on request of the operator. Probes in the cloud can be spun up in any POP, providing a global overview of the service availability and quality. This is essential for any OTT service.
Communication with cloud instances can occur through a management interface or directly with the instances, and is optimized for controlling the associated costs.

DataMiner runs and orchestrates all network virtualized functions but also traditional hardware and appliances:

Once infrastructure is deployed, DataMiner orchestrates the entire media pipeline to deliver the OTT, IPTV or transport stream service.
Depending on the data center or cloud capacity constraints, services can be updated in configuration (kill and build), or changes can be applied with minimal or no customer impact (build and kill).
Orchestration includes not only public cloud infrastructure including AWS, Azure, GCP, etc., but also the private cloud and data centers as well as traditional media processing devices:

Content acquisition: IRDs, remote mezzanine encoders, IP gateways, routing (IP, SDI, ASI).
Media processors including audio and video contribution and distribution encoders.
Distribution including multiplexers, streamers, packagers and origin servers.
Full stack management including physical infrastructure (compute nodes, network switch fabrics, storage nodes), operating systems, virtual machines, and K8S clusters.
Integration of monitoring probes (hardware, appliances and cloud functions).

All of this is of course overseen by a DataMiner-grade monitoring solution. DataMiner can gather data from all infrastructure and services alike and create a comprehensive overview that focuses on what is most important.

Service view (east-west): Every service is visualized with its most important KPIs. Independently of where and how the services involved are deployed, a consistent, comprehensive status overview is available. The east-west service view depicts the exact resources actually processing a specific service.
Full stack visibility (north-south): A full view on the technology stack is provided for each service. This allows you to drill down from service to infrastructure level to diagnose problems. Vice versa, capacity constraints and degradations in the deployment will proactively indicate which services may be affected.
AI-powered trending: With DataMiner AI-augmented operations, you can predict trends and detect anomalies, directing attention to possible future problems.
With monitoring on service level and fully integrated SLA management, DataMiner is a fully-fledged OSS/BSS solution, which can integrate northbound with your existing business support and/or ticketing systems.
In case services and infrastructure are managed elsewhere, DataMiner automates the gathering of information about these services, directly from the infrastructure and services themselves, or from any other data source, such as a third-party service orchestrator or database.
For cloud infrastructures, simply have DataMiner connect with your cloud account, and the full inventory will be created in DataMiner automatically.
DataMiner Process Automation will detect when new services are deployed and correlate these with the existing PODs and containers or underlying cloud platform of infrastructure components.

The DataMiner Management by Exception solution combines schedule awareness and synthetic testing, and increases visibility on the deployments.
The DataMiner Planned Maintenance app avoids system outages and minimizes their impact by automating redundancy of infrastructure elements (service re-deployment) on cluster level (geo-redundancy) and service level (service redundancy).
As security is of key importance in your media datacenter, DataMiner assists SecOps teams by automating security workflows, but also by detecting anomalies in your network or operation.
Associated Markets:
Media Production
Media Production - Thematic TV Stations
Service Providers
Service Providers - Cloud
Service Providers - Cloud - Media
Service Providers - Cloud - CDN
Content Distribution
Content Distribution - DTH
Content Distribution - IPTV
Government & Defense
Government & Defense - MWR Networks