Distribution Headends and OTT Streaming Platforms
It's impossible to think of headends and streaming platforms without thinking about converged platforms for IPTV, cable TV, DTH and OTT. Technology advancements to all-IP infrastructures and software-based processing enable operators to deploy a single operation that shares platforms for both linear and OTT TV data planes. Multi-platform is the new reality, delivering various services including live content, VoD, sVOD, start-over, replay TV, dynamic and targeted advertising, content search engines, etc. to many different screens. DataMiner is a multi-vendor and full-stack ICT and network management and orchestration platform for both your entire headend and your streaming platform infrastructure and channels.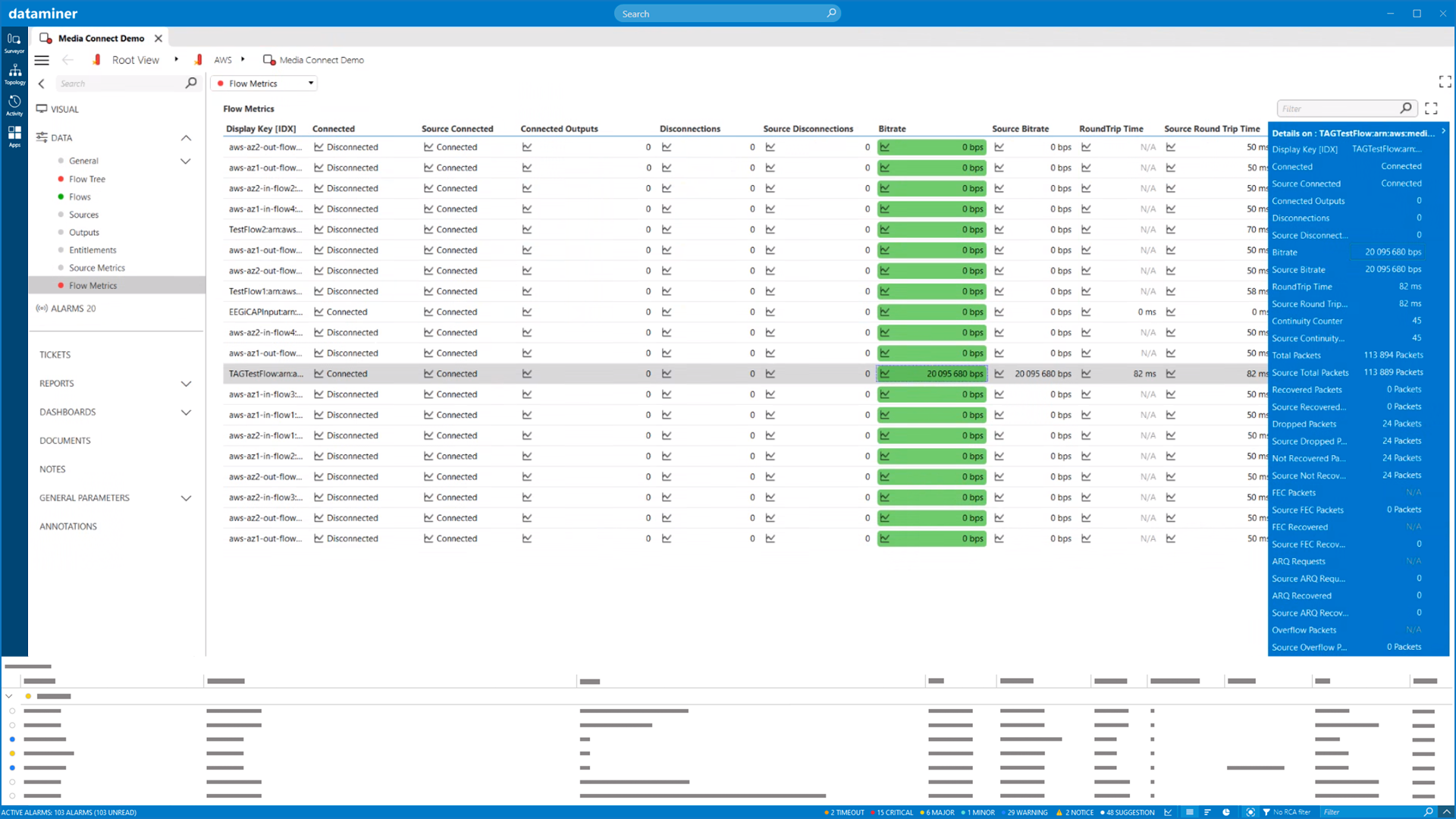 End-to-end management and service life cycle orchestration (LSO) of your media platform data and control plane deployment, from signal ingest to distribution network. DataMiner facilitates real zero-touch service provisioning.
DataMiner integrates with any vendor supplying IRDs, descramblers, IP gateways, remote and local compression encoders and transcoders, multiplexers, streamers, packagers, origin servers, load balancers, monitoring probes, SDI/ASI and IP switchers and routers, storage servers, compute nodes, sVoD session and transaction managers, DVR systems, ad insertion ecosystems, etc.
DataMiner is agnostic to media formats and transmission standards, i.e. it supports all formats and standards.As such, DataMiner is a perfect fit for systems that adhere to DVB standards, different compression formats (MPEG-2, H.264 MPEG-4, H.265 HEVC, and emerging codes such as H.266 VVC, EVC, LCEVC, etc.), OTT formats (MPEG-DASH, HLS, etc.), transport formats (MPTS, SPTS, ATS over SMPTE ST 2022 and SMPTE ST 2110), and transport redundancy (SMPTE ST 2022-7 and other customer-specific source, network and destination redundancy setups).
Using virtualization (NFV) and/or SaaS is a natural evolution of any media platform refresh or rebuild. In addition to hardware and appliances of any vendor, DataMiner manages the full stack:

Infrastructure: compute nodes, storage, IP fabric, cloud capacity, etc.

Virtualization including virtual machines, all-container environments such as K8S, or cloud VNI.

Applications for data and control plane function running on-premises and in the cloud (SaaS).

DataMiner also takes care of the VNI full-stack deployment, control and monitoring (north-south): Media and IT teams are truly connected together using a single pane of glass. DataMiner dashboards show north-south topology in real time, providing instant info on which channel is running on which cluster, container and POD, and on which node or cloud compute instance. In addition, cloud-specific workloads can be fully automated and customized (e.g. cluster migration, quarantine or evacuation of nodes with no or minimal service interruption, etc.).
Tailor and tune channel/service planning and implementation processes to your organization and its processes. Channels may be in the planning phase, the testing phase, in production or retired.
East-west service orchestration automates the configuration and monitoring of all media data and control plane functions, on premises and in the cloud. DataMiner LSO states include pre-roll, start, pause, stop and any custom state such as deploy, undeploy, switch to redundant, migrate to public cloud and back, etc.
Manage by exception: With schedule-aware confidence monitoring, all services are monitored and checked against their schedule, and the monitoring configuration is automatically adjusted, enabling your operators to focus their attention where it is really needed.
Uptime comes with automated redundancy. DataMiner automates any kind of redundancy scheme, and perfectly complements data plane redundancy such as SMPTE ST 2022-7. Some examples are facility (geo-)redundancy, source redundancy, network element redundancy (1:1, n:m), cloud redundancy (redeploy: kill and build, or build and kill), etc.
Multi-vendor technology redundancy: DataMiner redeploys instances of a different cloud vendor or image version. Evidently, this is a critical requirement, as spinning up instances of the same image as the one that is failing will usually not restore the service.
Managing infrastructure, cloud and license pool resource capacity is fundamental to managing the media platform OPEX. With DataMiner, operators always have full visibility on past and actual utilization, but also on future planned capacity needs (headroom or shortages). DataMiner SRM resource manager has full visibility on the planned channel lineups and will signal operators instantly in case capacity will run short in the future. This comes in handy for permanent services, but also for OU sports and events channel planning.
DataMiner is uniquely placed to depict the root cause and remediation in case of service degradation or outages, regardless of whether the issue originates from the media functions or the IT/cloud infrastructure.
DataMiner service assurance and SLA reporting uses any counter and metric from the data plane, the control plane, and the on-premises and cloud deployment. In addition, stats retrieved from multiple specialized confidence monitoring probes, test and measurement equipment, test robots, and even synthetic tests executed by DataMiner itself are used to calculate overall service health, availability and performance.
All this data integrates seamlessly with your existing OSS/BSS systems
In addition to the distribution platforms, DataMiner manages all adjacent media platforms, including contribution networks and satellite downlinks, playout, Content Distribution Networks (CDN), and broadcast and broadband access networks (cable HFC, Telco DSL, satellite DTH, mobile 3G/4G/5G).
DataMiner Experience and Performance Manager (EPM) collects UEx information from consumer CPE and handhelds, and aggregates that vast set of information to report, trend and alarm on the UEx measured per individual channel, per media format (IPTV, DASH, HLS, etc.), and per consumer service UEx (e.g. linear TV, OTT TV, VoD, DVR, etc.). Any metric can be evaluated per location, per network type and provider, per consumer set-top box or device type and software version, and much more
Artificial intelligence in operations (AIOps) is fundamental to managing complex multi-vendor and multi-cloud telco infrastructures. DataMiner comes with an ever-growing set of AI algorithms that assist operators in their day-to-day activities, including:

Forecast of metrics and counters, trend analysis.

Intelligent fault detection, such as configuration and behavioral anomaly detection, and proactive warnings (proactive cap detection).

Incident detection using smart alarm grouping, focus alarming, automated root cause detection.

Augmented operation based on assisted data analytics and adaptive dashboards.

DataMiner assists SecOps teams by automating security workflows and detecting unexpected activity.
Associated Markets:
Content Distribution
Content Distribution - DTT
Content Distribution - Cable & MSO
Content Distribution - IPTV
Content Distribution - MobileTV
Content Distribution - OTT