Software-Defined Media Networks for contribution and distribution (SDMN)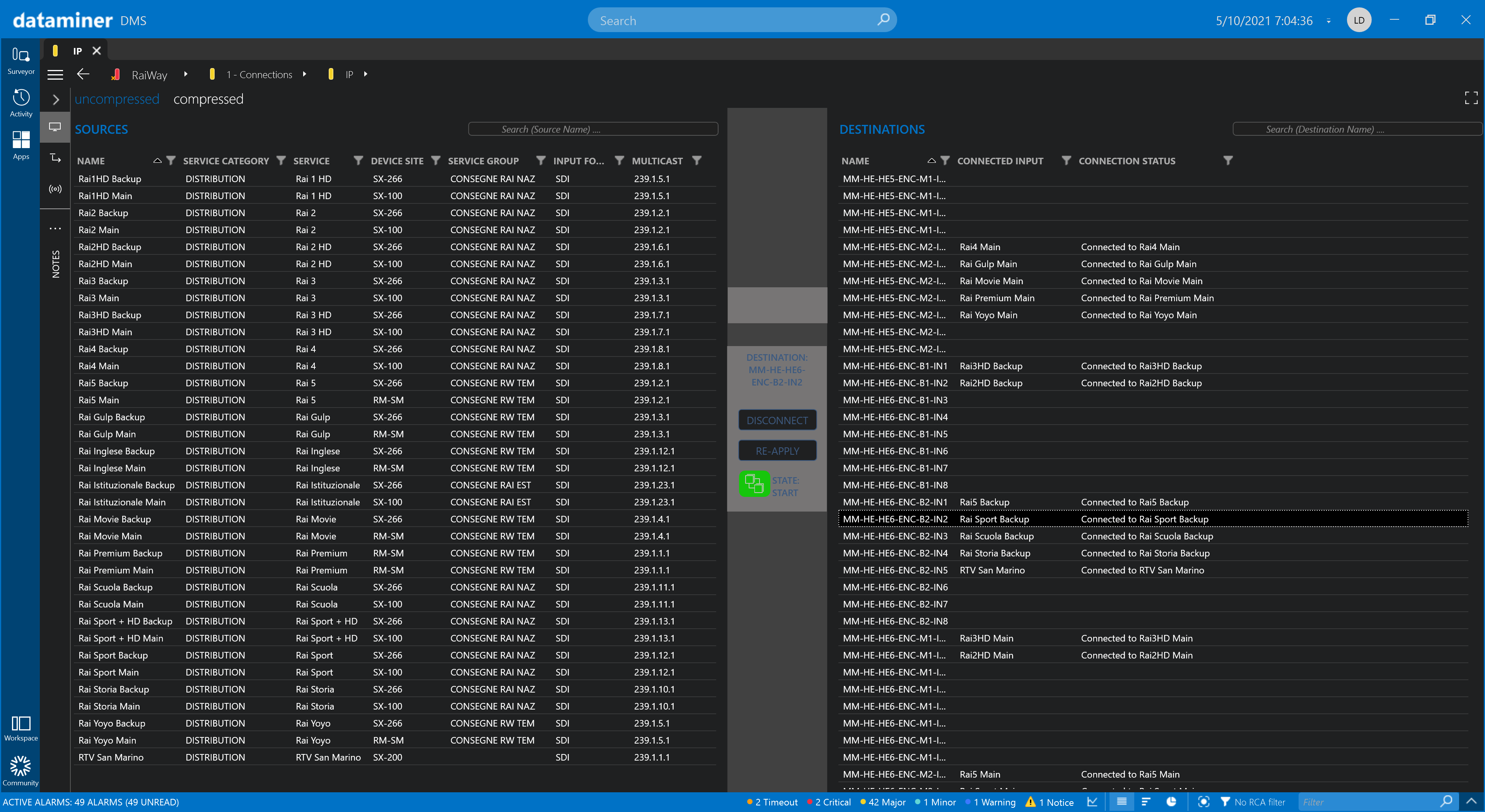 Media networks are different from enterprise IT networks. To begin with, the infrastructure itself is usually a mix of legacy media transport products and the latest and greatest IP tech. Secondly, media networks do not terminate at the access port. Instead a vast number of media edge devices from many different vendors are part of the network and need to be operated in harmony with the network elements themselves. Not surprisingly, organizations typically use 50+ different tools to manage network inventory, monitor and control the network, automate some of the activities, and troubleshoot. And thirdly, media transport can be challenging in terms of bandwidth, latency and jitter, so network configurations need to be adjusted to the type of media stream with care. The ultimate goal is to build converged networks for video, audio, large file exchanges and even traditional IT services. DataMiner approaches this entire operation holistically, supporting every aspect of a successful media network.
Network Architecture
Network architecture: DataMiner supports any network topology: mesh, spine-leaf, point-to-point interconnects, rings, etc. It also allows full control of red-blue redundant network setups from one management interface.
Multi-format, multi-vendor
DataMiner supports all media formats: Run uncompressed, lightly compressed and long GOP compressed media on a single network using a mix of transport protocols (SMPTE ST 2022, SMPTE ST 2110 uncompressed, JPEG XS, Tico, H.264, H.265, AV1, H.266, etc.).
Interface with any edge device or network component available on the market to build a "best-of breed" solution attuned to your needs. DataMiner integrates with any equipment from any vendor, whether it is hardware or virtualized, on premises or in the cloud:
Integration with any network element: IP routers and switches, media fabrics (blocking or non-blocking), legacy SONET/TDM, internet streaming solutions (SRT, Zixi, etc.).
Integration with any edge media product and cloud instance including encoders (JPEG, long GOP), decoders, encryption products, IP gateways and firewalls, SDI/ASI matrices, etc.
DataMiner adheres to industry standards (AMWA NMOS IS-04, IS-05, IS-07, etc.) and fills the gaps for legacy products that do not support the latest standardization yet.
SDN control
Perform SDN control and switching with DataMiner: DataMiner integrates with vendor-specific SDN controllers, but also comes with a single multi-vendor SDN controller that controls network and the full edge infrastructure, including legacy SDI matrices for flow setup and redundancy switching.
Select your SDN switching paradigm for each individual type of service in the network:
Source-based switching (single or dual streaming configuration, NAT).
Network-based switching (static MC routing, NAT).
Destination-based switching (IGMP V2/v3 joins, SMPTE ST 2022-7 joins, static re-joins to different sources).
Automation and bandwidth management for make-before-break and break-before-make connections.
Automation and capacity management for SMPTE ST 2022-7 dual illuminated feeds.
Mix and match technologies and media formats in a single converged network: connection and circuit management using optical circuits (WDM), MPLS, TDM circuits, VLAN L2, IP routed, VXLAN, etc.
Capacity management: DataMiner offers state-of-the-art resource and capacity management, so that you can rest assured that you will never oversubscribe the network.
Path Calculation: Shortest Path First (SPF) Dijkstra algorithm used for ad-hoc connections and scheduled connection planning.
Infrastructure Discovery
The DataMiner Infrastructure Discovery and Provisioning (IDP) app is indispensable for securely managing large-scale and geographically spread networks. The application keeps track of the as-is discovered inventory, compares with third-party inventory management systems, fully automatically provisions DataMiner (zero-touch provisioning), manages software updates to network elements, keeps configuration backups, uploads configurations, triggers alarms on wrong configs or non-approved software versions, etc.
PTP Monitoring
The DataMiner PTP app offersend-to-end configuration, monitoring and performance management of PTP network synchronization, supporting SMPTE ST 2110 media operations (Precision Time Protocol) and zero-touch service life cycle orchestration (LSO) for PTP and PTMP connections, but also full orchestration of edge domains.
With integrated connection and service monitoring, DataMiner optimizes the monitoring of your networks, aligning network control and monitoring. Avoid false positive alarms and make sure no connections are left unmonitored.
Fast and accurate monitoring of flow data, interface counters, PTP KPIs, and much more, using polling and/or streaming telemetry. Supported protocols include OpenConfig, sFlow, Netflow, etc.
DataMiner also offers full deployment, orchestration and monitoring of virtualized edges running on FPGA platforms, VMs, on-premises K8S, and cloud infrastructures. DataMiner dynamically deploys software images as required for the specific media connection service, provisions the edge video and stream settings, and even keeps track of product license capacity planning.
DataMiner assists your SecOps team by automating security workflows, with features such as:
Continuous scan of network inventory (network element and LLDP discovery) and comparison with the approved network topology.
Detection and signaling of incorrect device configurations – single-touch restore of golden configurations.
Detect and correct non-approved running software images (upload secure images).
Orchestrate your security operations in sync with service orchestration.
Dynamic adding or removing of ACL entries upon connection start or stop.
Turn access ports on/off depending on service schedules.
Assign ports and/or bandwidth to a pre-defined set of users.
Set up edge destination access control to specific flows only during allowed intervals (host policy orchestration).
Intelligent mapping of IP flows in applicable QoS flow policies for each media flow type (compressed and uncompressed video profiles), audio and ancillary data streams.
Option for passive network routing (SDN controlled) instead of IGMP.
Orchestration of media encryption in sources and destinations.
Connect to network and edge resources in the most secure manner (secured API connectivity).
NBI to SIEM tools.
Easy, error-free operation, adapted to your specific operational needs. Whether you control your network with soft button panels, physical router control panels, a wizard-style connection scheduling UI, or some other means, it is all possible with DataMiner.
Multi-tenant network operation with remote job ingest through customer portals and real-time performance and SLA reporting.
Easily share control with your colleagues with button panel sharing, inside or even outside of the organization, without compromising security.
Interconnect networks using open APIs for connection planning and booking, service life cycle management, service health monitoring and assurance reporting, and much more, turning a closed network into a flexible interconnected network (NaaS).
Associated Markets:
Content Creation
Content Creation - Production Event Management
Content Creation - Studios & Production
Service Providers
Service Providers - Cloud
Service Providers - Cloud - CDN
Service Providers - Network
Service Providers - Network - Media
Content Distribution
Content Distribution - IPTV