Service Providers - Network
Media
Whether you operate an OTT service, or deliver services direct to home (DTH), over cable, copper, cellular or terrestrial DVB-T, ISDB-T or ATSC, media networks are massively being upgraded and interconnected to serve consumers at any moment, anywhere and on any device. Convergence of the IP transport layer (often SDN-controlled to serve high bandwidth uncompressed feeds) and virtualization of data and control planes (NFV) to achieve scale and flexibility are omnipresent.
Service providers offering network capacity, or transport services, or media processing services, build their networks using best-of-breed technology sourced from multiple vendors and cloud providers. By nature, networks are not only loaded dynamically based on end user demand, they are also continuously evolving. Orchestration of workloads is fundamental to any network operator. Moreover, many service providers struggle to keep track of network inventory and optimize resource utilization.
DataMiner Service and Resource Management orchestrates services end to end in a fully automated manner. The platform has a full resource and capacity management system on board as well. Whether services are ad hoc, scheduled or permanent, or whether services are data pipes (fiber, L2 VLANS, MPLS, etc.), media connections (uncompressed, lightly compressed or long GOP compressed), or full-fledged media services (playout, compression headend, CDN, etc.), DataMiner automates and plans all workloads and resource planning. DataMiner multi-tenant web-based Job Manager and open platform APIs even allow your end customers to book services on your network in a fully automated manner!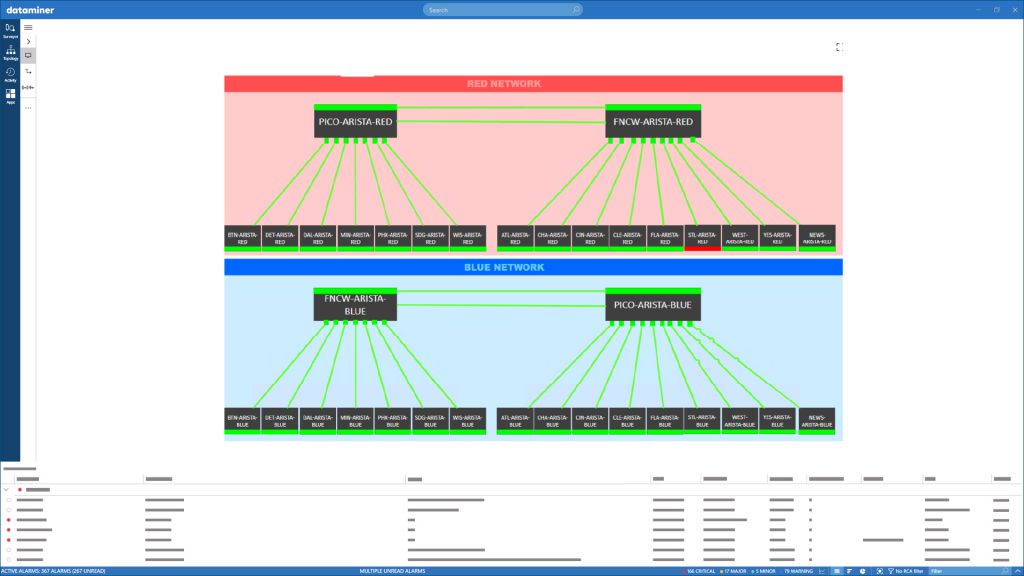 Fill routing and SDN control across both the edge domains and network domains
DataMiner comes with full and flexible path engineering and SDN control (including Dijkstra cost-based routing) across the edge and network domains. Any routing mechanism is supported one can think of, including IGMP v2/v3, source-based NAT, point-to-point and point-to-multipoint static MC routing and NATing, SMPTE ST 2022-xx and SMPTE ST 2110 transmission formats, SMTE ST 2022-7 path redundancy, and much more.
While setting up flows on the network, DataMiner even takes care of your network security by managing ACLs, flow and host policies on all network elements.
End-to-end orchestration of the entire service life cycle
End-to-end orchestration of the entire service life cycle (LSO) built upon the proven DataMiner Service and Resource Management (SRM) suite. Built-in service confidence monitoring and SLA reporting is fully aligned with the service schedules, thereby avoiding a lot of false positive alarms and wrong SLA reporting!
Not to forget, DataMiner also keeps your Precision Time Protocol (PTP) infrastructure healthy and monitored.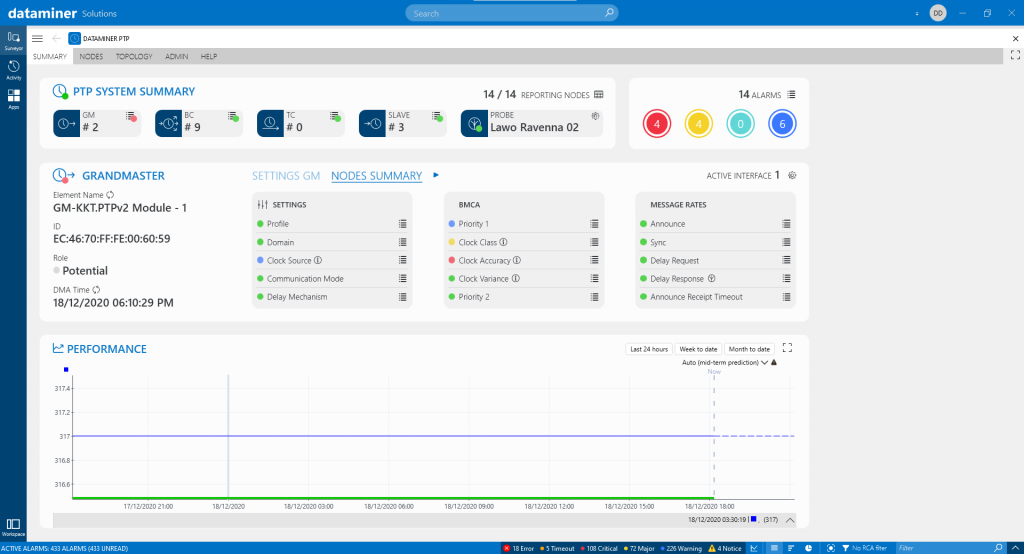 Seamless integration with OSS/BSS systems for the automation of job and schedule ingest, etc.
Seamless integration with OSS/BSS systems in your organization and those of your customers (M2M API integration) supports automated of job and schedule ingest, multi-tenant operation across network providers, planned maintenance of inventory, automated ticket processing, etc.