Network timing and control for ICT, broadband and media
Timing & synchronization is one of the most critical IT services, and not only for the media and broadband industry. Finance, defense, meteorology, power utilities, industrial networks, IoT, fixed and mobile 4G/5G network operators, navigation, internet content providers, cable network operators (DOCSIS), data centers, broadcast and video production and more: Different industries use different clock and sync signals and have different requirements for the clock accuracy. This can start within a range of milliseconds down to sub-nanosecond accuracy. In the past, clock signals were rather simple and often distributed across separate networks, for example black & burst for broadcast environments. With the IP transformation, complex protocols to distribute and sync clocks are used. These are transferred on a shared link with all your other high-priority or high-bandwidth network traffic. Network engineering is a critical step, as is the continuous monitoring of the availability and performance of the sync signals. This is where DataMiner provides a full 360° monitoring and orchestration solution.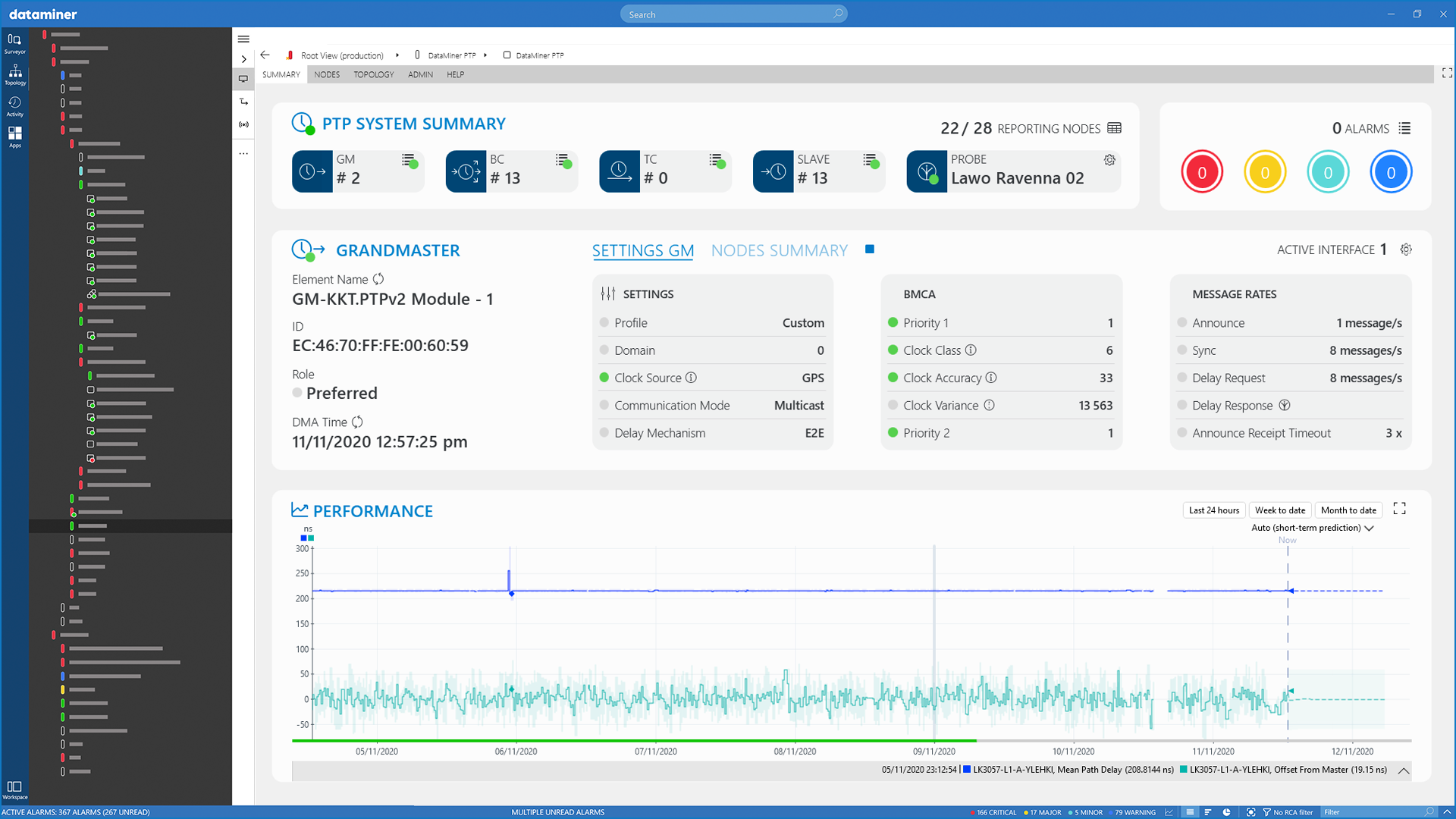 DataMiner integrates with any clock source, any clock distribution device, and any clock receiver, from any vendor irrespective of the protocol or interface.
Integrate with 10 MHz, PPS, SyncE devices, NTP servers, PTP/IEEE1588 devices and any kind of GNSS (GPS/GLONASS/Galileo/BeiDou/IRIG) time code generators, receivers and clock distribution systems.
Monitor GNSS details, e.g. satellites in view, elevation, azimuth, etc.
Interface with third-party network analyzers such as Wireshark for in-depth troubleshooting on packet and protocol level.
Use DataMiner Infrastructure Discovery and Provisioning (IDP) to automate the onboarding process in a secure and controlled manner: Automatically detect your clock devices and configure those with the right clock settings and profiles (also called "golden" configurations). This also includes configuring QoS policies on your switches, e.g. by setting correct DSCP values in your network to prioritize time sync packets over all other network traffic.
DataMiner monitors and orchestrates your complete timing system. It identifies any change in your clock system immediately and raises alarms or initiates a failover to another clock source if needed.
DataMiner provides 360° monitoring of every single clock and time metric from all devices, starting from the clock source, down to clock distribution devices and clock receivers.
Measure your clock performance over time on all relevant parameters, e.g. jitter, path delay, offset, etc.
DataMiner AI-augmented operations use artificial intelligence mechanisms to analyze the behavior of a clock system over time, identify deviations and proactively warn in case of a degraded clock quality, before services are affected.
Manage your underlying network infrastructure with DataMiner. Manage switches, full fabrics and SFPs, including digital optical monitoring (DOM) values such as temperature, voltage, RX power, TX power and laser bias current, to ensure proper clock, sync and timing packet distribution.
Use the DataMiner Dashboards app to visualize physical and logical network topologies and important metrics in real time.
Adding security workflows for complex time protocols like PTP is essential. For example, DataMiner can automatically set a "slave only" flag on each PTP slave node to prevent them becoming a grandmaster, or set the PTP role "Master" on your boundary clocks to discard PTP announcement messages coming from misconfigured PTP slaves. DataMiner can also automatically populate your Acceptable Master Tables (AMT) to create a whitelist of PTP nodes that can become a grandmaster.
DataMiner enables full timing control for your operation, from networking and media to ICT and cloud applications, or any combination of the above.
The DataMiner PTP app can manage your PTP network in all aspects out of the box. It collects and correlates data from each PTP device, and interfaces with third-party PTP network analyzers to achieve a true 360° real-time PTP monitoring solution, starting from the PTP grandmaster, across the PTP boundary and transparent clocks, down to each PTP slave node.
Associated Markets:
Media Production
Media Production - Production Event Management
Media Production - Studios & Production
Service Providers
Service Providers - Network
Service Providers - Network - Media
Service Providers - Network - ICT
Content Distribution
Content Distribution - MobileTV
Content Distribution - OTT