Master Control Room (MCR)
Master Control Rooms for radio and video are being redesigned to leverage the increased flexibility of all-IP, ICT and cloud infrastructures. Whereas control rooms used to be purpose-built technical hubs, today they are architected to be set up and operated in a highly agile manner. With DataMiner, you can get the most out of this new flexibility and agility, by managing all components, virtualized as well as legacy, from a single pane of glass.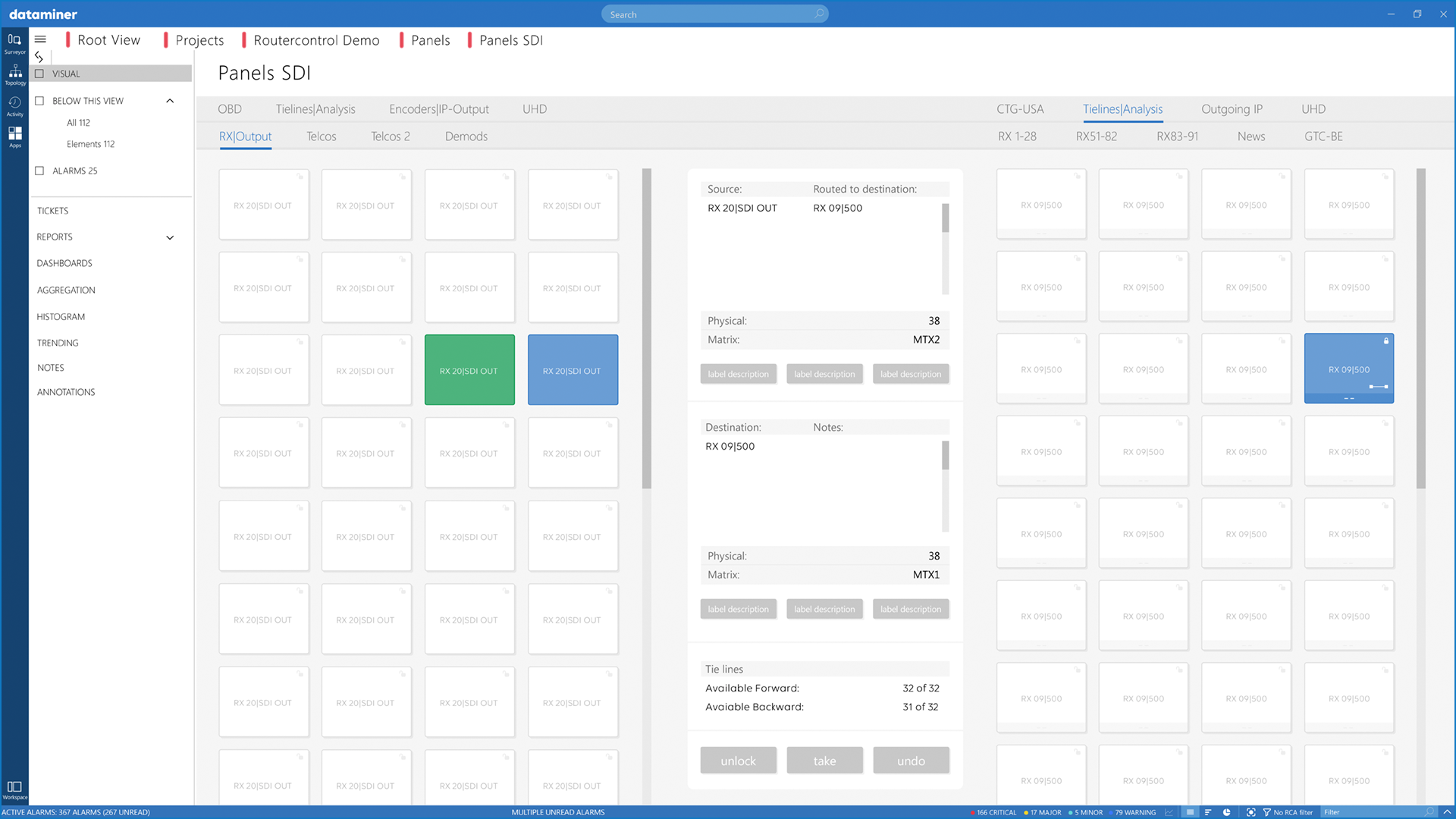 DataMiner provides end-to-end visibility and control for your entire chain, including video monitors, multiviewers, routers and switchers, hardware control panels, video receivers, video servers, confidence monitoring probes, recorders, test and measurement, monitors and analyzers for A/V/logo/graphics/subtitles/IP Wireshark/etc., talkback and intercom, transmission equipment, and customer premises equipment (set-top box or mobile app). DataMiner integrates with any equipment from any vendor.
Integrate DataMiner with fixed hardware panels and smart panels for intercom, signal routing or any other workflow execution, or with user-configurable software routing and button panels, and trigger anything from simple routing commands to the most complex redundancy or service life cycle orchestration scenarios.
Use virtual desks featuring context-aware signal and flow routing to create an environment that is fully transparent to the operator: "Follow the service", "Follow the operator", "Follow the schedule".
Enable your operators to focus their attention where it is most needed, with personalized software multiviewers (with personal penalty box) on each desk or on the big wall.
The DataMiner platform includes a built-in and configurable SDN controller with support for IGMP source and destination control, static multicast, source NAT-ing, egress port NAT-ing, make-before-break or break-before-make, etc.

Supports blocking and non-blocking fabrics from any vendor.

Supports routing and switching of any signal format and a mixture of these (SDI, HD-SDI, ASI, SMPTE ST 2022 compressed and uncompressed, SMPTE ST 2022-7 path redundancy, SMPTE ST 2110).

DataMiner offers end-to-end service orchestration including all A/V/D processors and all signal routing in and across facilities, whether in hardware or virtualized.
For virtualized signal processing, DataMiner offers full-stack orchestration and deployment of media services on ICT platforms, on premises as well as in the cloud.
The DataMiner Service Resource Management solution SRM schedules all resources, like encoders, transcoders, graphics processors, recorders, subtitlers, voice booths, etc., to allow for an efficient use of all resources associated with your MCR.
Make use of fully automated scheduling of desks and staffing to the work schedules.
DataMiner fully automates and schedules linear content ingest, as well as file ingest workloads, including watch folders, QC checks, metadata audits, A/V processing and transcoding, etc.
Use M2M integration with collaboration tools like Microsoft Teams and Slack.
Get an end-to-end view on your MCR chain, from network level up to service level, to not only enjoy an operational advantage, but also improve security. DataMiner can identify unexpected signal or network flows, aided by its AI-augmented operations. Additionally, streamlined configuration management guarantees that your ecosystem is always up to date with the latest security patches.
DataMiner supports all layers of monitoring and support, up to the business layer, offering full OSS/BSS integration, including features such as SLA management.
Associated Markets:
Content Creation
Content Creation - Production Event Management
Content Creation - Studios & Production
Content Creation - Thematic TV Stations
Service Providers
Service Providers - Network
Service Providers - Network - Media
Government & Defense
Government & Defense - MWR Networks