Data Center & Cloud microservices management
Data centers, and more generally compute and storage capacity, have become a commodity in recent years. Whether you host your own services or rent out capacity in the form of microservices, the key concern is the same: operating a data center, whether in a pure IT setting or in a broadband or media environment, is an exercise in efficiency, security and reliability. With DataMiner, you can optimize these three aspects. DataMiner will integrate your inventory management completely with your OSS/BSS workflows, and monitor and orchestrate your services all through the stack, providing you with state-of-the-art security and service-level (SLA) visibility on uptime and maintenance.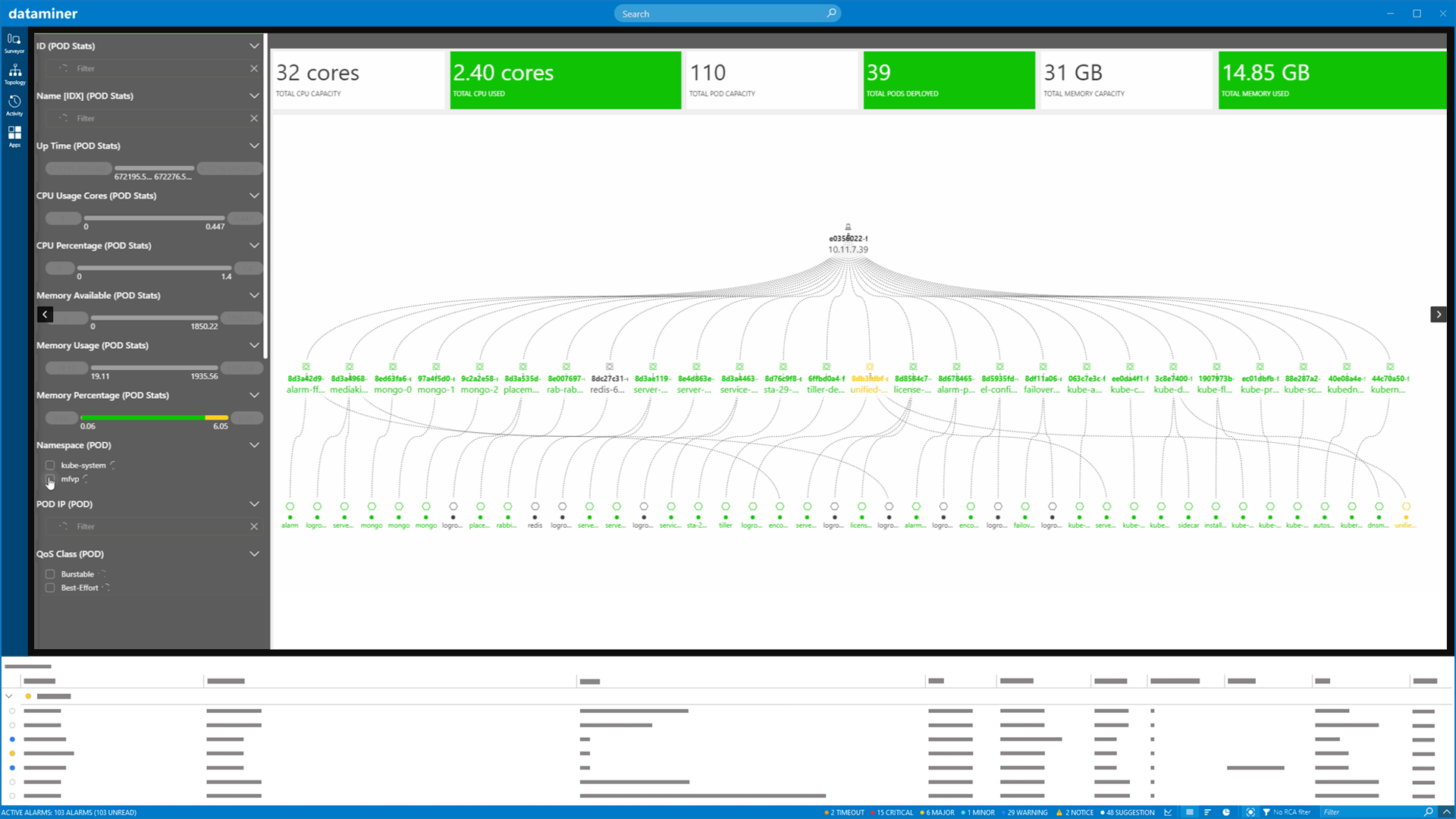 Provision your infrastructure with DataMiner Infrastructure Discovery and Provisioning (IDP). Managing the physical infrastructure is an important first step in managing a data center. DataMiner IDP will not only discover your network devices and compute devices, but also manage your network configuration, switch configurations, and even physical rack layout, thereby minimizing the time a technician needs to pinpoint problems.
DataMiner will deploy, monitor, orchestrate and manage your services on all levels, from the infrastructure level up to the service level, as a full stack ICT monitoring and orchestration system.
With DataMiner, planning, deployment and monitoring go hand in hand. You can plan the necessary high-level services beforehand, and DataMiner will calculate the necessary resources and automatically spin up PODs when necessary – and only when necessary. DataMiner also takes care of capacity management, making sure no resource is ever oversubscribed.
Any service or process you need, from deployment to maintenance, can be automated by DataMiner Process Automation (PA), guaranteeing the most efficient use of your data center infrastructure. With DataMiner Planned Maintenance (PLM), for example, you can efficiently plan your maintenance cycles, and automatically free up any infrastructure when maintenance is planned.
DataMiner integrates with any virtualization layer or service, whether on premises or in the cloud: K8S, Red Hat, AWS, GCP, Azure, etc.
With service-level monitoring and SLA management, DataMiner is a fully fledged OSS/BSS solution for your operation.
With intelligent AI-augmented monitoring of your entire ICT stack, from network and infrastructure up to service level, DataMiner enables your admins to focus their attention where it is needed. The AI engine can even indicate possible problems before they arise, by means of intelligent trending of KPIs.
The DataMiner Management by Exception solution combines schedule awareness and synthetic testing, increasing visibility on deployments.
The DataMiner Planned Maintenance app avoids system outages and minimizes their impact by automating redundancy of infrastructure elements (service re-deployment) on cluster level (geo-redundancy) and service level (service redundancy).
As security is of key importance in your data center, DataMiner assists SecOps teams by automating security workflows, but also by detecting anomalies in your network or operation.
Associated Markets:
Service Providers
Service Providers - Cloud
Service Providers - Cloud - Media
Service Providers - Cloud - CDN
Service Providers - Cloud - Broadband
Service Providers - Cloud - IoT
Service Providers - Network
Service Providers - Network - Data
Service Providers - Network - ICT