Ad insertion management and monitoring
Targeted and programmatic advertising are of key importance to any live and on-demand OTT service. Dynamic Ad Insertion (DAI) is the enabling control and data plane that has a vital role in delivering the right ad to the right audience at the right time. There are many ways to manage DAI. Ads can be inserted client-side (CSAI) or server-side (SSAI), and there are different standards (e.g. VAST, VPAID, SCTE130) available on the market to request ads from a server, as well as different protocols to set and read the markers in the video stream to identify potential splice points (e.g. SCTE-104, SCTE-35, SCTE-67, SCTE-214). No matter which technology you use to deliver targeted ads to your audience, managing the complete process end to end and monitoring the full OTT service chain up to the end customer is an absolute must. DataMiner is the ideal platform to make sure that the right ad is delivered at the right time to the right customer.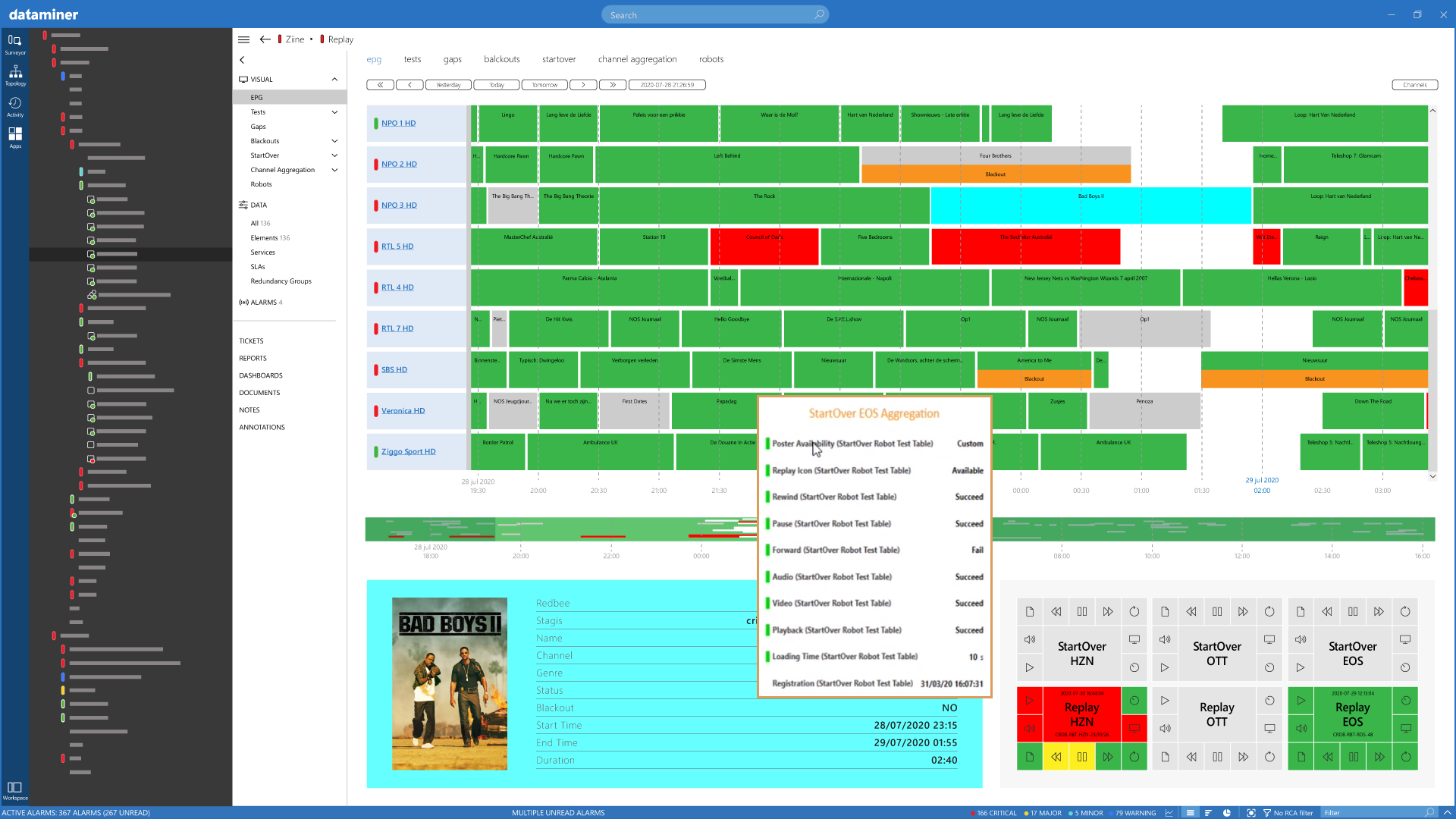 DataMiner interfaces with your entire OTT infrastructure, as a full stack monitoring and orchestration solution. This includes cloud functions but also on-premises hardware and software (operating systems, virtual machines, microservices, media applications) including any kind of probe to report the effective splice points.
Interface with your DAI components, e.g. ad server, splicer engines, JIT transcoder and packagers, Ad Management Service (ADM), Ad Decision Service (ADS), General Information Service (GIS), Content Information Service (CIS), Placement Opportunity Information Service (POIS), Subscriber Information Service (SIS), DRM systems, Origin Servers and CDNs, down to the mobile player or STB at your customer's home to get the full ecosystem overview. DataMiner interfaces with any application from any vendor.
DataMiner is schedule-aware: Read playlists from your 24/7 playout linear channel automation channels and identify secondary playlist events such as SCTE-104 triggers.
Use DataMiner's late arrival boards to proactively check out those ads that should be ready but are not yet available on time.
Looking upstream in the ad supply chain, DataMiner's built-in asset workflow automation ensures that the right ad asset is available at the right time on the right ad server.
Keep an inventory of all your ad clips, automate file metadata and clip QC workflows to make sure that ad clips have been validated up front.
Compare available playlist timeslots with actual inserted markers, regardless of the format. SCTE-104 (for SDI), SCTE-35 (for compressed transport streams) or manifest files (ABR streams), DataMiner compares the scheduled inserts with the actual inserts reported by monitoring probes and reports missing triggers and insertion success rates.
Spin up probes in the cloud on demand for a more in-depth analysis of your SCTE markers per region, per cloud and per CDN provider.
Correlate multiple probe alarms popping up in the service into a single service alarm. DataMiner helps you identify the root cause of your missing or out-of-sync SCTE trigger.
Calculate, consolidate and aggregate SLAs and DAI success rates per service, per region, per customer, etc.
Analyze SCTE-35 messages to gather details on the actual content of the message metadata.
Associated Markets:
Media Production
Media Production - Thematic TV Stations
Service Providers
Service Providers - Cloud
Service Providers - Cloud - CDN
Content Distribution
Content Distribution - DTT
Content Distribution - MobileTV
Content Distribution - OTT