I'm happy to announce that SRM Framework 1.2.11 is now available.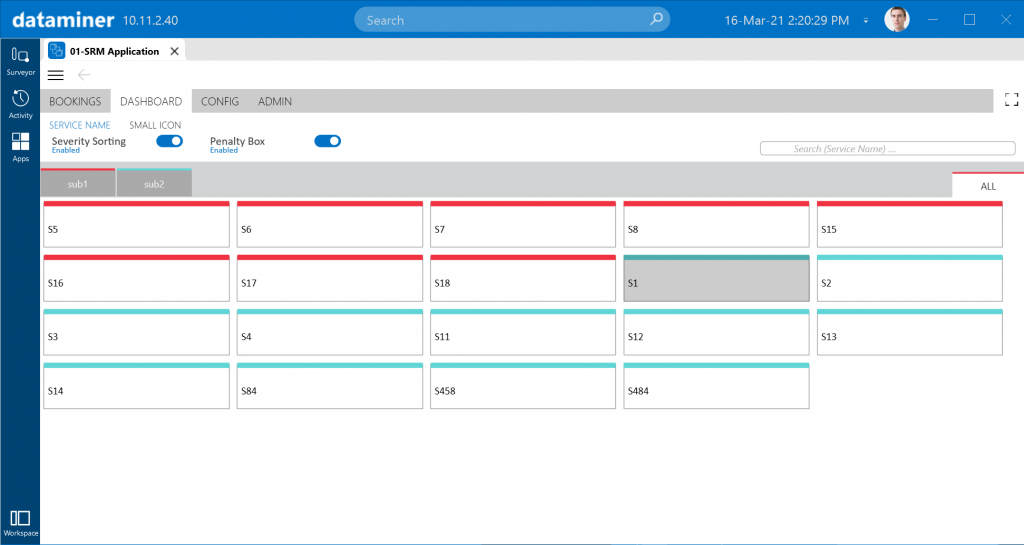 The biggest change in this update is the new Dashboard page in the Booking Manager application. The new page provides a high-level overview of all services created with the application. It comes with following features:
Ability to choose how each service is displayed (large blocks showing service name and alarm state, or small icons showing only the alarm state)
Search functionality
Sorting by severity or by name
Grouping based on categories
Penalty box mode to show only services in alarm
The new package also contains a couple of features that are small in terms of implementation, but provide an extremely high value for end users:
Flagging failed bookings is now fully part of the Booking Manager app and no longer requires any extra configuration. In case DataMiner is not able to start a booking, this will immediately be flagged in the Booking Manager, and booking blocks on the timeline will be colored in red.
A contributing booking in quarantine state will now affect all main bookings that make use of it and move them to quarantine as well.
It is now possible to enrich the block representing bookings on the timeline with multiple booking properties. This allows you to provide end users with more contextual information related to the booking.
On resource management level, we've also extended our Service Profile functionality, which makes it possible to spin up services with minimal user input, to manage resources in a more efficient way. In case a contributing booking is required when the main booking is created, SRM will only create it in case it can't find another contributing booking that is compatible.
For a complete list of features and enhancements of SRM 1.2.11, check the release notes.