The redefining nature of the technological evolutions makes it clear that you soon will be facing an entirely new set of challenges, and that you really need innovative solutions to deal with this.
For several years, we have meticulously designed and developed the foundations for some very ambitious innovations that effectively address these challenges.
These innovations have resulted in a very exciting new generation of DataMiner solutions that will completely redefine how you manage your next-generation operation end to end, spanning all vendor, domain, and technological borders, with resources on the ground and in the cloud.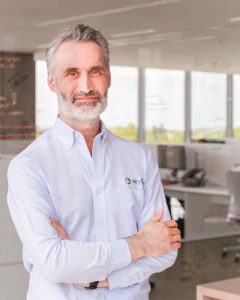 "The key enablers for this exciting new generation of DataMiner solutions include collaboration, cloud, artificial intelligence, orchestration, process automation and, last but not least, the data acquisition and control plane foundation underpinning all these."
1.
DataMiner

Data Acquisition & Control Layer

The foundation of DataMiner is itspowerful and versatile data acquisition and control layer. With DataMiner, there are no restrictions to what data users can access. Data sources may reside on premises, in the cloud, or in a hybrid setup.
2.
DataMiner

Cloud Platform

The DataMiner Cloud Platform offers you all the common cloud advantages, including ultimate convenience, powerful off-the-shelf capabilities and integrations, and of course also on-demand use and continuous scaling.

Achieve the ultimate convenience ☁️
Rewatch the Cloud Services live event
You will learn:

✔️ why agility is an absolute must
✔️ how cloud connectivity will boost your agility
✔️ about the hottest DataMiner cloud features
3.
DataMiner

Collaboration

In an ever more distributed operational context with agile teams, valuable operational data must be integrated seamlessly with everyday human collaboration workflows, in a secure and scalable manner.

Collaborate in an unprecedented agile way 🤝
4.
DataMiner

Orchestration & Automation

To establish a next-gen operation you need sophisticated orchestration with full awareness of availability, capabilities and capacity of resources. The DataMiner Process Automation (PA) module is an all-in-one execution engine for all your business, operational and technical processes.

Streamline your resources and services ⚙️
5.
DataMiner

Augmented Operation

Out of the box, DataMiner Augmented Operation will assist teams in making the right choices, with intelligent KPI forecasting, change point detection, patented anomaly detection, trend change detection, and much, much more!
Each solution amplifies the value of the others
While there's a lot to be said about the exciting features and capabilities of each solution individually, the real power and value comes when you combine them!
Each solution amplifies the value of the others. And this perfectly mirrors the transformation we see in the world around us: a culmination of various individual technology innovations.
So, are you ready to create some serious value for your business and operation?
---
You might also like