DataMiner Main Release 10.2 will be released on February 25th. This major release is the culmination of many important features, fixes and security updates that have matured between the 10.1 main and feature release tracks over the last year.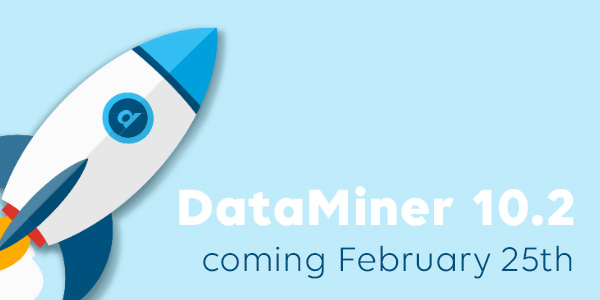 This also means that our oldest fully supported release, DataMiner 9.6, will go into Limited Support. As a result, there will be no further software updates for any issues or security vulnerabilities in that release. To receive essential software updates, you will need to upgrade to one of our fully supported versions: 10.0, 10.1 or 10.2.
Skyline's CEO recently organized a live session addressing all the key benefits of DataMiner 10.2, like cloud connectivity, security, architecture & continuous evolution, and a wealth of new capabilities and features. Watch the recorded live session for more detailed information about DataMiner 10.2.
Furthermore, DataMiner 10.0, while still fully supported, will go from regular updates to essential updates only and as required.
To get the very best out of your DataMiner System, upgrade to the latest and greatest release as soon as possible.
For more information on our release tracks, see DataMiner Main Release vs. Feature Release – DataMiner Dojo.
For a comprehensive overview of the DataMiner support life cycle policy, please read DataMiner Support Life Cycle Policy – DataMiner Dojo.
---
All the key benefits of DataMiner 10.2 at a glance
DataMiner Main Release 10.2 will give you access to all the latest and greatest features to empower your Digital Transformation like never before.
In this recorded live session, Skyline's CEO, Ben Vandenberghe, addresses the key benefits of DataMiner 10.2, like cloud connectivity, security, architecture & continuous evolution, and a wealth of new capabilities and features.
---
Some other reasons to upgrade to 10.2:
Failover without Virtual IP – This makes for a much easier configuration of redundant-ready systems using a shared hostname and allows main and backup agents to be in different subnets of your network.
Cloud Connected Agents (CCA) – Share dashboards and automatically deploy software and connector updates, access your DataMiner Agent remotely through our Microsoft Teams bot, plus much more functionality to come.
System Performance Indicators (SPI) – For cloud-connected systems, real-time performance indicators over all processes in a DataMiner ecosystem will give essential information on where performance gains can be made through software and configuration changes. This greatly enhances our support capabilities and future software enhancements for our users.
Best Practice Analyzer (BPA) – Do a health check using our BPA tool, and get hints and tips for optimizing your DataMiner System.
Cassandra Cluster – Scale your data storage capacity independently of your DataMiner nodes.
Generic Query Interface (GQI) – Get any data from your DataMiner System in dynamic and insightful dashboards.
Many security enhancements – In the increasingly volatile world of IT security, keeping your applications up to date is more important than ever. The latest DataMiner versions are packed with security enhancements to help you stay ahead of the latest threats.