Whether you're working from your regular workstation at the studio or from your setup at home, you can no longer overlook the importance and convenience of virtual desks.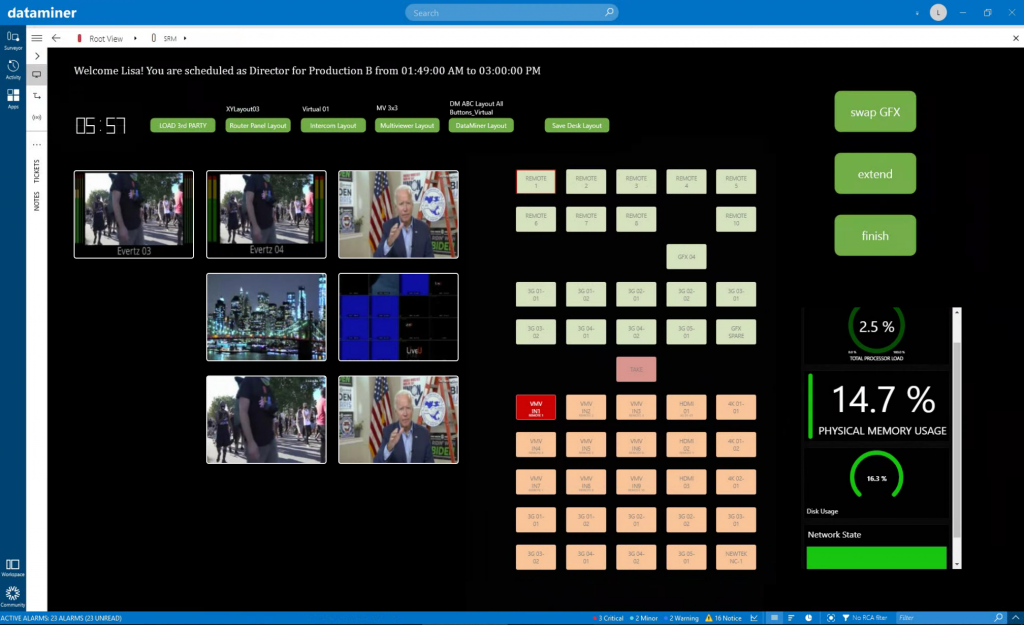 Digital Transformation doesn't only impel the need to adopt different technologies, like the transition to all-IP environments or the importance of AI-assisted automation, but it also makes us adopt new ways of operating, like collaborative working or remote working.
Eventually, it all boils down to creating a flexible and scalable operation: using physical and virtual resources more efficiently, moving resources to the cloud, sharing resources over the cloud, smoothly adopting new technologies, …
Fortunately, Digital Transformation also has some tricks up its sleeve to easily adapt to complex new business models. And the virtual desk is one of such tricks!
Take away complexity from your personnel
A virtual desk is a personalized control surface that can be conjured up from anywhere at any time merely by logging in to your account.
It adapts to your preferences, shows your preferred layout and displays the right info at the right time for the job you need to do and your specific role. Whether you're working on premises or from the comfort of your own home.
And don't be misled by the term "virtual", as virtual desks can also be connected to all your physical equipment.
While virtual desks can be used for any type of operation (NOC, MCR, playout, etc.), we're going to take a deep dive into the possibilities that virtual desks bring to live productions.
Virtual desks for live productions
Meet John
John Doe loves his job as a graphic operator on the Morning News. But today, he won't be able to sit at his normal workstation. His daughter, Sarah, has taken ill and is staying home. So John decided to stay home as well to look after her.
But that shouldn't be a problem. John gets out of bed, checks on his daughter, pours himself a cup of coffee and kisses his wife goodbye. Then all he has to do is log on to his virtual desk from his computer setup at home. The system automatically recognizes John and orchestrates the following:
It configures the software router panel, intercom panel and multiviewer on his virtual desk to align with the normal buttons and layouts John requires for the role he plays on the Morning News.
It modifies the software router control panel buttons presented to John so they target the multiviewer he sees on the virtual desk instead of the one at his on-premises workstation.
It modifies the intercom panels of John's coworkers so their "John buttons" target John's software intercom on the virtual desk instead of the intercom at his on-premises workstation.
After the Morning News, John is assigned to the pre-production of the Afternoon News. The system receives and executes John's request to reconfigure the virtual desk to the buttons and layouts he needs for his new role.
Now John is ready to call it a day and end his shift. While he logs off, his coworker Jane logs on the the same workstation. The system automatically recognizes Jane and reconfigures the workstation to her normal buttons and layouts.
Easily orchestrate the full life cycle of live productions
But implementing a virtual desk is part of a bigger picture. In order to orchestrate the full life cycle of a live production, you have to start with gathering all data that is required for that production:
the type of production (e.g. an HD or UHD production);
the studio and control room with the whole production infrastructure (e.g. CCUs, processing equipment, video servers, graphic generators and monitors);
the signals (remote sources);
the video and audio assets (e.g. graphic files and video clips);
your staff;
a working desk for everybody involved in the production.
Only then will you be able to effectively start setting up your desk with your own preferred layout and controls. And once everything is up and running, you need to be able to easily monitor all that's happening.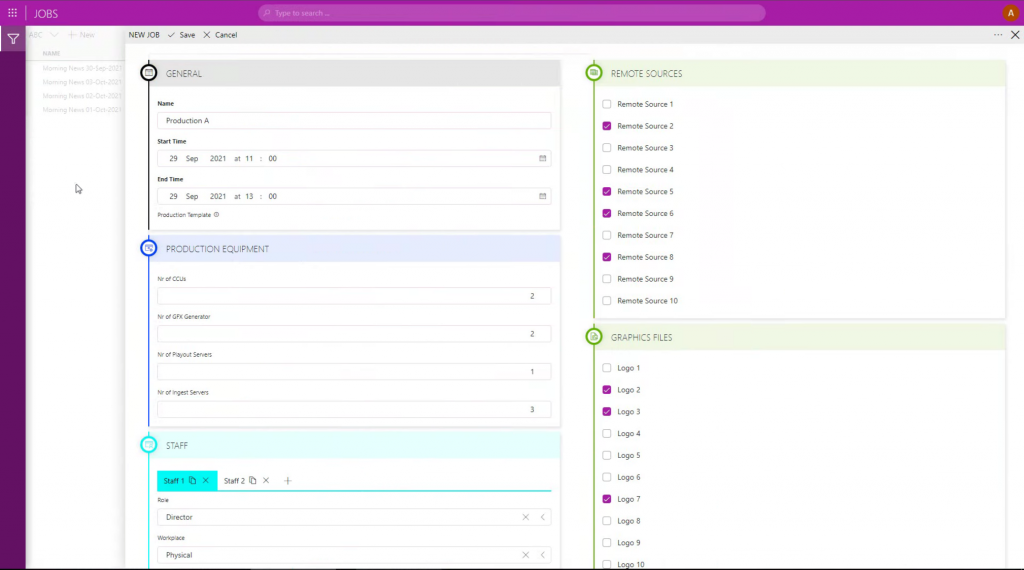 Setting up virtual desks with DataMiner
Fortunately, DataMiner does all the hard work for you as it automatically detects and books all the necessary data and brings up your preferred layout as soon as you log in to your account.
To showcase how easy it really is to manage and orchestrate live productions in a more efficient way—even when you're working from home—we have published an 8-part use case on Production Event Management.
Please note that you need to be logged in to access our use cases:
in the top-right corner of the screen, click LOG IN and authenticate yourself with your corporate email address.
In addition, there's also a 5-part demo available with a special focus on how you can easily create a virtual desk with DataMiner. This demo was created for a media and entertainment company in the U.S.
Please note that you need to be logged in to access our video library:
in the top-right corner of the screen, click LOG IN and authenticate yourself with your corporate email address.