OU Services for sports and events
Sports are an ever-booming market, with a high percentage of paying customers, a demanding audience, and a range of technical and logistical challenges. This has been complemented with the adoption of IT technologies and the advent of new promising markets such as eSports. Your sports organization, network, or OTT operation therefore needs the right platform to handle these challenges. With DataMiner, you can plan and automate your productions and transmissions, capture footage from anywhere in the world, create content, and deliver media to any platform. DataMiner delivers optimal efficiency in your operations, enabling you to create more content, more quickly, using remote and/or cloud production, and deliver it on a global scale.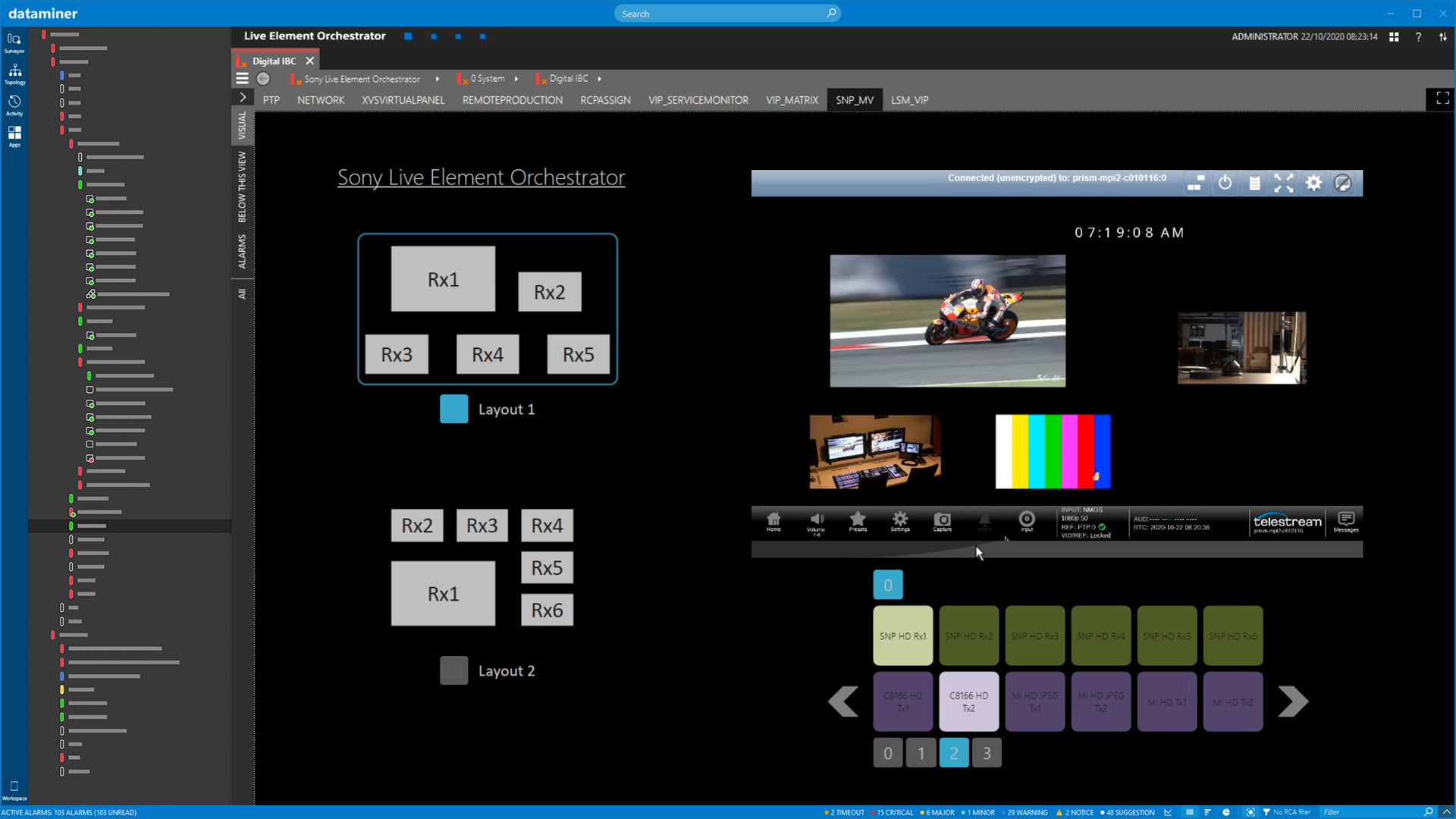 Use the DataMiner SDMN solution to deploy, manage and monitor your IP media networks, both inside your facility and in the WAN interconnected media networks to every venue. The DataMiner SDMN solution supports uncompressed signals (2022-6, 2110, etc.) in any possible configuration, as well as compressed streams, all in one converged network.
The DataMiner SDMN solution works both with software panels and with any hardware panel.
Plan the capacity of your IP media networks beforehand with the Service and Resource Management solution, and avoid oversubscription at the time of the event. This is the only way to be certain that the network bandwidth you need will be available at the time of the event.
DataMiner service management and orchestration will not only set up your media networks, but also manage your on-premises or cloud-based virtualized production and distribution equipment, like cross-converters or encoders.
DataMiner's state-of-the-art IP flow monitoring ensures a high quality of service for your contribution IP media networks at all times. Complement this with the DataMiner PTP app to enable full control and monitoring of your network timing.
Minimize your contribution costs by making the most efficient use of your contribution network connections. You can, for example, configure setups where contribution from the venue is uncompressed, but the return lines use a compressed signal.
Plan your productions with DataMiner, from the people to the equipment, so that they are scheduled as efficiently as possible.
DataMiner monitors and manages all your equipment, remote and on site, virtual or hardware. DataMiner integrates with any equipment from any vendor. DataMiner monitoring is state of the art, aided by AI-augmented operations, detecting problems before they even arise and enabling root cause analysis, so that you can get to the cause of any problem quickly and with a minimum of operator effort.
This planning information can be reused in billing and rate cards, providing you with a complete production planning system, fully integrated with your existing CRM system.
DataMiner offers shareable dashboards, so that you can easily share real-time information with any colleagues or even customers.
Deal with the complex multi-tenant operations you often face in sports venues using DataMiner facility management. It makes managing this easy, with extensive remote management and diagnostics, minimizing live interventions.
For sports channel operators, both on traditional media and over the top, DataMiner offers all monitoring, management, orchestration and automation needed to operate thematic sports channels, from content planning to playout automation to media datacenter solutions for content distribution. DataMiner integrates with any equipment from any vendor, and is completely cloud integrated, so that you can scale out services to the cloud when needed. DataMiner will deploy and orchestrate media services for media contribution, processing and distribution, on premises or in the cloud, and does so across the entire ICT stack, from platform, over containerized environments, up to the service level.
Safeguard the security of your operations by using DataMiner to help SecOps teams automate security workflows and detect unexpected flows in your networks.
Associated Markets:
Content Creation
Content Creation - Production Event Management
Content Creation - Studios & Production
Content Creation - eSports