OU Services for sports and events
Sports and live events are an ever-booming market, with a high percentage of paying customers, a demanding audience, and a range of technical and logistical challenges to provide a high-class customer experience. Media companies, service providers and broadcasters are going full speed ahead towards IP and virtualization, implementing cloud solutions, or experimenting with new contribution technologies such as 5G. More and more live events are run as remote productions with only a core team present at the venues. Today there is no more time to prepare business cases months or years in advance and then invest into static infrastructure to support that well-planned use case. Instead, it is all about creating an agile operation that allows fast reaction to ever-changing technology, business models and customer expectations.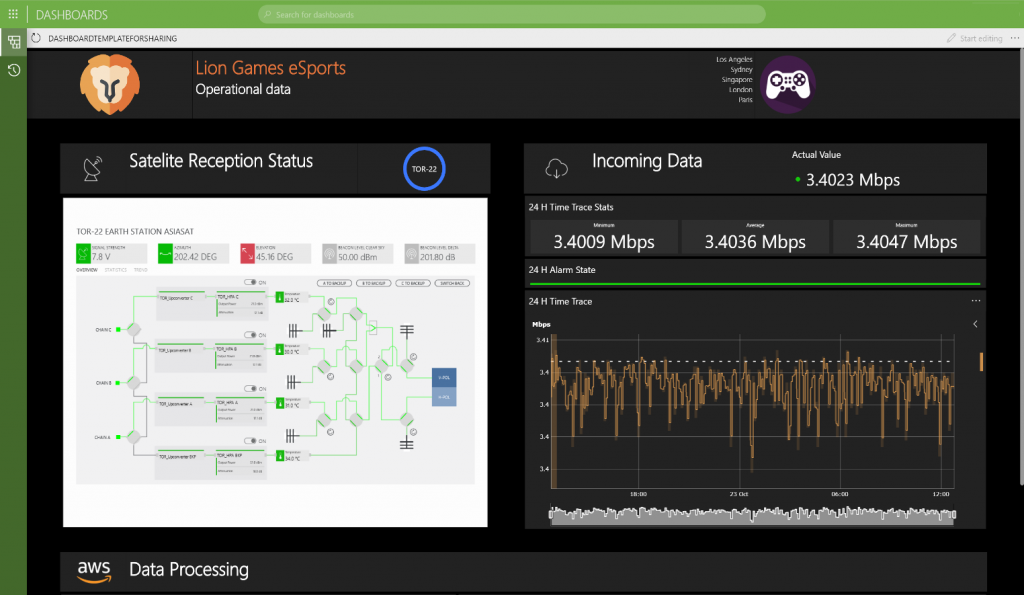 New solutions are required to manage the variety of media contribution technologies across different networks, be it your SNG truck, a fiber link between a stadium and your MCR, a bounded cellular 4G or 5G connection, or live streaming over the public internet using the popular ARQ (automatic repeat request) protocols. Every technology comes with its own challenges and specific set of media edge devices. Not only do you need to manage audio and video feeds in various formats and bitrates, which require a guaranteed network bandwidth, but in today's converged networks, non-real-time traffic (for example your video, audio and graphic files) also needs to be managed without interfering with any of your real-time content.
With DataMiner, you can plan and automate your productions and transmissions, capture footage from anywhere in the world, create content, and deliver premium media to any platform. DataMiner delivers optimal efficiency in your operations, enabling you to create more content, more quickly, using remote and/or cloud production, and deliver it on a global scale.
Make connections across any network technology & any media format
Use the DataMiner Software-Defined Media Networks (SDMN) solution and its SDN controller to deploy, manage, and monitor your IP media networks, both inside your facility and in the WAN interconnected media networks to every venue. DataMiner SDMN supports uncompressed signals (SMPTE ST-2022-6, ST-2110, etc.) in any possible configuration, as well as compressed streams, all in one converged network, and even supports your legacy technology like SONET/TDM, ASI, RF and SDI within your end-to-end operations. You can even use SDMN to set up broadband connectivity over fiber and VSAT to your remote vehicles and facilities.
Plan capacity up front and minimize costs
Plan the capacity of your IP media networks beforehand with the Service and Resource Management suite of tools and avoid network oversubscription at the time of the event. This is the only way to be certain that the network bandwidth you need will be available at the time of the event.
DataMiner service management and orchestration will not only set up your media networks, but also deploy and orchestrate your on-premises or cloud-based virtualized production and distribution equipment, like cross-converters or encoders.
Minimize your contribution costs by making the most efficient use of your contribution network connections. You can for example configure setups where contribution from the venue is uncompressed but the return lines use a compressed signal.
With DataMiner's built-in Dijkstra algorithm in the Flow Engineering app, you will always get the most efficient path in your network for red and blue. Cost factors can be added to each link or port in your network. With this, you can easily give your own WAN fiber links preference over leased links.
The right control surface for the right event at the right time
DataMiner makes it easy, with various options, to develop and operate (DevOps) the most convenient control surface for each team and each user.
DataMiner virtual desks are personalized control surfaces that adapt to your operators' preferences and location, show their preferred layout, and display the right info for the job that needs to be done at that specific time by that specific role. It doesn't matter whether your team is working on premises at the venue, in a remote production room, or from the comfort of their own home.
Those control surfaces can be simple software button panels, integrations with third-party hardware router control panels, wizard-style connection control surfaces, or any user interface you prefer. It's all possible with DataMiner.
The openness of the DataMiner platform is further underlined with a variety of APIs and webhooks that can be used to seamlessly integrate the platform into your existing operational environment.
Monitor your events from all angles
DataMiner monitors all your equipment, remote and on site, virtual or hardware. DataMiner integrates with any equipment from any vendor. DataMiner monitoring is proactive, aided by AI-augmented operations, detecting problems before they even arise and enabling root cause analysis so that you can get to the cause of any problem quickly and with a minimum of operator effort.
DataMiner's state-of-the-art IP Flow Monitoring and Analytics app ensures a high quality of service for your IP media networks at all times, including support for streaming telemetry. Complement this with the DataMiner PTP app to enable full control and monitoring of your network timing.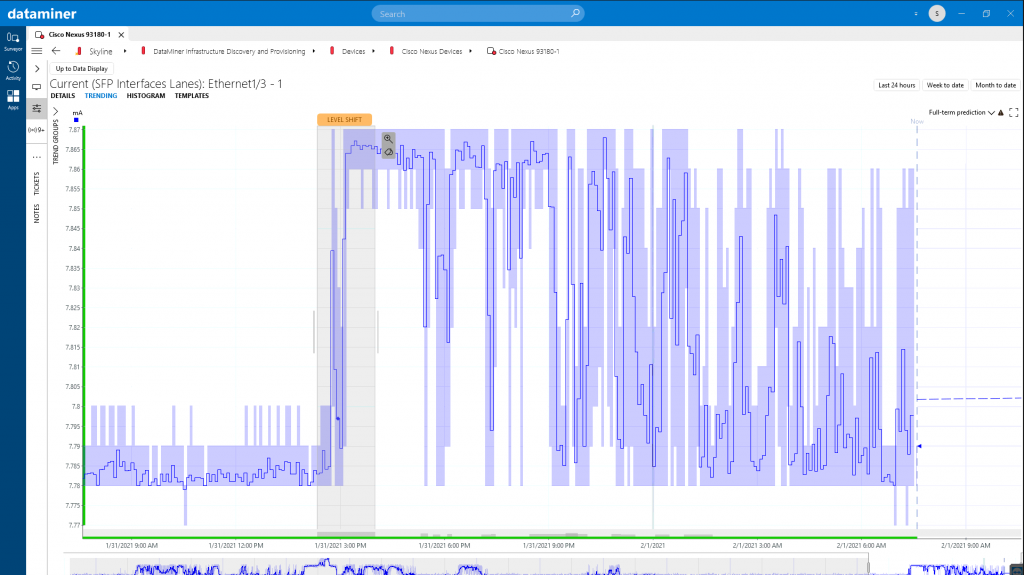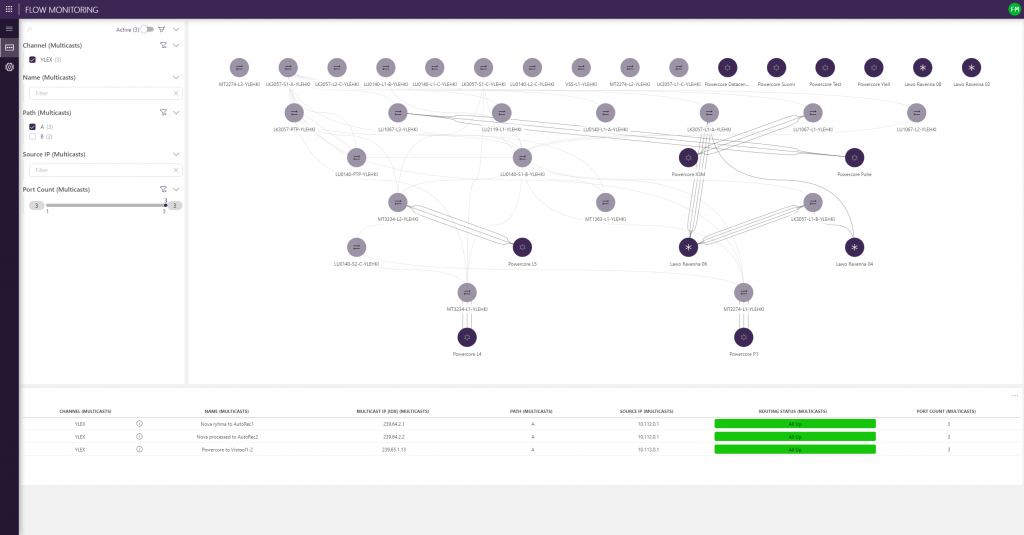 Integrate and collaborate: Digital transformation made smooth and easy
DataMiner integrates all layers of network monitoring and support, up to the business layer, offering a full OSS/BSS integration.
Add rate cards to all managed resources: the DataMiner costing and billing app allows you predict and track the exact costs for each event and can be fully integrated with your existing back-end system.
Not only can you plan your production resources with DataMiner from a technical perspective, with the DataMiner People app you can also schedule your personnel as effectively as possible.
With all technical, operational, and business data available in DataMiner, DataMiner live Dashboard sharing is the perfect feature to easily share real-time information with any of your colleagues or even customers and subcontractors. For example, at the start of an event, you can share a dynamically built software-router panel for return-feed control in a stadium.
Deal with the complex multi-tenant operations you often face in sports venues using DataMiner facility management. It makes managing these operations easy, with extensive remote management and diagnostics, minimizing live interventions.
Security first: what is not allowed, will not happen
DataMiner assists your SecOps team by applying and automating security workflows in a highly repetitive and consistent manner. DataMiner continuously scans your network inventory, capturing configurations and checking policies, checking software image updates, and reporting deviations to approved (golden) versions. DataMiner also automatically detects and signals changes and policy violations, and it can even automatically restore the network to a safe state or shut down unsafe ports and segments.
Once you have secured the onboarding of your infrastructure, there are plenty of things you can and should do when it comes to signal management during your live production:
Use true SDN control with DataMiner SDN controller instead of IGMP.
Dynamically add and remove ACL entries.
Turn access port admin states on or off based on service schedules.
Activate ingress policers to only allow a pre-defined maximum flow bandwidth for each signal source (flow policies).
Set up edge destination access control to specific flows only (host policies).
Connect to network and media edge resources using secured and dynamically deployed APIs (undeploy APIs when a service is not in use).
Combine live events with E2E channel management
DataMiner not only manages your live event contribution but provides a unified orchestration layer across your complete supply chain, including processing, playout, and primary and secondary distribution up to the consumers' devices, such as STBs or OTT clients.
Combine live events with everything needed to operate thematic sports channels, from content planning to playout automation to media data center solutions for content distribution.
With DataMiner being completely cloud-connected, you can scale up services to the cloud when needed. DataMiner deploys and orchestrates media services for media contribution, processing, and distribution, on premises or in the cloud. This is not limited to EAST-WEST media functions (data plane) but also includes the entire ICT stack, starting from the hardware platform, over virtual machines and operating systems, across containerized environments, up to the service level.
---
Learn more about how DataMiner manages your live events
White Paper: SDN Orchestration explained
This white paper explains how to build an SDN solution for media and what your options and possibilities are. As there is no single blueprint that fits everyone's needs, each deployment will be (at least) slightly different. This white paper will help you make the right decisions up front.
Blog Post: Virtual Desks
In this blog post, you can learn everything about virtual desks, how they work, and how they bring peace of mind to your operations. Create a personalized experience for each user, at all times, in all places. Learn how to:
create jobs and bookings
ingest jobs with user-definable APIs
set up physical desks
set up virtual desks
create software intercom panels
Expert Hub: Streaming Telemetry
Streaming telemetry, flow monitoring, and network traffic flow management are technologies used to find out exactly what's going through your network. Check out our expert hub to get insight in different aspects and to find out how streaming telemetry and flow monitoring are used in different industries.
Associated Markets:
Content Creation
Content Creation - Production Event Management
Content Creation - Studios & Production
Content Creation - eSports