Media Asset Workflow Automation
Media and advertisement assets have always been around in any M&E organization. It's just thatBut now there 'sare ever more of them, published in more flavors for each screen, and the timespan from creation to publishing is getting shorterned week after week. As such, the underlying asset capture, processing and publication pipelines are getting more powerful, virtualized and cloudified to adapt to the workload at any time. In the past, technologies from a single or a handful of vendors wereas enough to build an operation, and often MAM systems would offer a level of automation as an add-on to their core business, which is management of asset libraries, and but not technology. Today, many IT, cloud and media functions and products are required to process the complex workloads. So naturally, the multi-vendor DataMiner orchestration is the obvious choice to automate your media asset workflows end- to- end.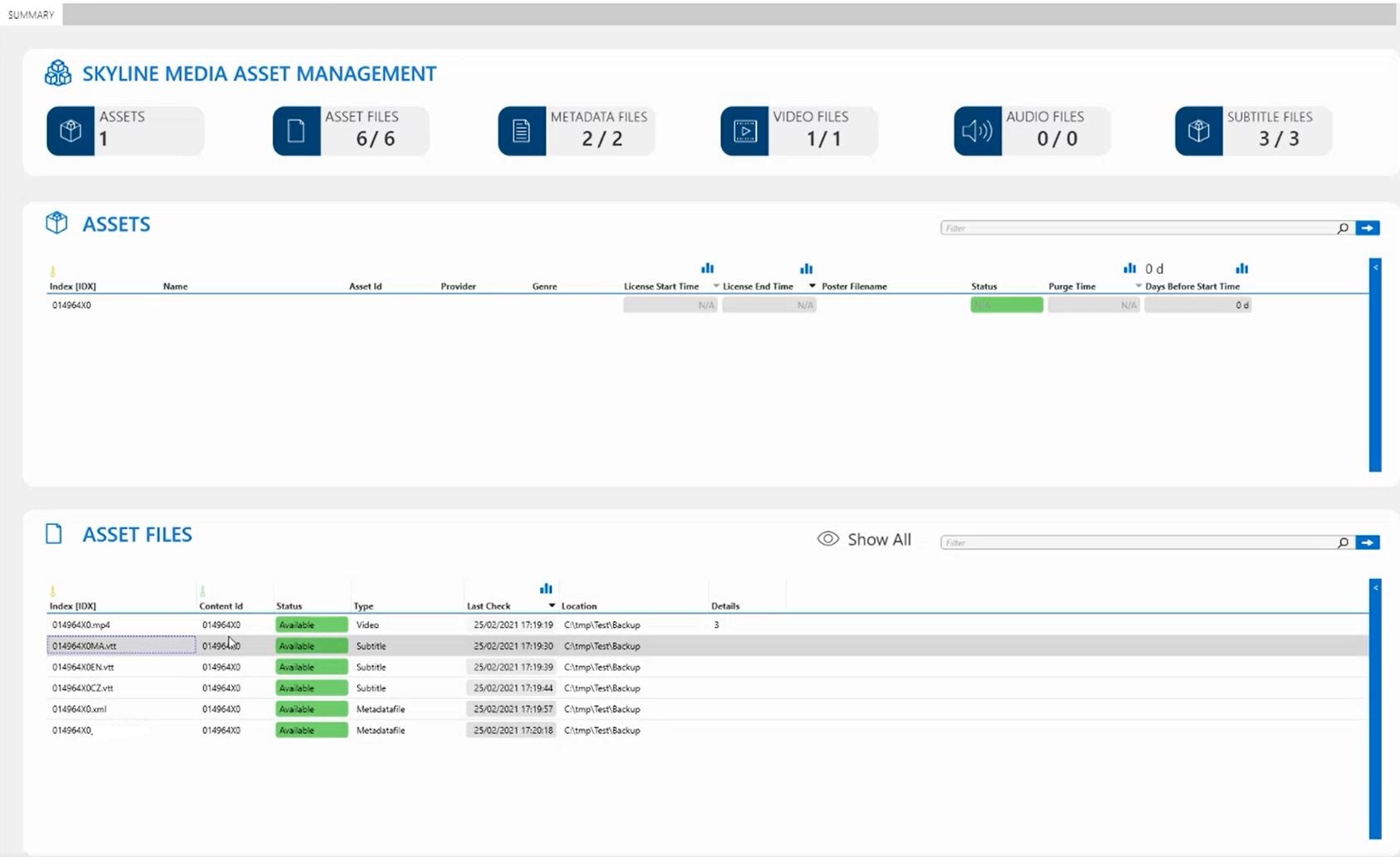 DataMiner gives you the freedom of choice to deploy any technology or brand in your media asset supply chain. Build the optimal asset pipelines using best-of-breed products including MAM systems, file catchers and servers, audio and video quality check functions, graphics and subtitle systems, file transcoders and DRM systems, VoD and OTT portals, IT and cloud infrastructure, etc. DataMiner will integrate with any technology from any vendor.
Create, change and optimize your asset pipelines across on-premises infrastructure and multi-cloud functions (IaaS, PaaS, SaaS).
DataMiner can monitor your asset pipeline, but also spin up new instances when needed, e.g. in peak situations. These instances can be deployed, orchestrated and monitored either locally or in the cloud.
DataMiner Service and Resource Management (SRM) takes care of resource and capacity planning, but also ensures that the available capacity is used in the most optimal manner. Handling peak demands for e.g. QC checks, transcoder, etc. is easy: DataMiner can spread workloads over time, spin up more temporary capacity, re-prioritize workloads depending on the asset category or other asset metadata, or apply customized business rules.
Get detailed reports on the used capacity, predictions of future capacity needs and proactive warnings on upcoming resource shortages.
Make use of autonomous asset ingest, independent of format or method. This includes e.g. scheduling and orchestration of file exchanges over fiber or satellite, monitoring hot folders on file catchers and FTP servers, etc.
DataMiner parses and analyzes descriptive and technical metadata (such as ADI, XMP, ID3, etc., but also proprietary to the content provider).
Get proactive warnings in case of report metadata inconsistencies, incomplete or missing mandatory fields, box cover, etc.
Ingest program schedules from your traffic management system, and get proactive warnings in case of faulty, incomplete or late asset arrivals (asset arrival board).
Move assets through complex and customized processes, including interactive exception handling with your operator teams.
Use DataMiner Process Automation (PA) to design your own processes and activities, and configure when these should be active.
DataMiner PA aligns with the OMG BPMN 2.0 standard Business Process Model and Notation, including BPMN gateways. This makes it easier to automate your asset workflows. With its open API, DataMiner allows integration with any third-party BPM workflow engine, like Camunda, or any other. This integration opens up workflow automation towards any BPM-enabled ecosystem, like MediaGenix's WHATS'On or others.
Keep track of an always-up-to-date asset inventory and monitor the real-time status of all components, including where they are in the pipeline, etc.
Centralize management of administrative info such as content providers, contact persons, procurement team, etc.
Fully automate SLA compliance tracking for each asset, with aggregated SLA reporting for each content provider
DataMiner integrates workflows within your fully digital OSS environment. Examples are automated ticket creation and handling, dashboard sharing with your content providers, sharing of asset and content provider data with your invoicing and billing systems, etc.
DataMiner Cloud Services allow for collaboration between content provider and consumer. This includes real-time dashboard sharing with all asset info, errors and missing items, notifying providers proactively using Microsoft® Teams and Slack, etc.
Associated Markets:
Content Creation
Content Creation - News Gathering
Content Creation - Thematic TV Stations
Content Distribution
Content Distribution - OTT
Government & Defense
Government & Defense - MWR Networks