The network operations center (NOC) is the beating heart of satellite and teleport operators' networks. But with networks getting more complex and new technologies springing up like mushrooms, service operators have to constantly improve their NOC infrastructure and operations. Easier said than done!
So, how exactly do you strengthen and improve one of the most critical elements of operational and customer support? That's what WTA explores in their new research report: Building a Better NOC. In this report, WTA examines the challenges and strengths of today's NOCs, how you can improve your NOC, and what the future of NOCs will look like.
Interested to discover how DataMiner helps you handle the complexity of today's and tomorrow's NOCs? Visit the NOC solution page!
In researching this report, WTA solicited and received input from more than a dozen teleport industry executives and technology experts, including Skyline Communications, who offered a wide range of viewpoints on NOC-related topics.
The report is free for WTA members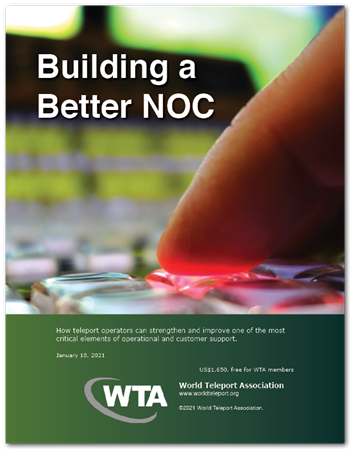 "Investment in monitoring and control systems, such as Skyline Communications' DataMiner system, that provide an overarching system management capability across a myriad of systems […] the benefit these systems bring is to present the information and alarms from multiple platforms to network operators in a coherent and meaningful way that helps them run more services for more customers and provide better levels of service."
– Building a Better NOC, page 8

Our DataMiner experts will be attending the upcoming Satellite 2022 event (March 21-24) where they are invited to talk about 'building a better satellite service NOC' (March 23, 3:00 PM to 4:00 PM).
A must-see for all satellite teleport operators!
Don't miss out on this opportunity to discuss your NOC projects or inquiries with leading experts in the field: make sure to schedule a meeting.