Media over IP is no longer just a roadmap item. Many broadcasters and media companies have been eager to put uncompressed all-IP projects into action to benefit from COTS hardware and possibilities to virtualize both network functions and applications, and to deploy those media solutions in the cloud.
While SMPTE ST2022-6 and SMPTE ST2110 data plane standards have already been adopted throughout the media industry, several challenges remain with respect to automated and secure infrastructure onboarding and management.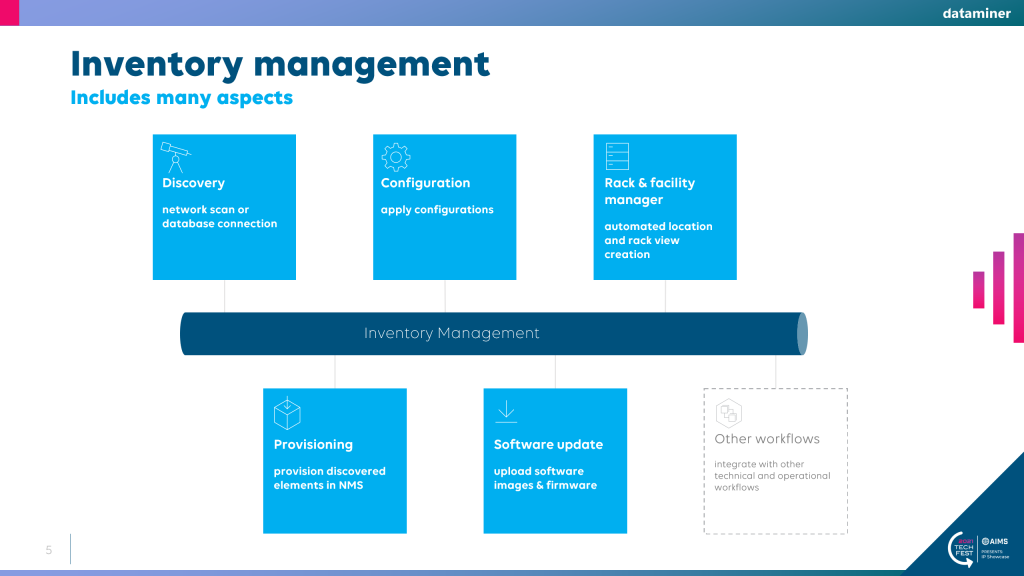 Although more and more vendors support the NMOS IS-04 specification for automated discovery and registration of media nodes, the rollout of real projects has proven that not all equipment supports IS-04 yet. As a consequence, inventory discovery and provisioning solutions need to support hybrid (NMOS & non-NMOS) infrastructures. IS-04 compliant nodes are discovered via the NMOS registry, other infrastructure either via network scan or by interfacing with other managers.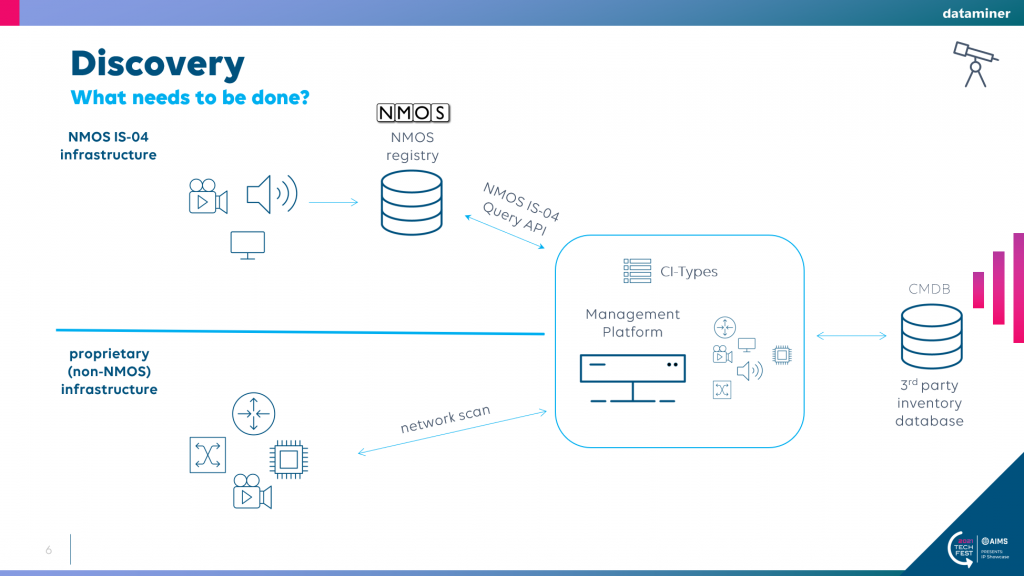 Node discovery only is not sufficient. Automated network topology detection, including the media edge nodes, is essential to support other applications, for example any kind of SDN control.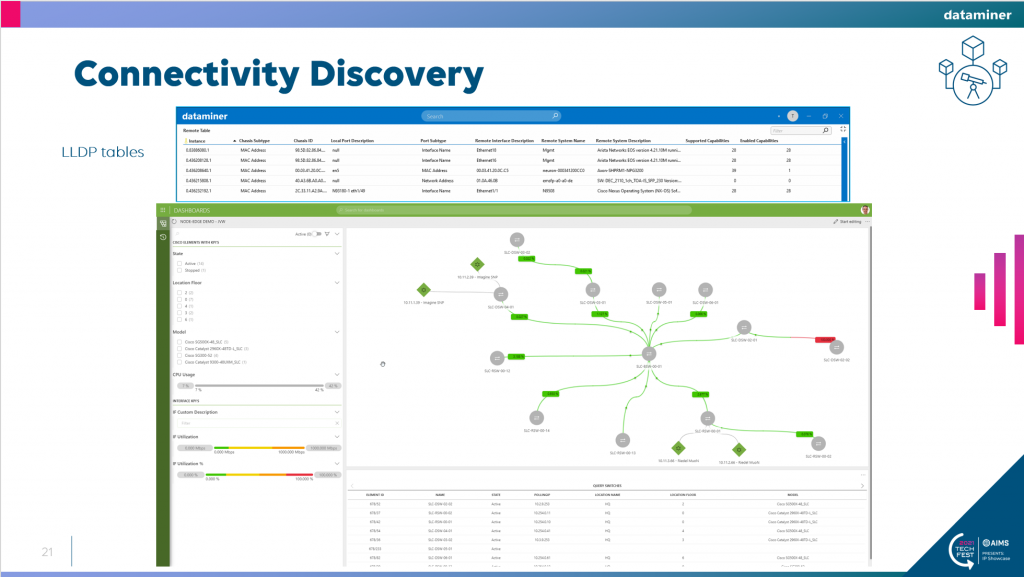 No matter how new inventory and topology is discovered, the other operational workload inevitably ties into inventory onboarding, with activities such as configuration management, automatically applying the right firmware, planning software updates and executing these during downtimes, etc. In all this, security is one of the most fundamental aspects.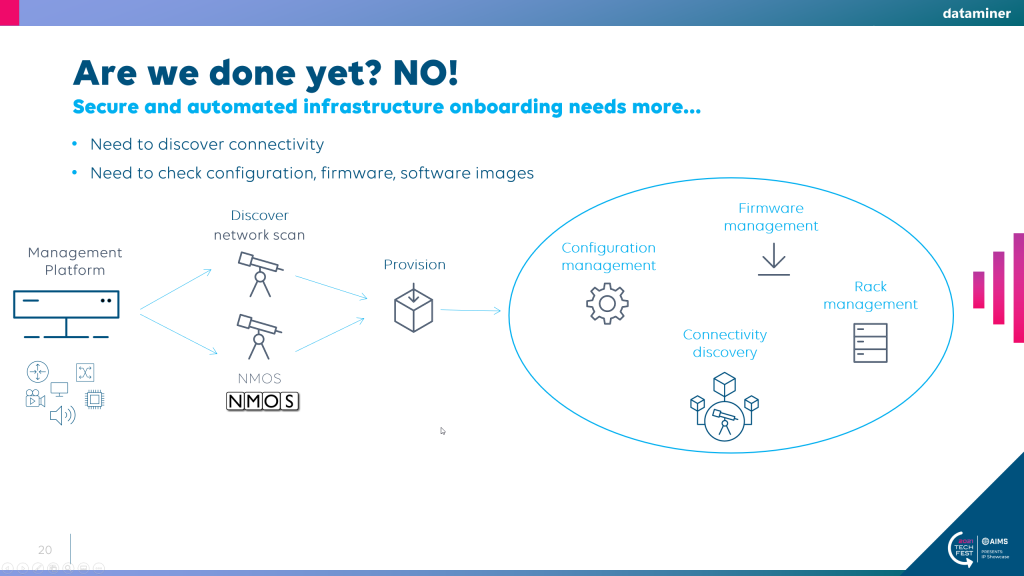 Whereas traditional monitoring of status info and configurations is still important, enriching the visibility on the network with synthetic testing has become table stakes.
Have a look at this presentation, which was held during the AIMS techfest, and you'll find out how such an automated hybrid discovery solution can be coupled with other teams such as ICT operations as well as technical and operational processes, for example synchronization with third-party CMDB databases, managing planned maintenance slots, interfacing with ticketing systems, or automatically populating rack views for IT teams.

360° inventory management is key to for every all-IP project to speed up the initial rollout via automation but also to ensure a secure environment over time during daily operation.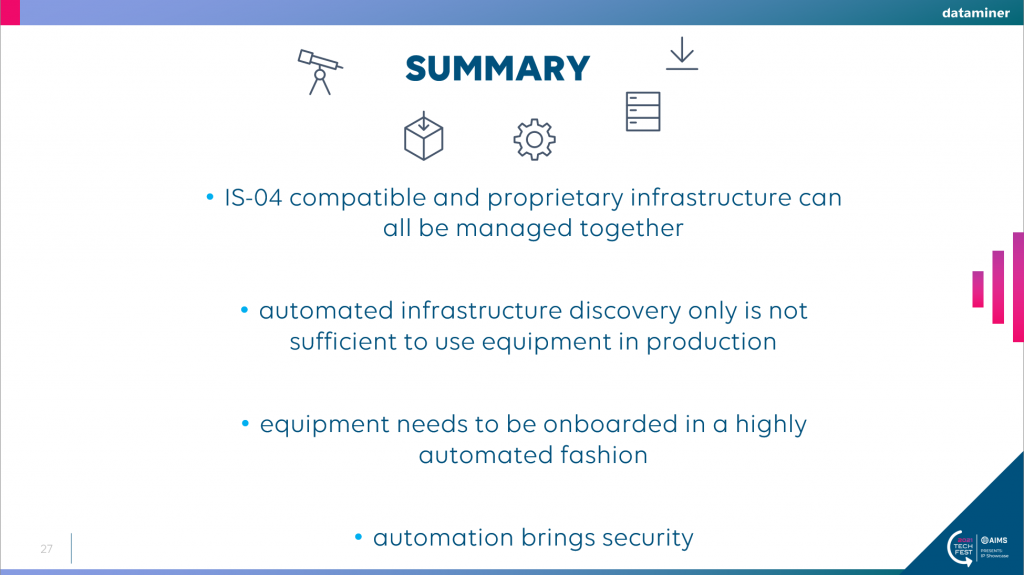 Want to connect DataMiner to your IS-04 registry? Then check out this use case for more details, or check this detailed description of how to configure DataMiner IDP with IS-04.