We are very excited about the new release of the DataMiner Infrastructure Discovery and Provisioning (IDP) app!
This version comes with a number of activities and out-of-the-box processes that enable you to schedule a discovery, provision or delete elements, reapply or reassign CI types, update software images or assign products to a rack. You can also design and schedule your own processes in our intuitive wizard by combining these activities in any sequence that suits your workflows. All workflows are scheduled with the powerful Process Automation framework.
This version of IDP also introduces the ability to perform a configuration update on managed elements with any configuration file from the DataMiner Configuration Archive. In the tab Configuration > Update, a user can search and select any configuration file, select the managed elements and then click Update to launch the configuration update. Under the hood, the custom scripts are executed on the DMAs hosting the elements and have access to a (temporary) local copy of the file from the Configuration Archive.
Since the beginning, you could configure on which DMA in the cluster you want elements to be provisioned. Either the CI type has a designated DMA configured or elements are provisioned based on their IP ranges. With this release, the DMA can be handpicked, so a discovered element is provisioned on the selected DMA and will reside where you need it to be.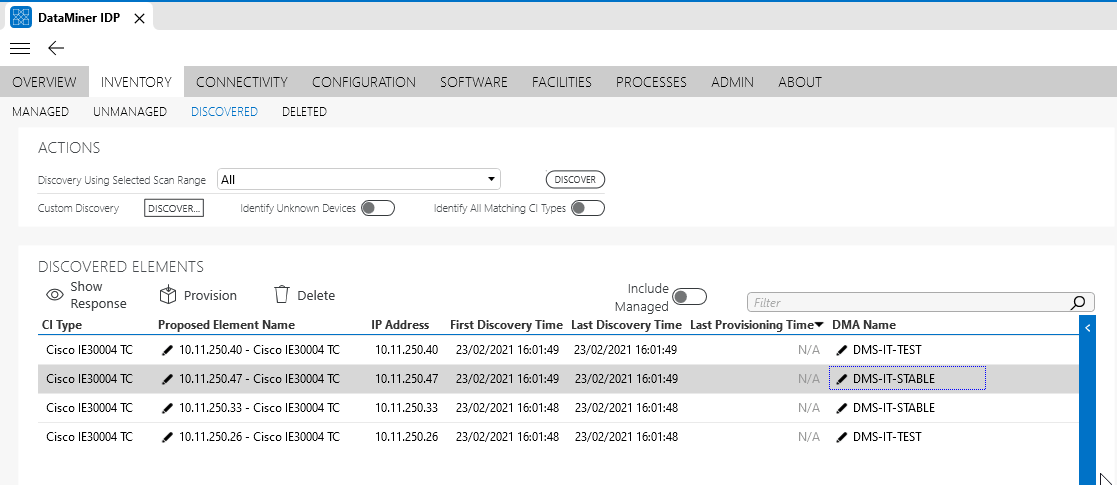 From now on, it's also possible to silently install or update IDP. By default, the set-up wizard still has the step-by-step screens, but we have added a mechanism for the set-up wizard to be called a subscript, providing default values and the ability to cherry-pick which screens of the wizard need to be shown. This is particularly useful when you want to automate the installation, or in case IDP is running in a completely pre-defined setup as part of an OEM solution. Internally, we can now automatically install and configure IDP RC packages on our test systems in order to run nightly tests even more automatically.
A complete overview of all features and enhancements is available in the Release Notes .