The next version of the SRM framework, SRM 1.2.16, is now available. It adds to the improvements that have been made in earlier releases to the way crucial information is made available to the end user, including booking alarm monitoring and attachments, and orchestration logging.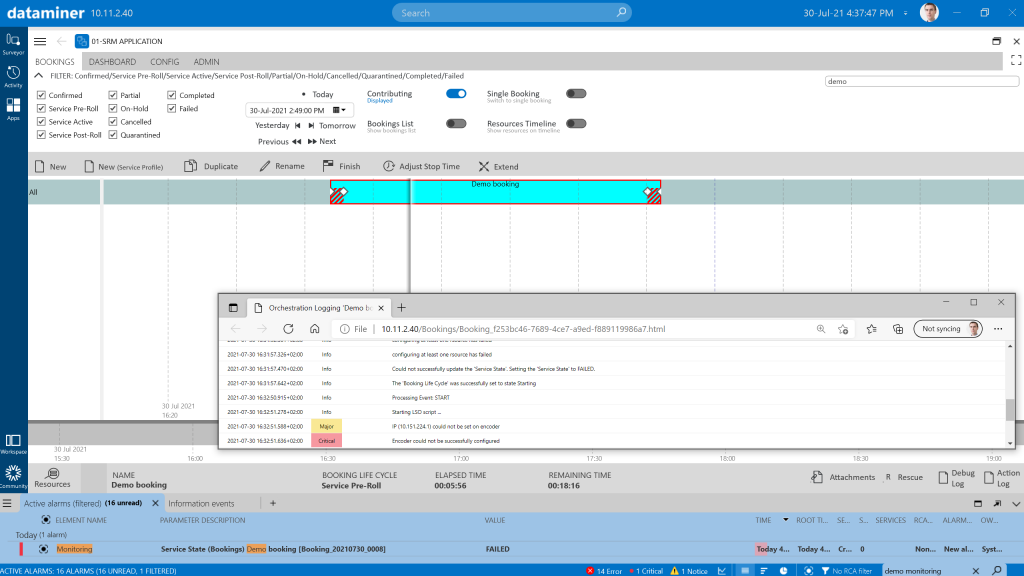 The logging feature of the SRM framework has been revised to make it more user-friendly. Up to now, user actions on bookings (Confirm, Cancel, etc.) and details about orchestration were logged in a plain text file without any formatting. This feature has been reviewed and records can now be colored based on severity. This will allow you to immediately identify critical entries in the log file. During orchestration, any failure can have a critical impact on operations; now you will be able to immediately identify what has failed so you can take corrective actions.
Recently, SRM 1.2.15 was also made available. Among the features introduced in this package, booking attachments are of specific note. With this feature, you can now select any document from your local file system and attach it to a booking. In the background, the file gets uploaded to the DataMiner Documents module. It then becomes available to any user with enough rights. This will for instance be very useful when several departments are involved in the booking creation process, and documents related to the booking request need to be exchanged.
For a complete list of features and enhancements, check the 1.2.15 and 1.2.16 release notes.