SaaS (Software as a Service)
Whether you have a broadband, ICT, media or satellite operation, chances are your operation is becoming more and more dependent on SaaS as opposed to private data center services. Though SaaS will keep expanding in scope and use cases, it will always up to some level be hybrid, even if just for the endpoints. While SaaS data (ICT) applications are fully mature, there are still specific requirements for video and broadband applications. Certain requirements have been largely adopted, especially in the file processing (NLE, MAM) and low-bitrate delivery (OTT, CDN, playout) fields, though high-quality high-bitrate live streams are still in development. For satellite and broadband, timing is also an aspect that is not fully mature yet. In short, Software as a Service will continue to expand in scope, but will always be hybrid to some extent. With DataMiner you are able to choose your best-of-breed SaaS, and deliver performance and reliability throughout a quickly changing environment.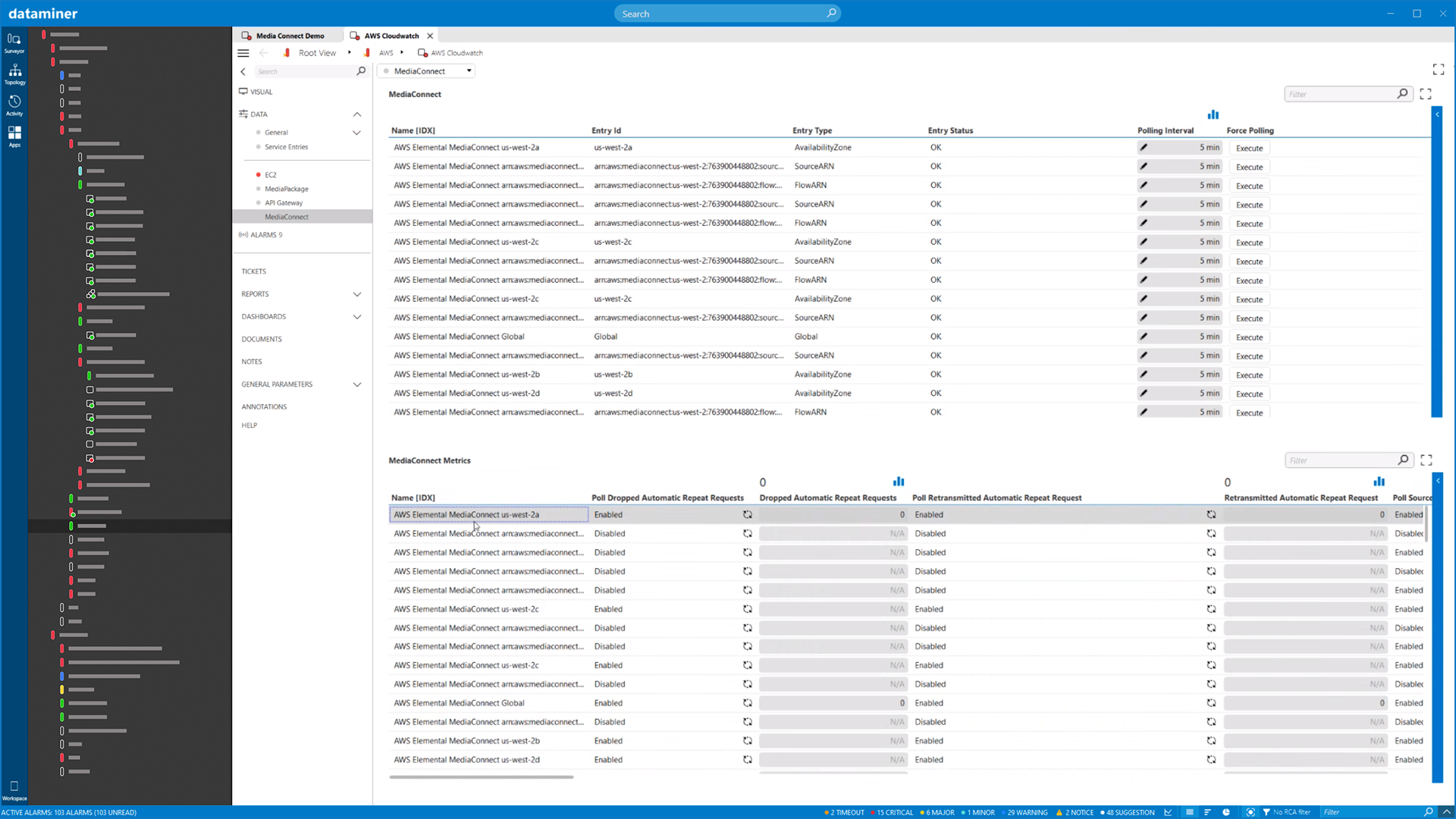 DataMiner gives you the freedom to choose and the flexibility to change. Choose your best-of-breed SaaS solution. At any time. DataMiner integrates with any product from any vendor.
Swapping out providers in your value chain is inevitably challenging, as there is always an overlap in functionality (a provider might offer transcoding, subtitling and CDN services, etc.). DataMiner Service and Resource Management (SRM) will orchestrate the offerings from different providers, making it possible for you to switch out one provider or one functionality in your value chain for another one. Or you can exchange on-premises services for SaaS ones, or vice versa. DataMiner SRM orchestrates the live work.
DataMiner SRM and Process Automation (PA) orchestrate your live flows, as well as your non-linear flows, like file upload and transfer. DataMiner is a full monitoring and orchestration solution for every type of solution.
DataMiner will orchestrate and monitor your full SaaS stack, from the PODs and microservices up to the service level.
Some markets are more mature in relation to SaaS than others. Skyline Communications has the experience and flexibility to build connectors with any service, and to unburden your operation from integrating with all vendor APIs separately.
With DataMiner you get full, 360° visibility on the utilization of your cloud services, not only in the past, but also for the planned utilization in the future. This is essential to keep control of the costs of a multi-cloud environment.
With full visibility on the technical stack, DataMiner allows full management of your administrative processes, creating billing and costing records, and aggregating your rate cards and data collection in reports in your ERP solution such as Salesforce.
With intelligent AI-augmented monitoring of your entire ICT stack, from microservice up to service level, DataMiner enables your admins to focus their attention where it is needed. The AI engine can even indicate possible problems before they arise, by means of intelligent trending of KPIs.
The DataMiner Management by Exception solution combines schedule awareness and synthetic testing, increasing visibility on services.
As security is of key importance in your operation, DataMiner assists SecOps teams by automating security workflows, but also by detecting anomalies in your network or operation.
Associated Markets:
Service Providers
Service Providers - Cloud
Service Providers - Cloud - Media
Service Providers - Cloud - IoT