We have had feedback from our operators that our recommended polling interval of 2000ms keeps reverting to 100ms.
After investigating, we found that our standard polling interval of 2000ms reverts to the default 100ms when you navigate the settings menu. That is, if you open your settings and click on any of the setting options, then navigate back to the computer connection, it will for some reason display 100ms instead of (in our case) 2000ms.
It does not save the 100ms interval if one only navigates the settings menu and then close/cancels the settings window. In this case, when you reopen the settings window and go to the computer connection, it will display the correct setting of 2000ms.
However, if you do choose to go to another settings option and then apply it, it will save that plus save the polling interval at the now defaulted 100ms.
Not sure if this is something that has previously been raised. I could find nothing under search.
If someone could please take a look at this and advise it would be much appreciated.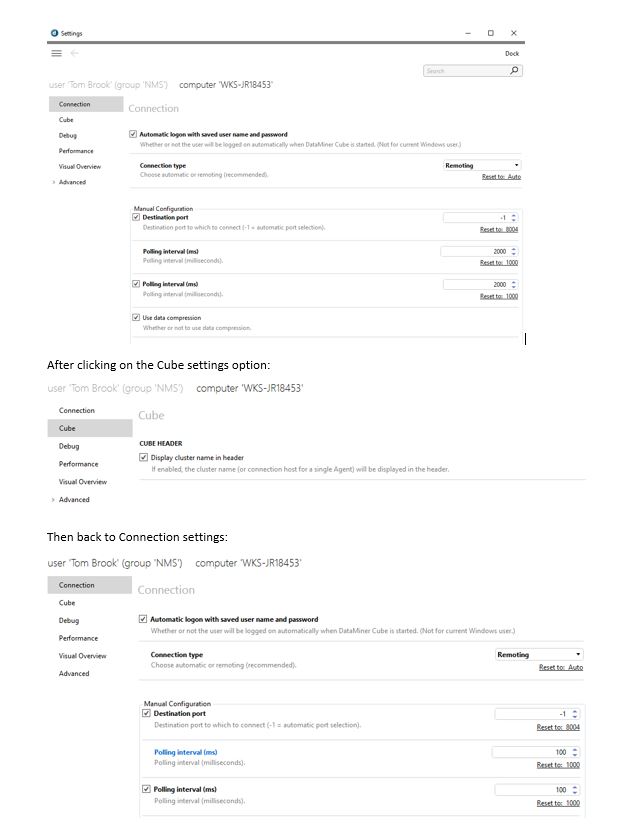 Hi Tom,
I had a look at the issue you encounter and found that there is a software issue with this setting. I have created a task so we can fix this issue.
You are viewing 1 out of 1 answers, click here to view all answers.