New ways to help you discover products with a minimum of configuration.
Today, we are excited to release the next version of DataMiner Infrastructure Discovery and Provisioning (IDP). DataMiner IDP is designed to make it easier to discover products in the network. You only need to configure the IP scan range to perform a ping sweep or an SNMPv2 discovery, and you'll instantly get more insights on the discovered products.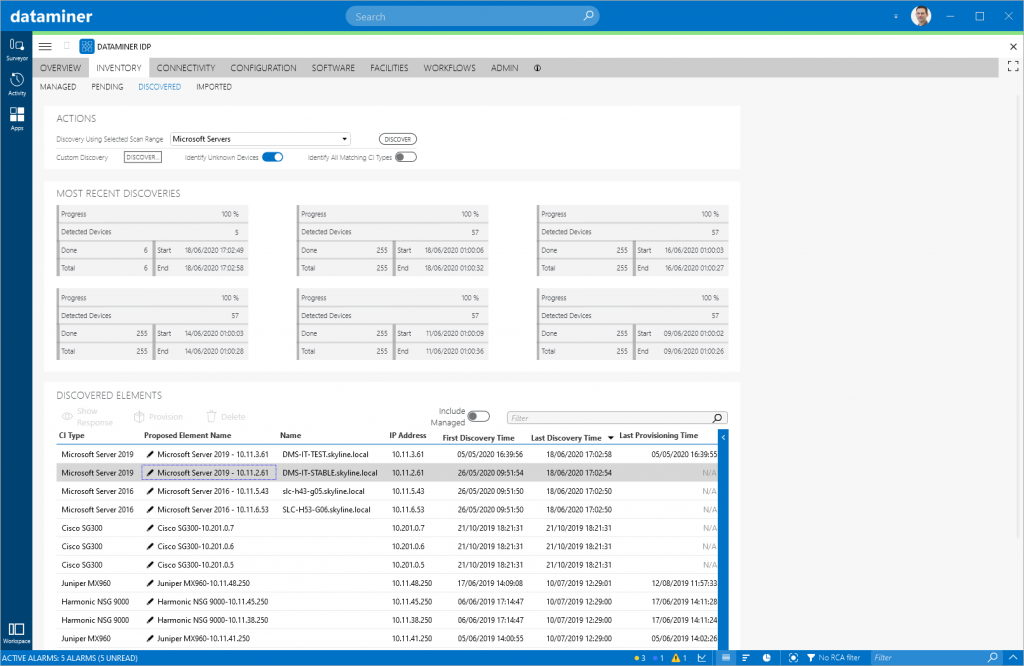 We are introducing a couple of features to achieve this:
Discovery by discovery profile. In previous versions of IDP, discovery required specification of the IP range and CI types you wanted to discover. This meant you had to define up front how to discover CI types. Today, discovery still requires an IP range to be configured, but it is no longer necessary to configure CI types to get started. Instead, you can specify a discovery profile with the IP range. In other words, if you do not have any CI types yet, you can simply create a scan range for the desired IP range and link it to the out-of-the-box discovery profile 'SNMP_MIB_II', for example. All devices that respond to SNMP will be listed.
Visualize discovery responses. When products are discovered, a user can now easily see what responses were returned by it. This is especially useful in the case of unknown devices. The user can leverage these insights to configure the discovery identifiers of the CI Types.
Discovery with Ping. DataMiner IDP can now discover products by performing a ping. This is another very convenient way to quickly scan the network. Simply create a scan range for the desired IP range and link it to the out-of-the-box discovery profile 'Ping'. All products that respond to the ping will be displayed.
DNS lookup. The IP address of the product is translated into a name by performing a reverse DNS lookup.
Match all CI Types. If you have multiple CI types reported by a single IP address or if you are still in the process of fine-tuning your CI types, this feature will likely become your best friend. When this setting is enabled, DataMiner IDP will return all matching CI types for the IP address. Previously, only one CI type was returned.
A complete feature list for IDP 1.1.8 is available in the release notes section: DataMiner IDP Solution 1.1.8 Release Notes.