From October 26 to 28 the halls of the Dubai World Trade Centre will be buzzing with the most pivotal names in satellite, media, production, entertainment and technology.
At CABSAT you'll witness the latest innovations from the best global brands across the full content journey—from creation to production to distribution. Experience live demos, make new business connections and learn from industry trailblazers participating at the event.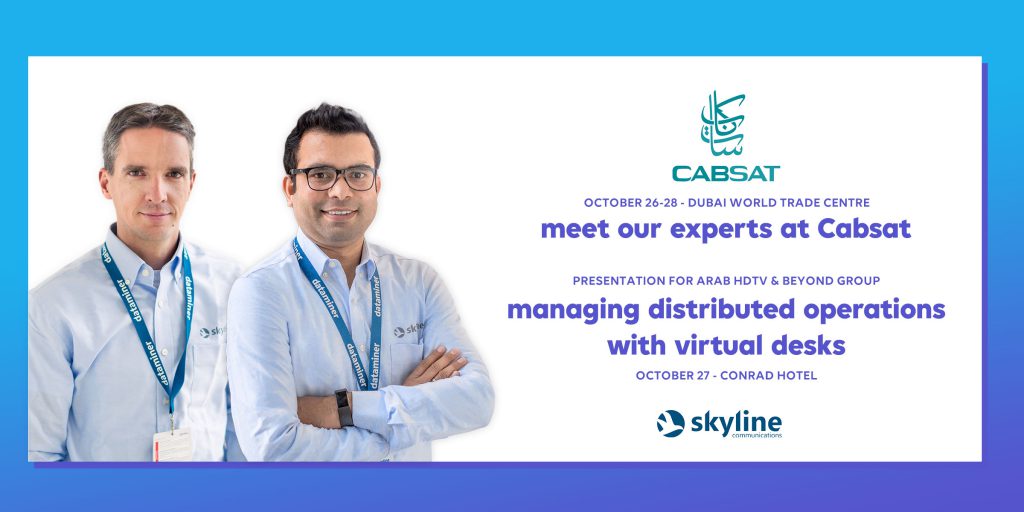 Let's connect
CABSAT 2021 will also be the perfect occasion for you to connect with some of Skyline Communication's industry experts:
If you want to discuss your ongoing project or if you want to inquire about the possibilities that DataMiner could bring to your brand-new project, just meet up with our experts. They are very excited to re-connect with you in person and answer all your burning DataMiner questions.
Virtual desks: a personalized experience for each user, at all times and places
And while you're there, you might want to make a little detour to catch Thomas Gunkel's presentation on managing distributed operations in this fast-changing digital age. He'll talk about the opportunities and pitfalls of the latest industry trends, and how you can stay on top by implementing virtual desks.
What: Annual Meeting of the Arab HDTV & Beyond Group
Where: Conrad Hotel | P.O. Box 115143 Sheikh Zayed Road
When: October 27 | Between 11:30 AM and 02:00 PM
Topic: Virtual desks – a personalized experience for each user, at all times and places