TAG Video Systems recently unveiled an enhanced integration with DataMiner. This significant development seamlessly incorporates support for TAG's Media Control System (MCS) into DataMiner, bringing a heightened level of visibility, automation, and control to users of TAG's platform.
Over the years, TAG Video Systems has proven to be an exceptional partner, and this remarkable new addition is a testament to the collaborative efforts that have paved the way for innovative solutions.
DataMiner and TAG VS: a long-standing & fruitful partnership
Skyline Communications and TAG Video Systems have built a long-standing partnership, forged with a shared vision to harness the complete potential of TAG's offerings through the implementation of cutting-edge DataMiner solutions. The result? An impressive and seamless fusion of technologies, empowering you with effortless monitoring and control over your media services.
The following use case examples demonstrate just some of the powerful capabilities and functions that DataMiner brings to the already robust TAG VS platform:
DataMiner Dashboard
Get real-time access to all parameters and KPIs that a TAG multiviewer/probe exposes and tailor your DataMiner dashboard to your needs.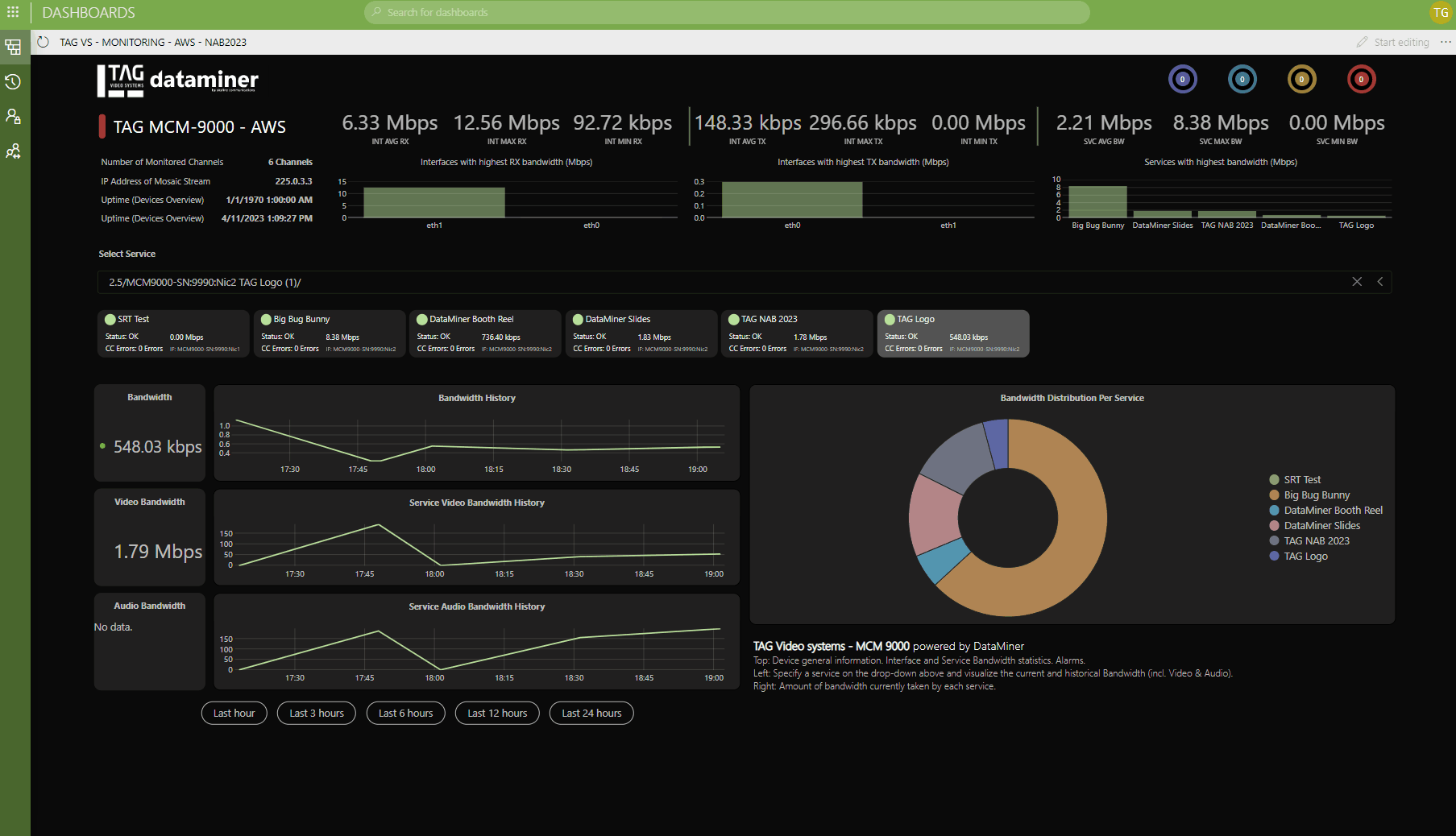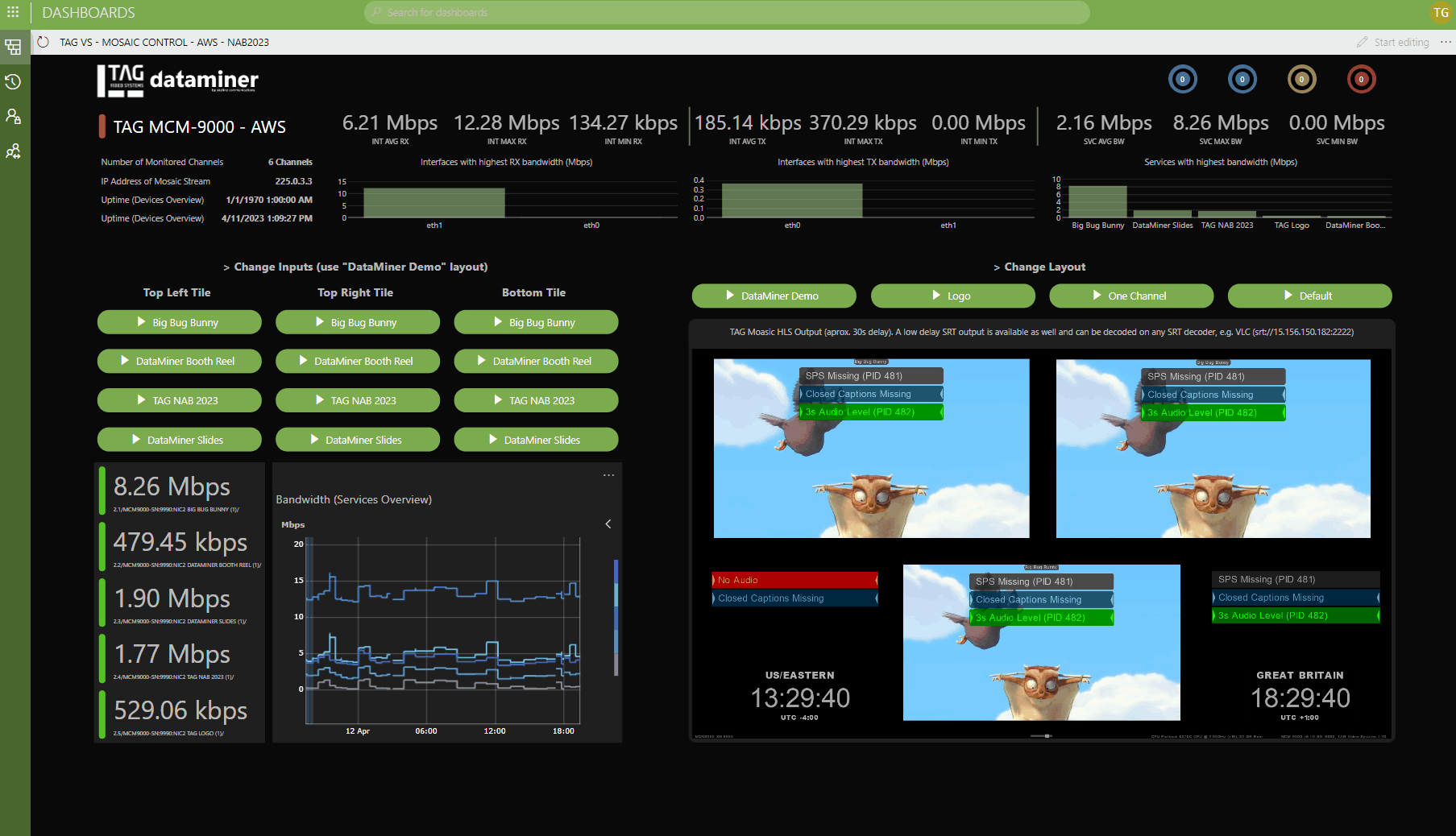 DataMiner Control Interface
Change multiviewer inputs and change layouts on a TAG mosaic output. In this example, an HLS player is also embedded right into the DataMiner control interface.
DataMiner Service Monitoring and Automated Issue Resolution
DataMiner monitors a redundant transmission service and all its infrastructure, pushes info and DataMiner alarms to multiviewer mosaic (UMD and Tally control), and automatically switches to a backup service in case DataMiner detects an issue in the service chain.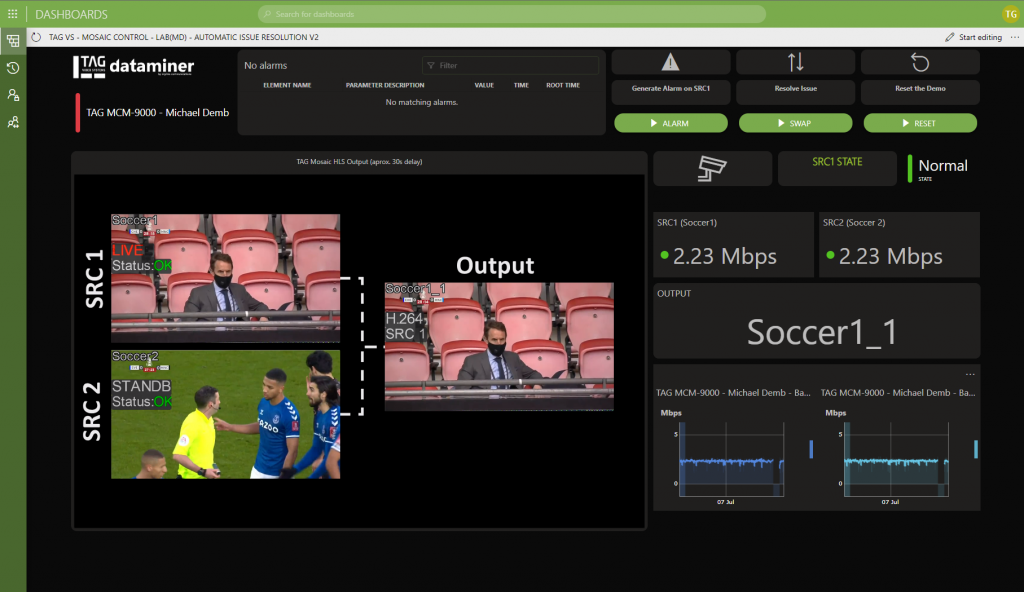 Learn more about these technology integrations in the following use case: "TAG VS – Multiviewer & Probe Management".
Please note that you need to be logged in to access our use case library: in the top-right corner of the screen, click LOG IN and authenticate yourself with your corporate email address.
Taking the partnership to a whole new level
With our most recent integration, our users can now interface directly with TAG's new MCS flagship as a single point of integration.
TAG's Media Control System (MCS), a monitoring control and data aggregation engine, allows media companies and content owners to track signals and use an open-source paradigm to maximize visibility of their data and adjust operations for optimal growth and resource management.
By seamlessly incorporating support for TAG's MCS into the DataMiner, deep and invaluable media health insights and management capabilities become available on DataMiner's Dashboards and Apps, with alarms from both solutions visualized on the TAG advanced multiviewer display.

In a recent press release, Michael Demb, VP Product Strategy at TAG stated: "The MCS has been transformational for our customers, delivering the tools they need to gain valuable insight into their systems and design a solid growth strategy. Integrating the MCS with DataMiner elevates these capabilities to a new level, providing an all-inclusive assessment of operations in real time that can keep users ahead of the technology curve, and allow them to position their businesses for growth."
Grow faster as a DataMiner Partner
Our Partner Program is designed to help you maximize your profits and reach new customers. Join leading companies like TAG Video Systems, Tek Signals, Sony, Grass Valley, Meinberg, and many more who have already partnered up with us. Together, we'll reshape the market and empower your customers for success.