Service providers are in the midst of upgrading their broadband networks to prepare for ever higher throughput and new applications. Media and broadband operators accelerate their transition to all-digital networks, including migration to Distributed Access Architectures (DAA). More than ever, DAA networks consist of products sourced from multiple vendors. While service providers initially created lab and small-scale setups to prove the technology, today the challenge lies in scaling the deployment and delivering high-quality services as part of the digital transformation program.  
A particular operational challenge today is the complex provisioning process of this IP- and SDN-controlled network. While there are solutions available for provisioning a technology from a specific vendor, what is really needed is the ability to make this complex process run across any technology or vendor with the required scale. That is where DataMiner comes in, managing provisioning across technologies, vendors and implementations, and this at full scale.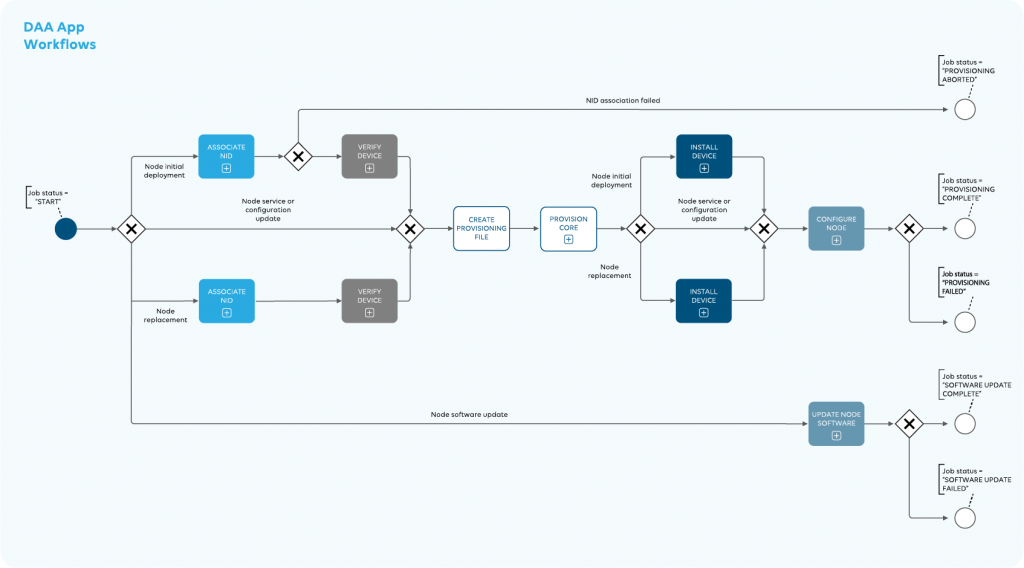 The DataMiner DAA application, which will be available soon, supports the provisioning of service cores (e.g. data, video, voice), service nodes and where applicable also the converged interconnect network (CIN). So regardless of whether your operation is seeking a solution to support the workflows around your fixed access infrastructure, your mobile access infrastructure, or both, the DataMiner DAA application always delivers, for all types of service nodes. This includes for example remote-PHY, OLT or eNodeB. 
The provisioning engine itself is entirely NETCONF/YANG based. The service modelling benefits maximally from industry-standard data models. As such, it greatly eases the introduction of new vendors or access technologies by removing dependencies on vendor-specific protocols.
The DataMiner DAA app supports all use cases associated with the full lifetime orchestration of DAA nodes. These range from initial installation, over service and configuration updates, to device replacement and secure software updates. The integration with the OSS/BSS platform enables fully automated collection of the data required at every stage, as well as straightforward access to all information related to a node's status, its configuration and its associated services.  
The fully modular structure of the framework also makes workflow updates or customizations both straightforward and quick to implement. The framework is designed using industry-standard BPMN (Business Process Model and Notation) notation, facilitating the embedding of this framework in yet another larger process.
In conclusion, the DataMiner DAA app combines all necessary monitoring and assurance capabilities into one fully integrated setup for function provisioning, function monitoring and service assurance, entirely agnostic to vendor and DAA technology. This supports the digital transformation of service providers by enabling them to convert activities into processes, which has a positive influence both on their own operations and on the end user experience. 
Coming soon: The DataMiner DAA app. Full support for the service provider DAA migration, including automated CIN and node provisioning.