Wireless Access Networks (3G/4G/5G, Wi-Fi, Microwave)
The demand for broadband capacity is peaking, and service providers are seeking to further diversify their offer from consumer voice and broadband services into B2B data, media, IoT, etc. Each service has its own capacity rates, latency, jitter, cost, resiliency, and other network requirements that go far beyond and are very different from what can be offered by earlier generations of wireless access technology.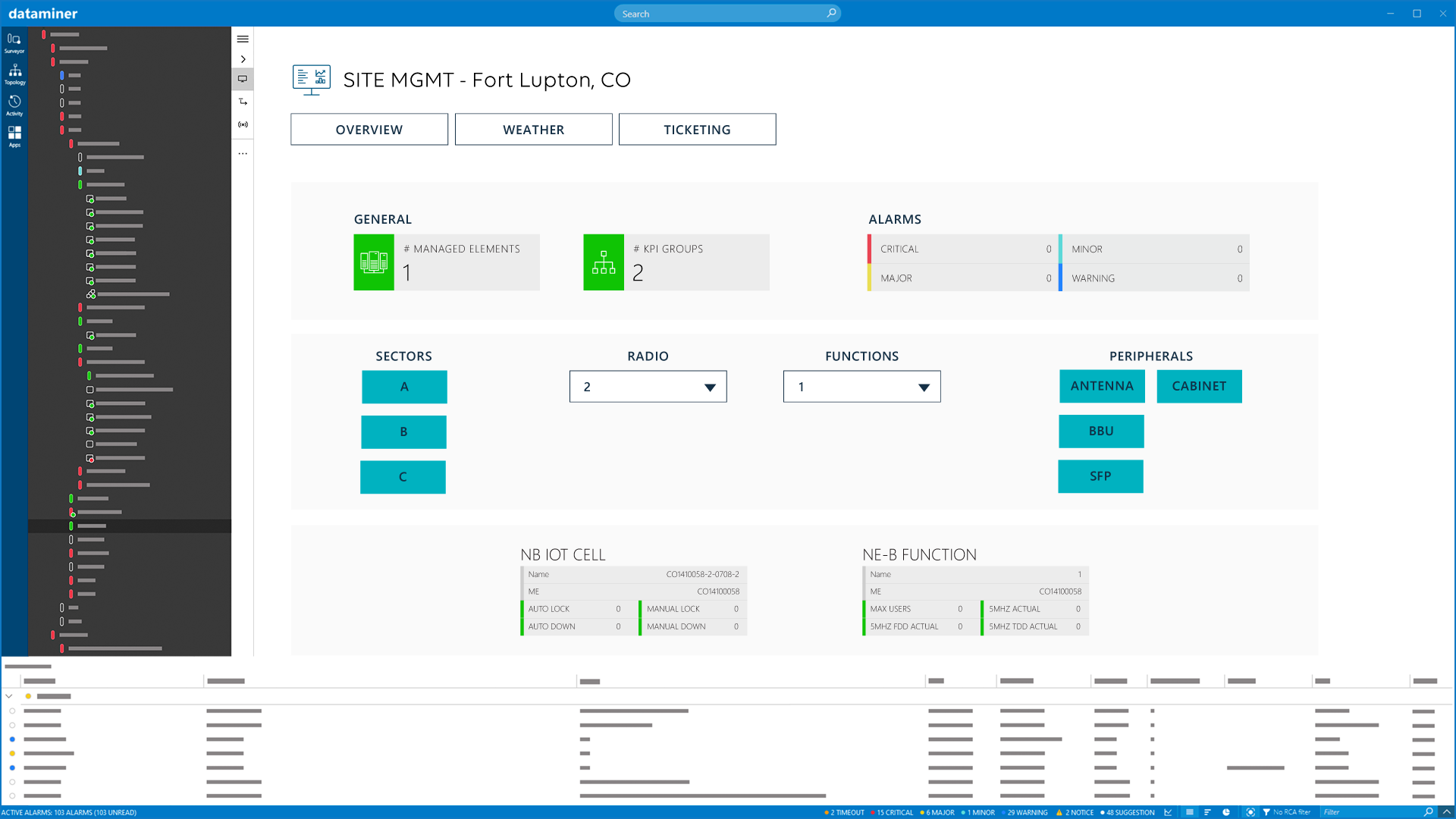 The continuous flow of new demands on the network comes with a lot of challenges to the quick and reliable delivery of services to consumers and business customers.
Service providers are either planning to roll out or already rolling out 5G technology based on fully virtualized functions (NFV). They rely on network slicing to cater exactly to the requirements of all applications it is set to support. Software-Defined Networking (SDN) will give them the benefit of being able to easily redistribute resources among the different applications, maximizing the return on the base infrastructure investment while minimizing the expense to operate it.
Automation is pivotal and likely even mandatory to update processes across all network technology and operational domains, away from the earlier siloed way of working. Network operators and service providers are also embracing digital transformation and kicking off transformation programs: connecting teams, suppliers, customers, and technology all together with a single set of processes that can easily be fine-tuned over time as business needs evolve.
This is exactly where the DataMiner multi-vendor network management and orchestration platform provides vital support. It enables the integration of the different service ecosystems end to end, from the application—whether it's deployed in the cloud or in a local data center—across all applicable transport components, up to the service endpoints.
DataMiner supports teams in areas such as service provisioning, maintenance, monitoring, and assurance, but it also supports the automation of business, operational, and technical processes associated with e.g. resource management, configuration verification, automated upgrades, synthetic testing, etc.
DataMiner Experience and Performance Management (EPM)
The EPM solution for wireless access networks empowers service providers' digital transformation journeys by offering data ingest and processing at scale and by unlocking actionable and collaborative end-customer experience management.
Highly scalable data ingest and aggregation engine that interoperates with any network protocol and any data lake. Also interacts with streaming busses, including Kafka, NATS, etc.
Comes off the shelf with a catalogue of Key Performance Indicators (KPIs) tailored to the different technologies and fully in line with industry standards. You can extend it with additional KPIs so that it maps exactly how you want to track network and service performance and quality. All KPIs are calculated round-robin⁠ and trended over time⁠ or calculated on request.
Supports aggregation, alarm monitoring, and trending of KPIs both on physical and logical nodes in the topology. A vast set of features is available to provide a convenient operational environment: smart alarm baselining, topology browsers, viewers with smart status bubble-up, etc.
Enables you to benefit from the powerful Node Quality Index (NQI), which can be tuned as required based on experience and evolving requirements.
Complements network, service, and SLA-level monitoring with API-based northbound integration options towardse.g.ticketing, CRM, product catalog, testing and diagnostics systems for 1st line helpdesk,or any other OSS/BSS platforms.
Safeguards the security of your operations by helping SecOps teams to automate security workflows and detect unexpected configurations, software versions and even IP flows in your networks.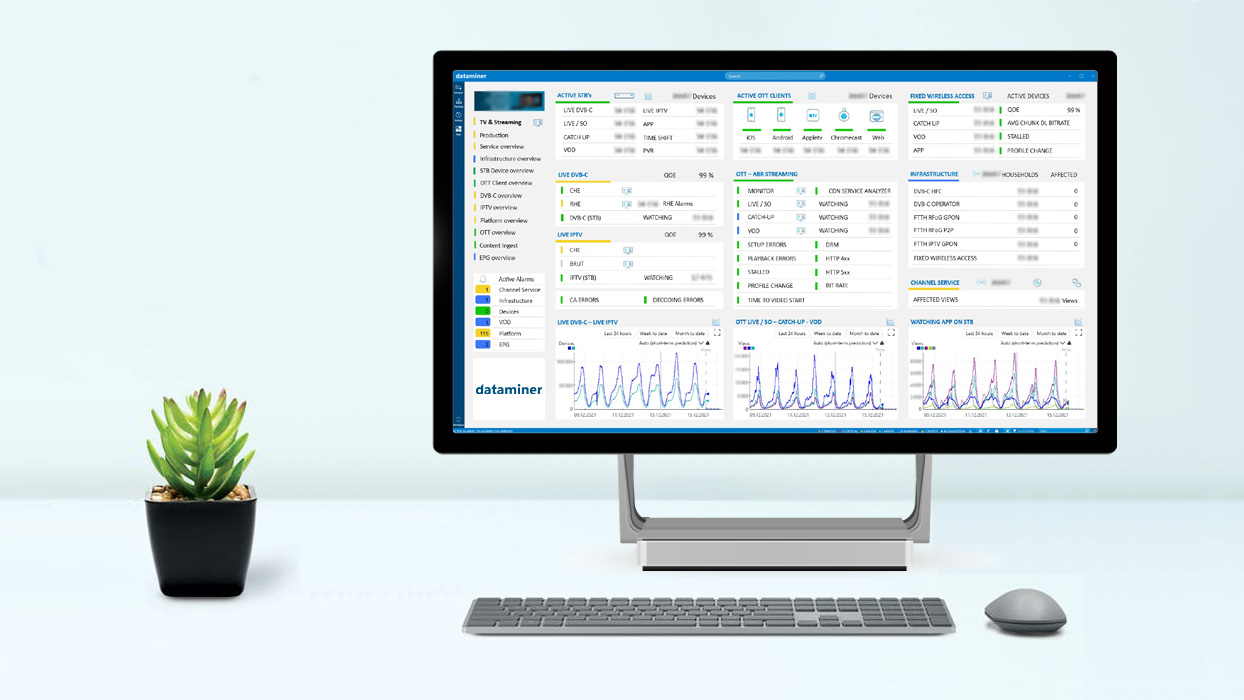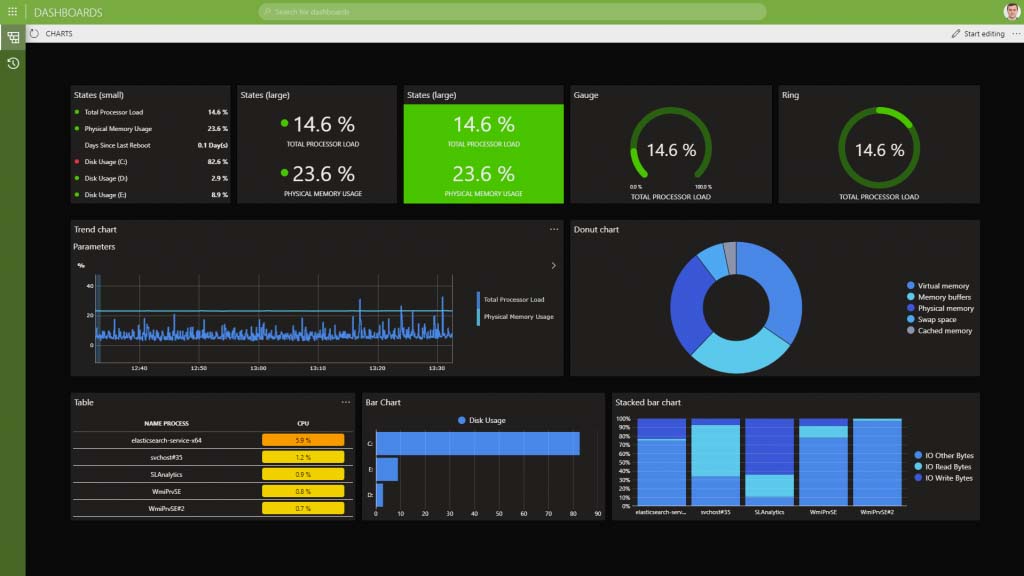 Inventory and topology management provide insight into network QoS and customer experience
DataMiner can auto-detect network components and terminals, immediately addressing what is often a fundamental operational challenge. This process is based on polling network products, learning LLDP connectivity, importing from an inventory and topology database, and extraction of UT/AGW/CPE lists from RU/DU/CU, AP, etc. Any data source—and even manual entry— can be used to generate a comprehensive, up-to-date physical and logical network topology.
With its ability to associate and aggregate KPIs from both physical and logical topologies, DataMiner EPM complements network performance management, providing full insight into the user experience associated with every single service.
Empowering enterprises to rethink how they collaborate across the value chain
DataMiner EPM comes with a full set of DataMiner features that foster real team and customer collaboration within and across organizations:
Real-time topology and KPI viewing on DataMiner dashboards.
All technologies in the converged network come together on a single pane of glass, avoidingtechnology-oriented operational siloes.
HTML dashboards can be developed, operated, and shared with each persona in the organization (e.g. NOC operators, network planners, energy planning, field technicians, field installers, etc.).
Operational and business processes can be automated end to end, e.g. network node provisioning, planned maintenance activities, ICT network provisioning (e.g. DNS, DHCP), etc.
Incidents are detected by DataMiner, and tickets can be generated automatically, with all required data. These tickets can then be pushed into any ticketing system. Updates in the tickets are automatically reflected in the operational DataMiner environment.
First-line helpdesk operators instantly access the status of the customer service, the status of customers in the same service group, and much more, in real time. Info may be accessed directly in DataMiner using HTML dashboards, or via API (webhooks) towards the first-line support toolsets. Similarly, operators can execute actions on terminal equipment.
Last but not least, using the DataMiner Cloud platform, service providers can share real-time dashboards with e.g. business customers (B2B), capacity providers, technology partners, or contractors, or use ChatOps for direct interaction with the system.
Augmented operation (AI)
Wireless access networks are often huge, both in the geographical sense and when it comes to their number of physical and logical elements. New services push the number of KPIs that need to be monitored for each of these even further upwards, and on top of that the recent addition of Network Function Virtualization (NFV) and cloud deployments, network scaling and slicing results in fluid relationships between the different components and KPI sets.
All this makes it imperative for AI to come in and assist in providing full observability of the infrastructure and services. The DataMiner AI engine features augmented operation by delivering zero-touch trend detection and forecasting, anomaly detection, focus alarms, proactive cap detection, and much more.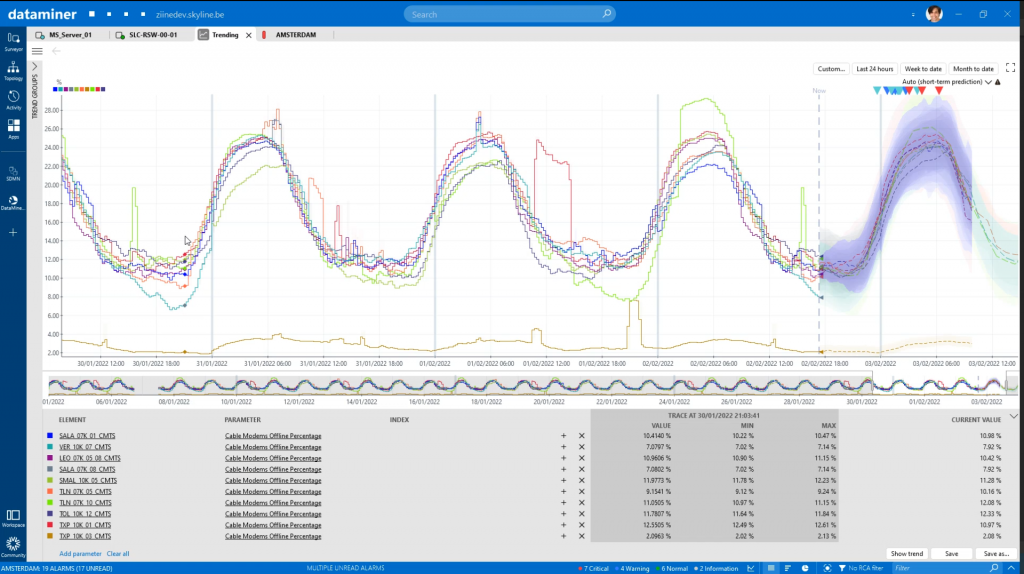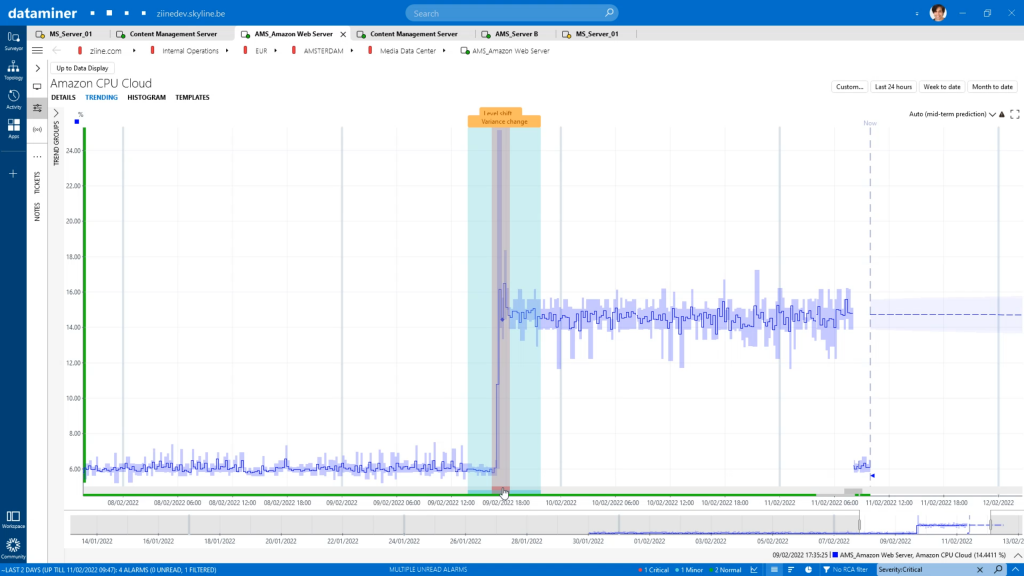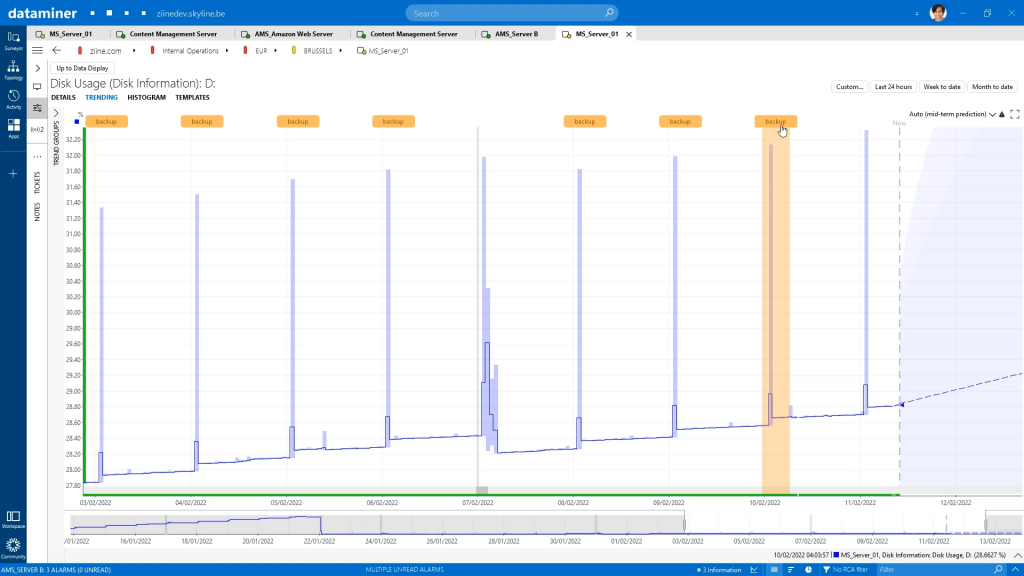 One system supporting your entire infrastructure, services offer and operation
With coverage for all types of networks—cellular (small or macro), microwave, from service core to service endpoint and including transport and converged interconnect network (CIN) components—DataMiner provides the unique opportunity to use a single system to support your entire infrastructure, services offer and operation.
The DataMiner EPM solution is also fully vendor agnostic. This means that the platform integrates any product or function regardless of vendor or protocol.
In addition, the platform supports all:
network architectures (centralized, distributed and converged).
wireless standards (3G/4G/5G, Wi-Fi, WiMax, WiGRID Microwave L/S/C/Ku/K/Ka).
transport components (front-/mid-/backhaul).
deployment models (physical/legacy, virtualized on prem or in the public cloud as in O-RAN).
Not only can peripheral components be included (e.g. outside plant power supplies and test and measurement equipment), DataMiner will even support the deployment and orchestration of your entire ICT stack.
Scale your business to current and adjacent market opportunities
DataMiner allows you to start small and grow big over time. When you start with a limited scope and extend from there, you can gradually get to know DataMiner and incorporate more of the benefits DataMiner has to offer by expanding step by step, focusing on "first things first".
Agility in your operations is fundamental to remain competitive. It enables you to scale out and adapt to end-customer and operator requirements as they evolve over time.
DataMiner offers such a DevOps environment. Adjusting data ingest and aggregation, fine-tuning fault management, updating automation scripts, customizing visuals and dashboards, etc., all this is possible using the DevOps tools that come with DataMiner.
---
Learn more with our free webinars
Please note that you need to be logged in to access our video library: in the top corner of the screen, click LOG IN and authenticate yourself with your corporate email address.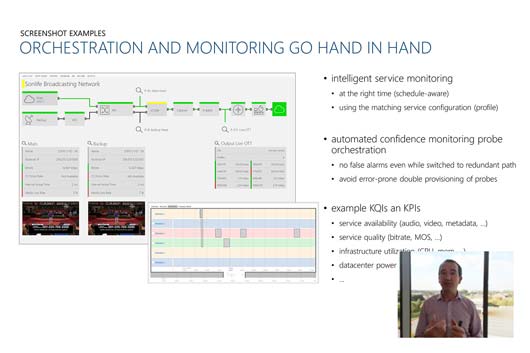 Service Quality Management
YOU'LL LEARN
how to get a 360° view on your quality and operations
how DataMiner links your business with your operations
how DataMiner measures the quality of all services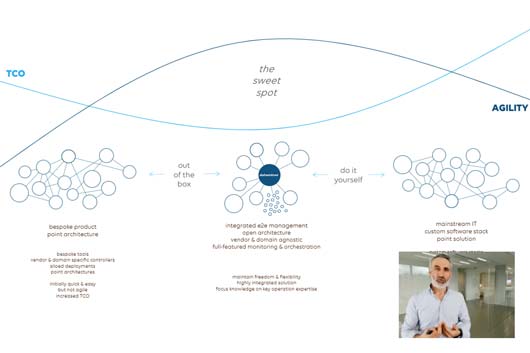 Experience & Performance Manager - Part 1
YOU'LL LEARN
the concept of DataMiner EPM
the architecture of DataMiner EPM
the deployment strategy of DataMiner EPM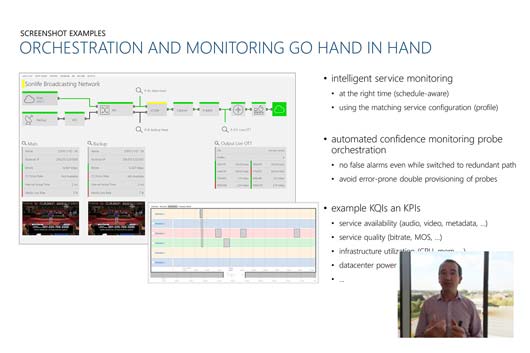 Experience & Performance Manager - Part 2
YOU'LL LEARN
how to get full-featured professional alarm management
how to implement comprehensive tracking of key metrics
about the deployment strategy, based on real-life use cases
---
Let's talk about your project
Are you interested to know if this standard solution also offers possibilities for your project? You can either ask your question right here on our Dojo community. Or, if you prefer the more personal touch, you can also contact your local sales representative. Either way, our DataMiner experts will be happy to discuss all the possibilities with you, down to the smallest detail.
Associated Markets:
Service Providers
Service Providers - Broadband
Service Providers - Broadband - Telco