Remote production (REMI)
Remote production opens up a whole new world of possibilities in terms of flexibility, efficiency of production, and agility. These opportunities of course come with their own set of challenges. How do you manage and monitor the network, especially as it is likely to be only partly under your own control? How do you deal with latency and capacity on the blocking parts of the network? How do you flexibly configure all devices involved in the process, from cameras and CCUs to multi-viewers and n-1 feeds? How do you make all of this happen operationally without duplicating support teams? DataMiner offers a full solution for each of these challenges and helps you get the full potential out of your remote production operation, making remote production a modular, easy-to-use, flexible tool for all your production needs, and maximizing flexibility while maintaining a high reliability and keeping the cost down.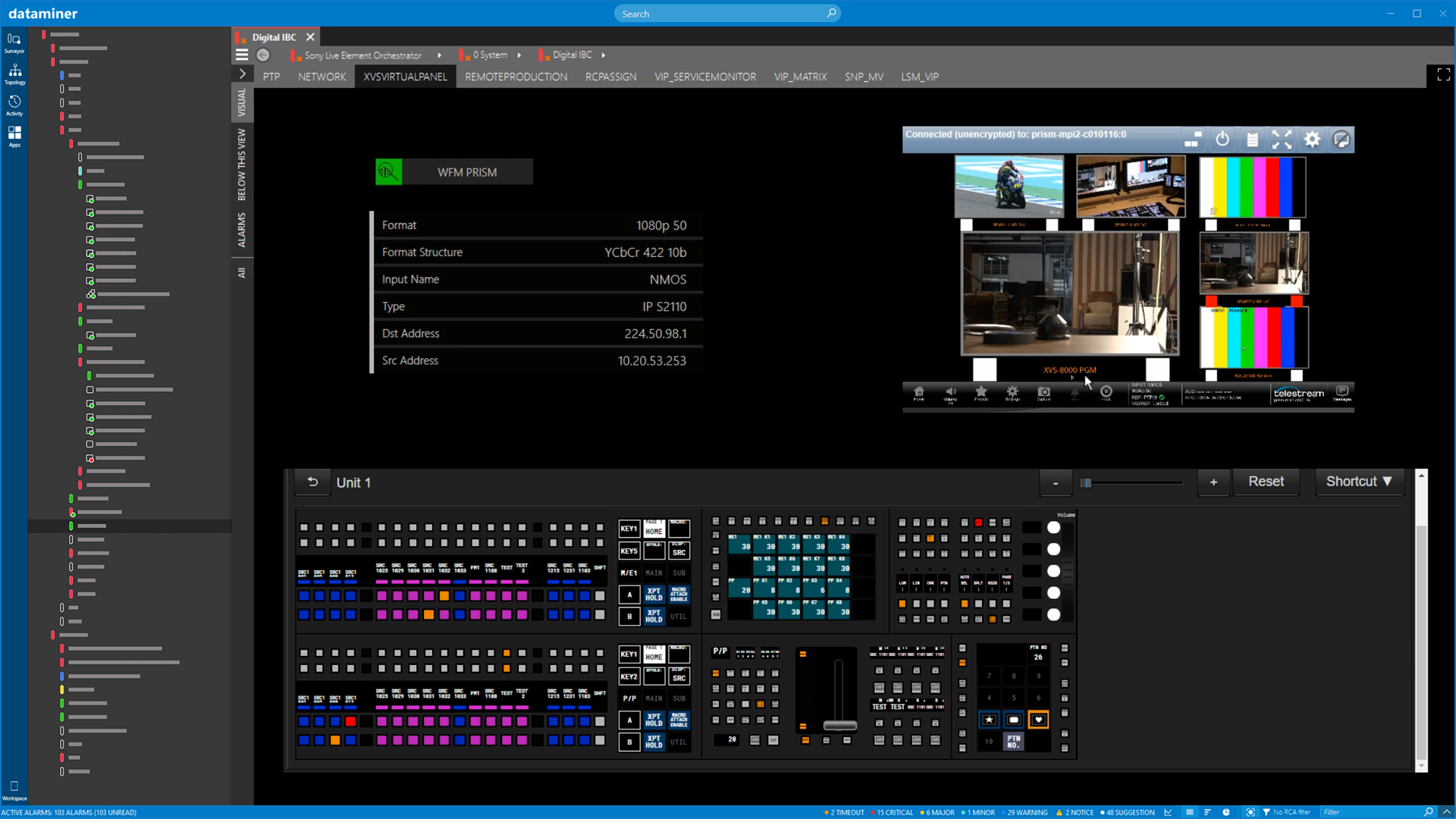 Manage and monitor your contributing endpoint devices with DataMiner. With distributed equipment, more need for centralized monitoring, and support engineers who can't be everywhere at the same time, you need DataMiner Infrastructure Discovery and Provisioning, to have full onboarding and management of devices on different locations, managed centrally. This will result in more reliable operations both in the facility and on location, and efficient use of support operations.
In live production, network performance and latency need to be closely monitored and bandwidth must be guaranteed. Use the DataMiner SDMN solution to deploy, manage and monitor your IP media networks, both inside your facility and in the WAN interconnected media networks to every venue. The DataMiner SDMN solution supports uncompressed signals (2022-6, 2110, etc.) in any possible configuration, as well as compressed streams, all in one converged network.
The DataMiner SDMN solution works both with software panels and with any hardware panel.
Plan the capacity of your IP media networks beforehand with our Service and Resource Management solution, and avoid oversubscription at the time of the event. This is the only way to be certain that the network bandwidth you need will be available at the time of the event.
DataMiner service management and orchestration will not only set up your media networks, but also manage your on-premises or cloud-based virtualized production and distribution equipment, like cross-converters or encoders.
DataMiner's state-of-the-art IP flow monitoring ensures a high quality of service for your contribution IP media networks at all times. Complement this with the DataMiner PTP app to enable full control and monitoring of your network timing.
Minimize your contribution costs by making the most efficient use of your contribution network connections. You can, for example, configure setups in which contribution from the venue is uncompressed, but the return lines use a compressed signal.
Orchestrate resources to configure a virtualized production gallery with the resources and endpoints you need on location and in your facility.
DataMiner orchestrates the complete configuration of your gallery, with the right CCUs, video feedback, audio n-1s, multiviewer setups, all with the click of a button.
DataMiner offers complete connection management for video and audio in a hybrid situation with uncompressed and compressed flows managed transparently. This facilitates short switchover times between productions, and thus guarantees efficient use of production crew and space.
With DataMiner you can easily tap into the possibilities virtualized production equipment has to offer. DataMiner automatically spins up virtual transcoders and graphics engines, deploying these services across the full virtualized ICT stack. It provides a full capacity reservation and management solution, so no resources are ever overbooked. This enables you to share virtual resources between different productions, maximizing efficiency in resource allocation.
Safeguard the security of your operations by using DataMiner to help SecOps teams automate security workflows and detect unexpected flows in your networks.
Associated Markets:
Media Production
Media Production - Production Event Management
Media Production - Studios & Production
Media Production - News Gathering
Media Production - eSports