Production Event Planning
The media & entertainment industry is evolving and transforming faster than ever before. Transformations to all-IP, software functions replacing hardware boxes, the move towards virtualization and cloud services (NFV), and of course the move to remote (REMI) and distributed productions – these are just some of the possible examples. They all bring tremendous new opportunities and benefits. At the same time, they also come with operational challenges and a real paradigm shift in how to prepare and run live productions. Compared to SDI, an all-IP environment is much more complex and behaves completely differently. A powerful end-to-end monitoring, management and orchestration platform has become indispensable in this context. DataMiner is the ideal platform to manage your IP live productions and events in an efficient and convenient manner.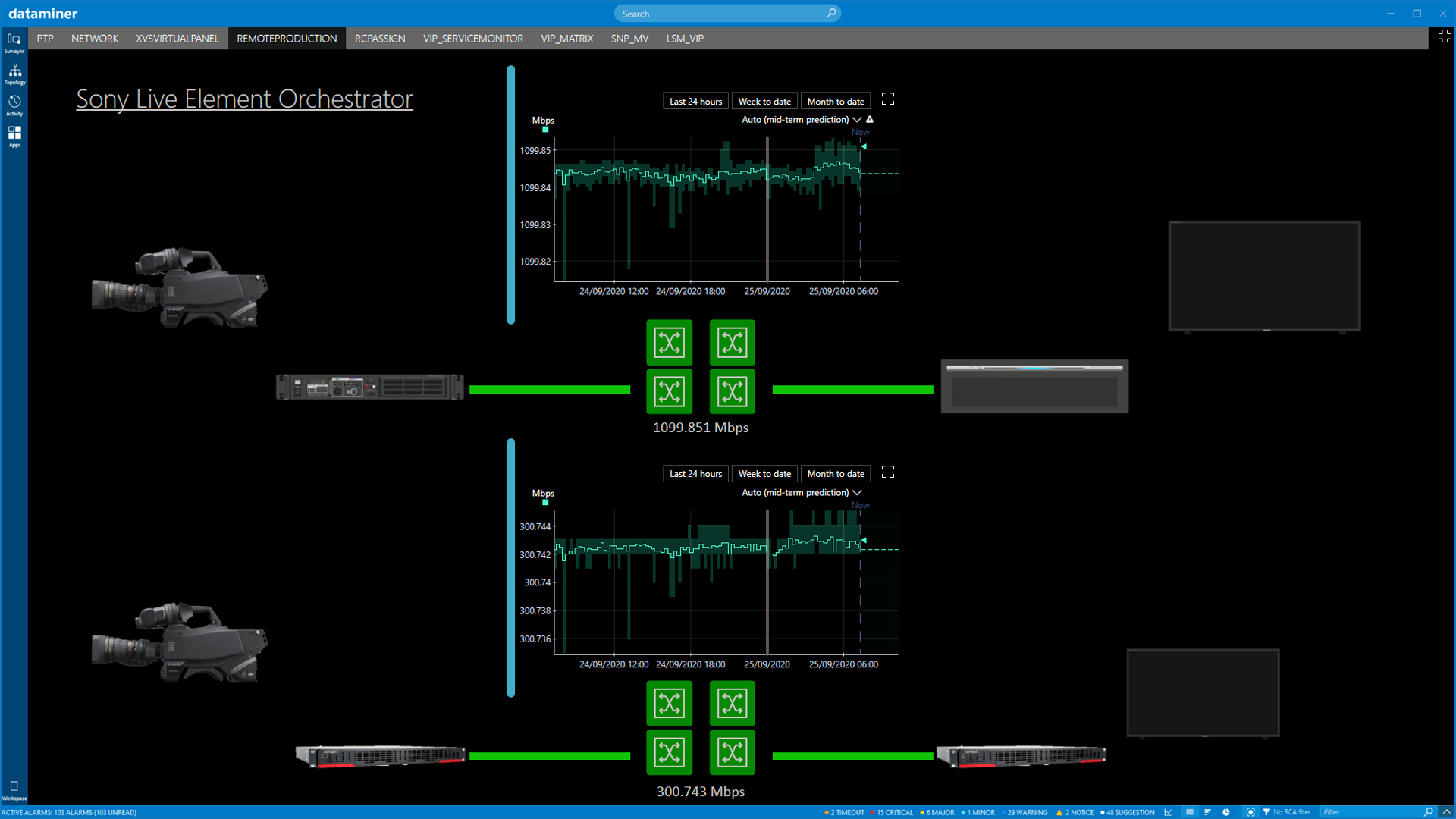 Automatically onboard studio and PCR equipment with DataMiner Infrastructure Discovery and Provisioning (IDP). Either scan the network for new equipment and its connectivity, or subscribe to an NMOS IS-04 registry to learn about new infrastructure. DataMiner IDP not only detects new equipment, but also applies the right base configuration and makes sure that the correct firmware is used. Those are essential workflows to secure the network.
DataMiner integrates with any equipment from any vendor, end to end, allowing you toset up best-of-breed solutions for your productions, using the hardware or virtual equipment you need.
Monitor the entire system 24/7, regardless of the location, from the underlying infrastructure (servers, storage, etc.), operating systems, virtual machines, microservices, up to the actual media applications. DataMiner also monitors your facility, e.g. air conditioning, UPS, temperature or water leak detection probes, etc.
Monitor your production in a service-aware manner.DataMiner automatically adapts alarm templates to be in line with the production settings (e.g. a UHD production needs different bandwidth thresholds than an HD production).
Build your own visual overviews, such as schematic studio drawings and gallery overviews with real-time metrics and KPIs.
Track your audio and video flows in studios and across multiple sites with DataMiner's media flow monitoring capabilities. Check your network and media edge devices for the flows that should be there, but also detect those flows in the network that should not be there (ghost streams).
DataMiner Service and Resource Management (SRM) reserves and allocates equipment from your resource pools for upcoming productions, such as cameras, multiviewers, video servers, vision mixers, audio consoles, graphic engines, etc. In case cloud or network capacity is required, DataMiner will also plan for that and guarantee the availability of resources for the planned events.
Centrally apply the right profiles and configurations in line with the needs of your event, prepare your complete studio setup with a few clicks, and switch between multiple studio configurations within seconds.
Easily share resource pools across multiple locations and/or productions.
Track and optimize resource utilization of all your physical and virtual resource pools.
Tag your infrastructure elements with capability properties so that DataMiner automatically selects and reserves the right resources for the event (e.g. CAM 1 = HDR capable, and located in Paris).
For virtualized equipment, DataMiner not only books, but also deploys, orchestrates and monitors services like cross-converters or encoders, across the full ICT stack, on local infrastructure or in the cloud.
Modern event workflows make use of cloud functions and pipelines. DataMiner automates their deployment and orchestration aligned with event schedules, all within the allocated capacity and cost.
Use DataMiner's SDN orchestration capabilities or any third-party SDN controller to route all your audio and video media flows, fully automated.
DataMiner supports distributed operations. SDN control is not limited to LAN environments, as DataMiner also reserves network capacity and sets up media flows for inter-site WAN connections.
Avoid booking network infrastructure for events that overlap with planned maintenance schedules, using the DataMiner Planned Maintenance app.
Create reports on used resources, apply rate cards to each resource, and share with third-party billing systems.
Control your live productions with DataMiner's customizable software control panels, including multi-bus or single-bus router control panels, button panels for real-time parameter control, loading a full production setup with a click of a button, and more. DataMiner also supports integration of third-party hardware panels.
Have security built into your setup with DataMiner, with full orchestration and end-to-end visibility of your production.
As part of the event planning, have DataMiner automatically create a Teams or Slack channel or meeting to ease collaboration during the event.
Associated Markets:
Content Creation
Content Creation - Production Event Management
Content Creation - Studios & Production
Content Creation - News Gathering
Content Creation - eSports