Enterprise B2B Wi-Fi Networks
DataMiner's proposition for business Wi-Fi networks enables network providers to use a single platform for the management of their entire network ecosystem, regardless of the size or type (single or multi-tenant) of the network, or the standard or supplier of the different components. The network's entire lifetime is supported, from initial setup and provisioning, across daily operation, up to upgrades and configuration optimization. Straightforward access is available to information about configuration, status, load, latency and usage for network, components (e.g. access point) and clients. With powerful fault and performance management and OSS integration options, DataMiner is the "one-stop shop" for all operators seeking to maximize customer satisfaction (CSAT) as well as operational efficiency (minimizing OPEX).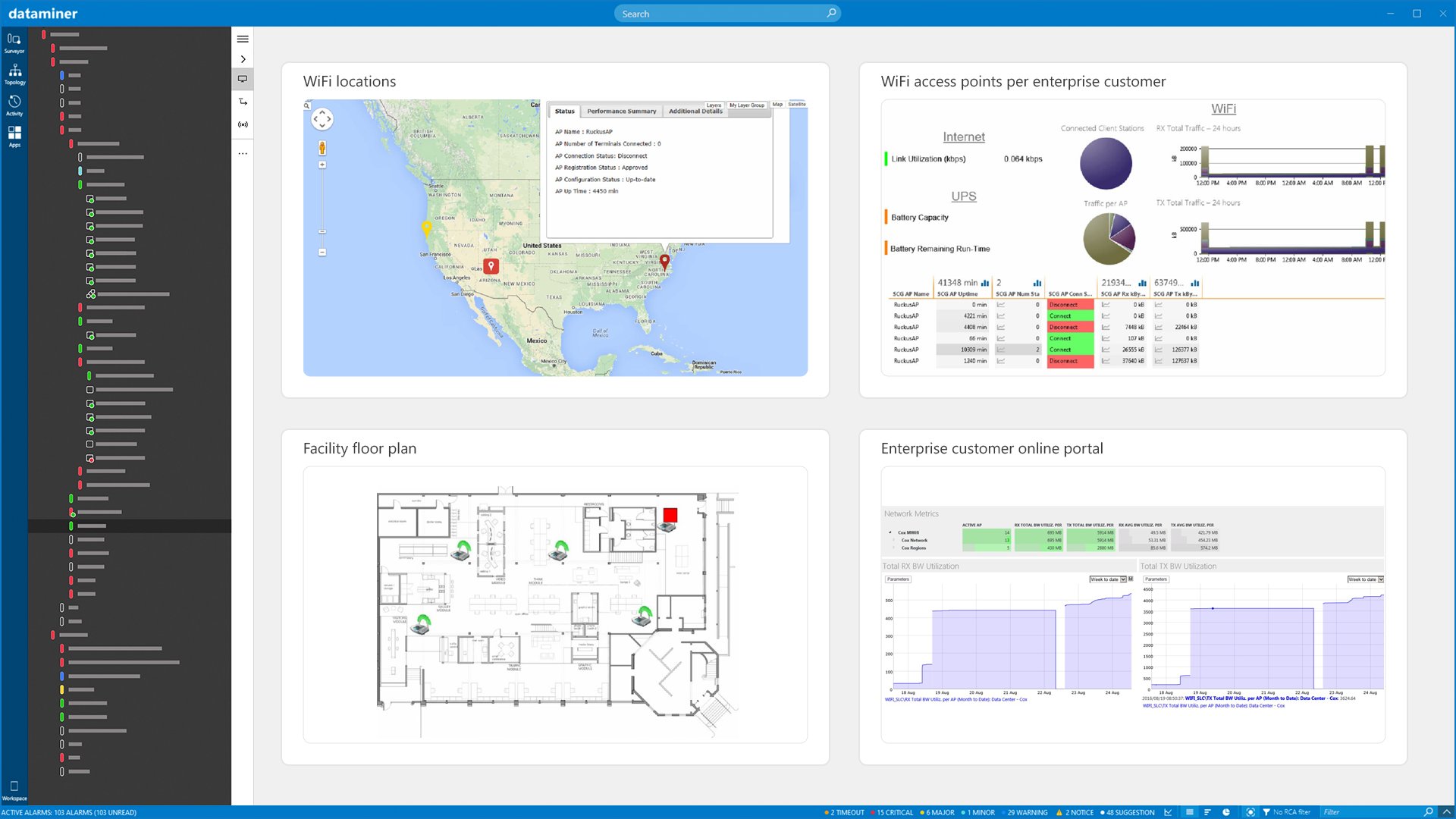 Enterprise B2B Wi-Fi networks continue to grow in popularity and utilization, up to a level where Wi-Fi access has become a commodity for many service providers, enterprises, and consumers.
Regardless of the scale or the use case, be it corporate office connectivity, retail, cruise ships, transportation hubs, public facilities, etc., supplying an enterprise B2B Wi-Fi service requires a series of different technologies and network domains that all need to be provisioned, monitored, and operated in harmony. A small incident may have a huge impact. As B2B Wi-Fi is no longer a niche product, running the operation efficiently across all network domains is key to business success
Bringing together many technologies into a single pane of glass
For service providers, delivering end-to-end Wi-Fi services relies on many different networks, technologies, and vendors. Wireless LAN networks come in many flavors and configurations, often different from enterprise to enterprise. Fixed wired or wireless WAN networks are tasked with routing all broadband and data exchanges successfully and within the target SLA levels (speed, latency, jitter, and resiliency). The widespread GEO distribution is an additional challenge operators face.
Beyond managing the data and control planes, offering the convenience and availability of a self-service portal for enterprises and end consumers is essential as well. This portal is the face of the service provider to the market. In addition, a secure onboarding process of the different network and access point products, and of course of enterprises and users, is considered table stakes.
A successful operation starts with the selection of an overarching NMS and OSS that spans all those technologies and network domains. Many service providers have selected DataMiner as their strategic operations platform.
A data-driven operation starts with … accessing and processing data, lots of data
It is common for providers of enterprise Wi-Fi networks to deal with a large number of deployments, customers, and SLAs. The DataMiner Data Acquisition & Control layer collects Wi-Fi access point status information, RF stats, IP counters and metrics, and UEx session data. The broadband network and Internet POPs are controlled and monitored at the same level of detail. All this data is centralized, unified, and processed by DataMiner in a unified data lake. The DataMiner Aggregation Engine delivers a next level of insight, aggregating data based on AP type and software version, business customer, traffic class, geography, and much more.
However, this may not even be sufficient: additional visibility may be required using synthetic testing of service availability and performance. DataMiner can for example initiate tests to verify broadband throughput, speed, latency, and jitter on demand (help desk) or round robin (NOC monitoring).
The DataMiner AI-assisted data analysis offers operators even more insight into network behavior, beyond what humans could detect on their own. Trend predictions, detection of trend changes and of anomalies in behavior or even in configuration, fully automated processing of events into actionable incidents, focus alarm views that point operators to the tasks with the largest impact first: these are just a few examples of how DataMiner AI-augmented operations assist operators 24x7, without any complex configuration (unsupervised AI).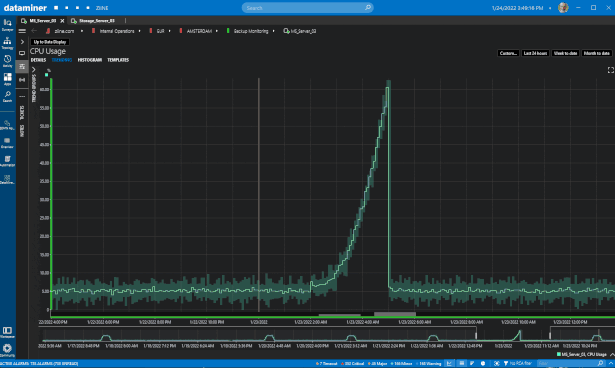 Translate KPIs into your own KQIs, tailored to the service and the customer
Each customer has their own SLA, so that tracking performance for each one is essential. In DataMiner, service providers can set up their own customized Key Quality Indicators (KQIs) to measure availability and performance of the delivered services. All the KQI results are delivered to you without a single click! KQIs can use data from anywhere in the operation: Wi-Fi LAN transmission KPIs, broadband KPIs, end-user experience (UEx) KPIs, and even info from the CMDB and CRM (products and services configuration, customer package info, etc.).
Of course, KQIs for internal use, e.g. network and asset utilization, can be defined in the same way.
Agnostic to the Wi-Fi implementation and technology suppliers
DataMiner supports networks irrespective of the Wi-Fi standard (IEEE802.11n/ac/ax/…), the band, the RF technology, the radio type, or the supplier(s) of the different network building blocks. Service providers enjoy the freedom to select any network and AP technology, at the best cost, without any OSS/BSS penalty.
Supporting the entire life cycle – it's convenient and secure
DataMiner Inventory Discovery and Provisioning (IDP) auto-discovers assets and inventory, as well as IP connectivity. It also automates initial provisioning in the DataMiner System.
Managing security begins with control over configurations and secure software image distribution of access points. DataMiner monitors this, flags non-compliance, and auto-corrects insecure situations by pushing valid configurations and software images when necessary.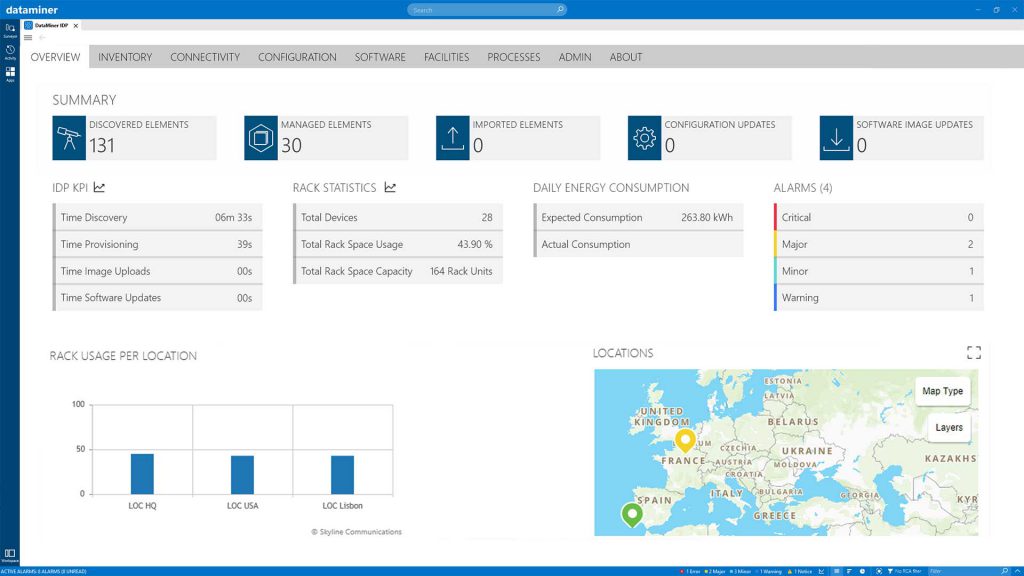 For networks of any size
From single-office or campus networks to multi-tenant setups or clusters including multiple networks spread across a bigger geographical area, DataMiner scales to systems of any size.
Delivering full visibility on the network overall status, usage, and quality of service
DataMiner enables the creation of a complete digital twin of your networks, with all the necessary details on the hardware, software, and firmware, as well as the configuration, status, load, and usage of the different network elements.
Collaborate in your organization, collaborate across the value chain
DataMiner comes with a vast set of collaboration tools that enable teams to work together effectively. Using a unified data lake is the basis for uniform decision-making.
DataMiner Dashboards are a powerful and highly convenient way to visualize network element data, topology info, KPIs, SLAs, KQIs, and any other data that is available in the DataMiner unified data lake. Dashboards are created on the fly, and instantly visualize the results: real DevOps!
Some interesting use case about DataMiner Dashboards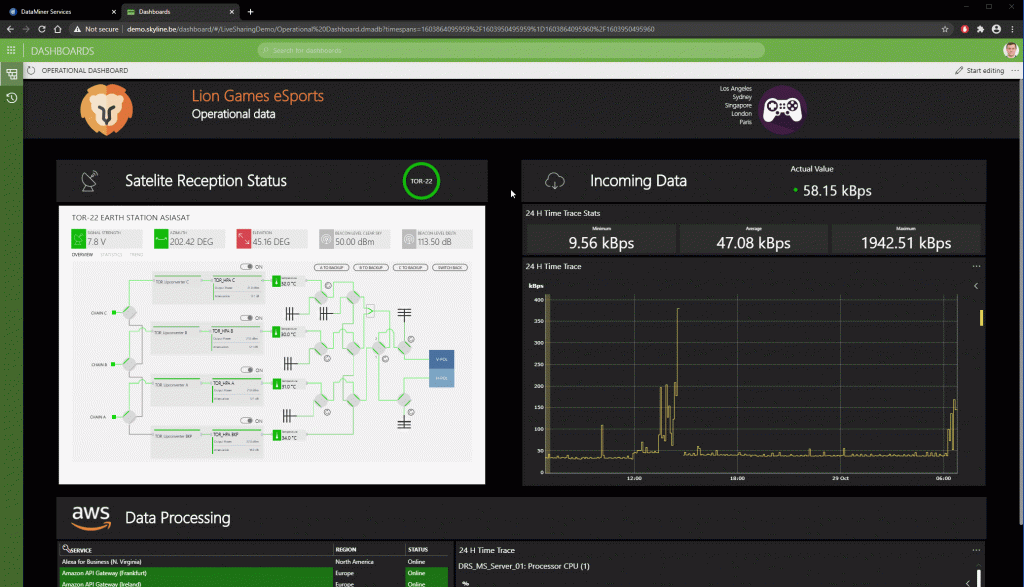 USE CASE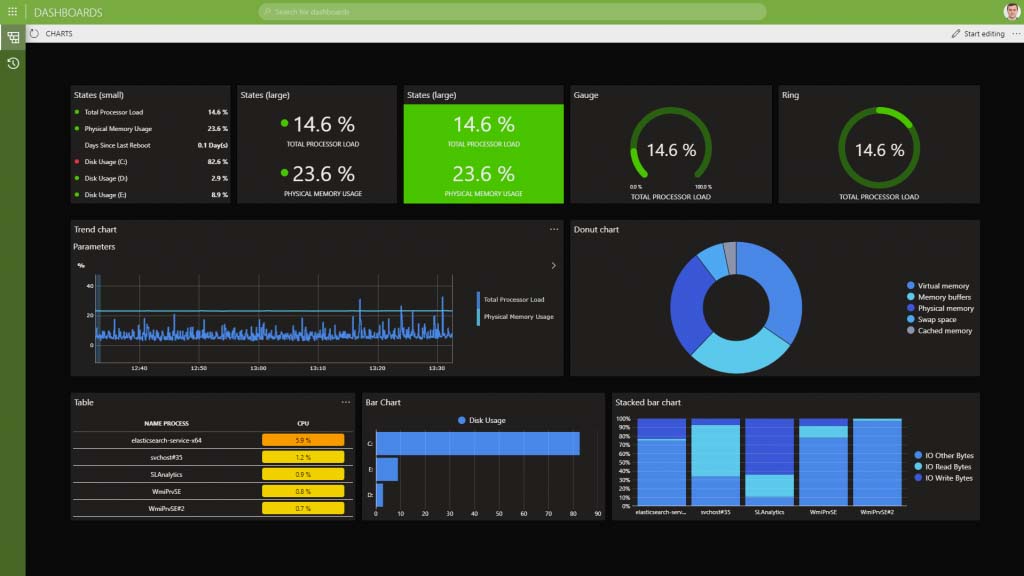 USE CASE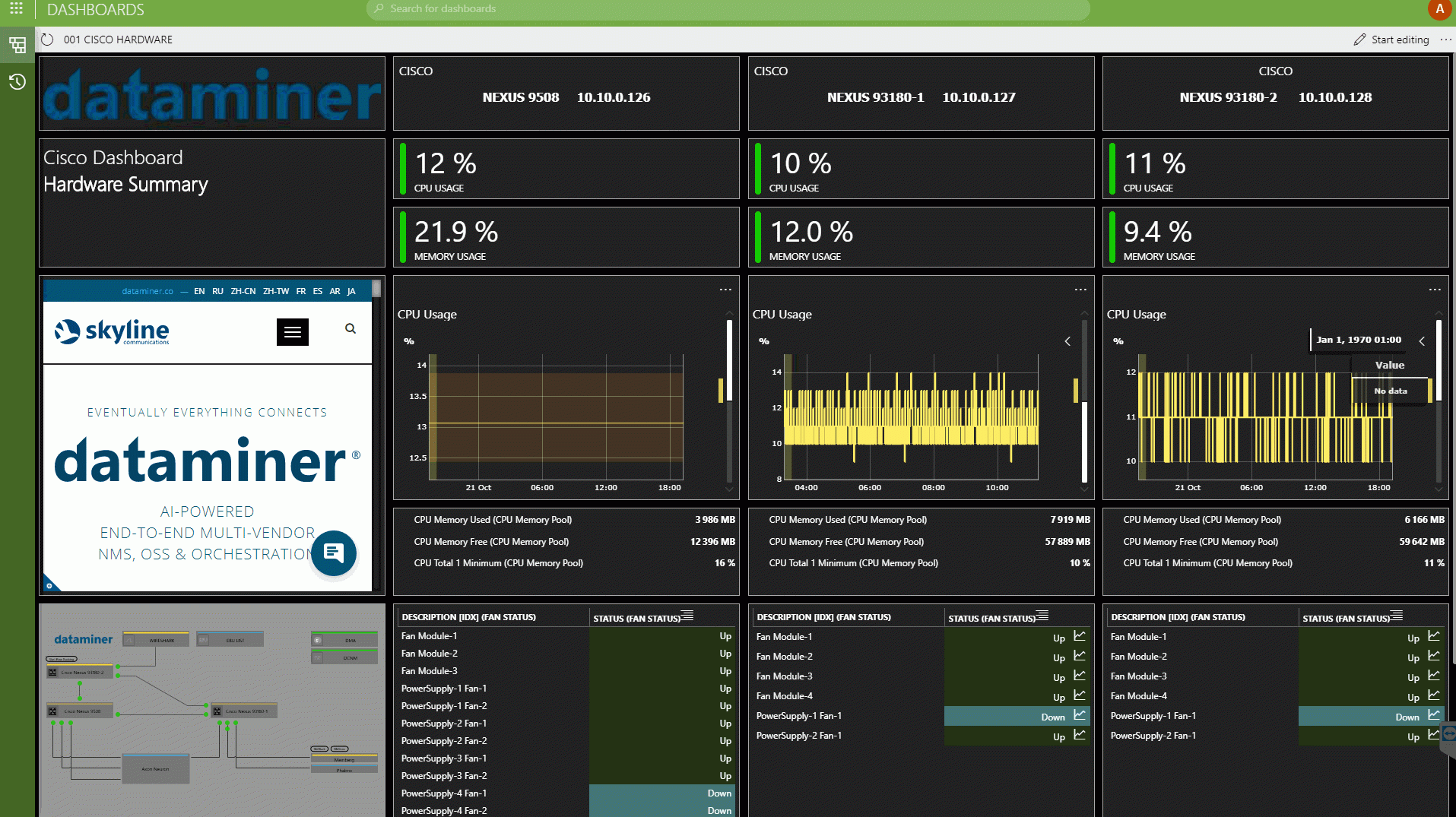 USE CASE
The DataMiner Cloud Platform includes a great many services, such as real-time dashboard sharing with multiple tenants and enterprises. If needed, DataMiner creates teams and channels in Microsoft® Teams and even participates as a live chatbot in conversations with operators and customers… Who else could respond better to "show service status" or "show element configuration", just to give some examples? The same is possible with Slack or other collaboration tools that may be in use in the organization.
Digital transformation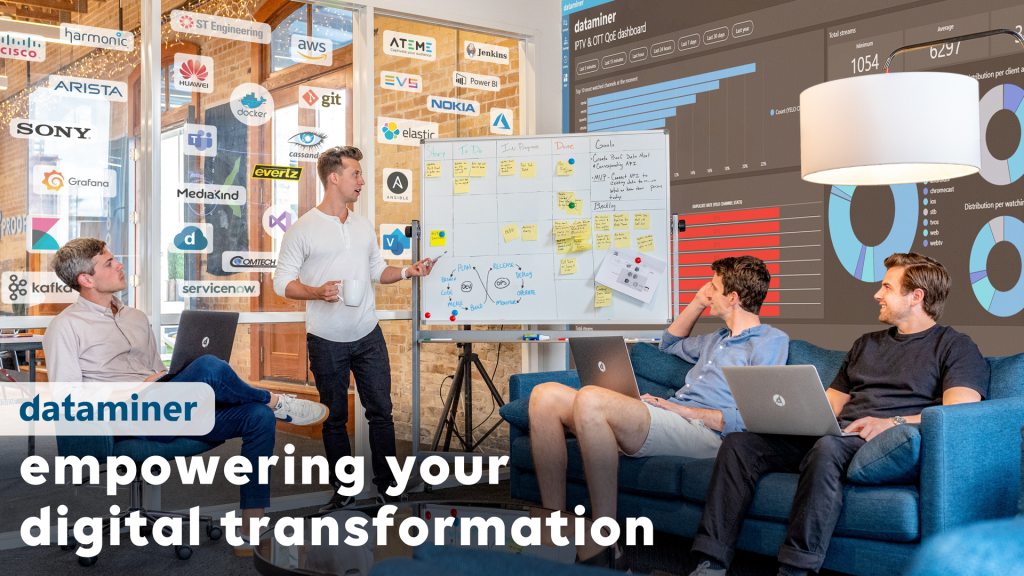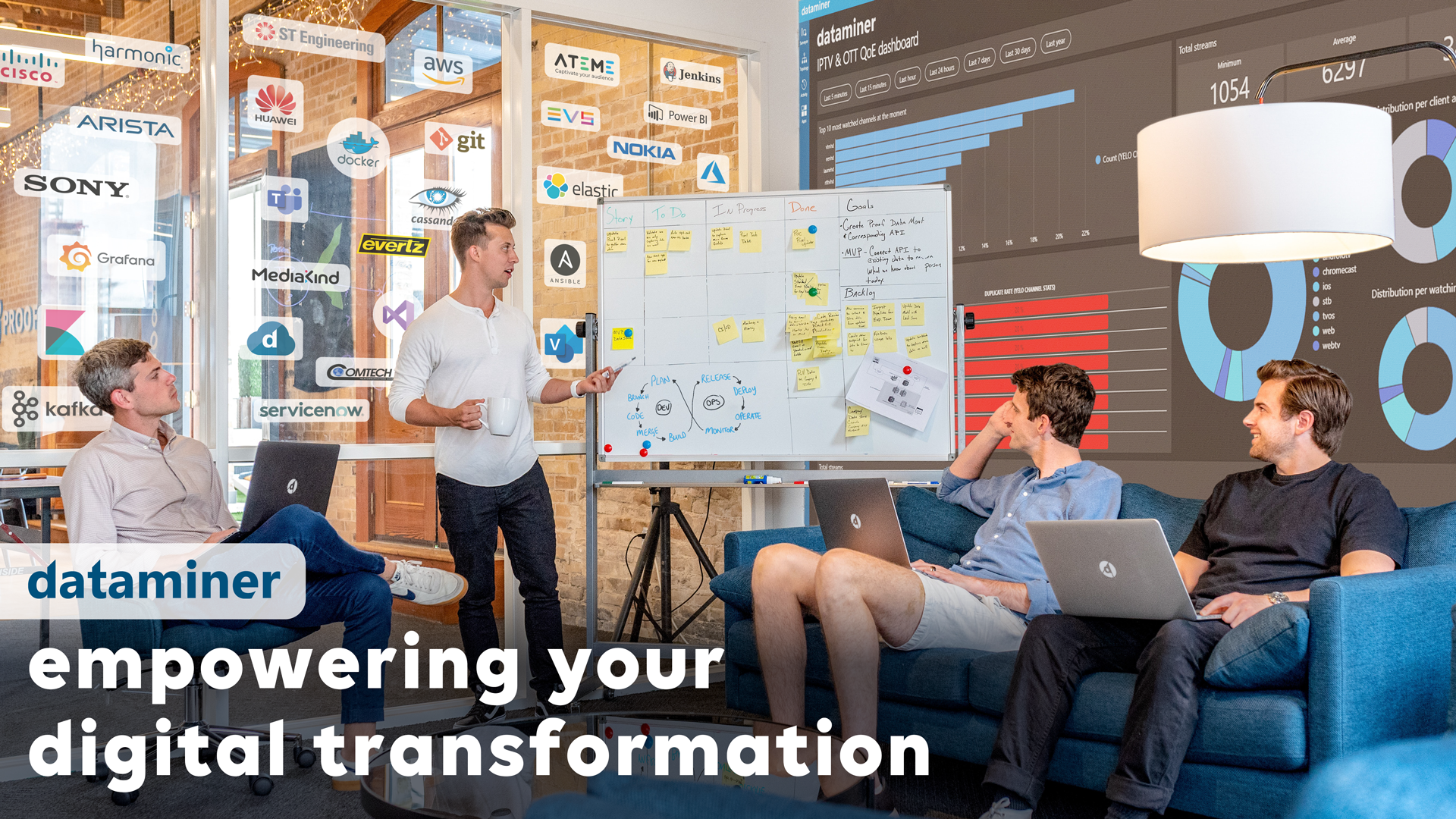 DataMiner is the platform of choice to support service provider organizations in becoming more agile, data-driven and flexible.
The DataMiner Digital Transformation Suite is powered by industry-standard Business Process Model and Notation (BPMN) and comes with a variety of user tasks, script tasks that are easy to create, and activities that can be executed in a resource-limited environment. The DataMiner Process Automation (PA) engine is complemented by DataMiner Object Models (DOM), a powerful technology to develop and operate administrative data in hours rather than days!
---
Let's talk about your project
Are you interested to know if this standard solution also offers possibilities for your project? You can either ask your question right here on our Dojo community. Or, if you prefer the more personal touch, you can also contact your local sales representative. Either way, our DataMiner experts will be happy to discuss all the possibilities with you, down to the smallest detail.
Associated Markets:
Service Providers
Service Providers - Broadband
Service Providers - Broadband - WiFi