Enterprise B2B Wi-Fi Networks
DataMiner's proposition for business Wi-Fi networks enables network providers to use a single platform for the management of their entire network ecosystem, regardless of the size or type (single or multi-tenant) of the network, or the standard or supplier of the different components. The network's entire lifetime is supported, from initial setup and provisioning, across daily operation, up to upgrades and configuration optimization. Straightforward access is available to information about configuration, status, load, latency and usage for network, components (e.g. access point) and clients. With powerful fault and performance management and OSS integration options, DataMiner is the "one-stop shop" for all operators seeking to maximize customer satisfaction (CSAT) as well as operational efficiency (minimizing OPEX).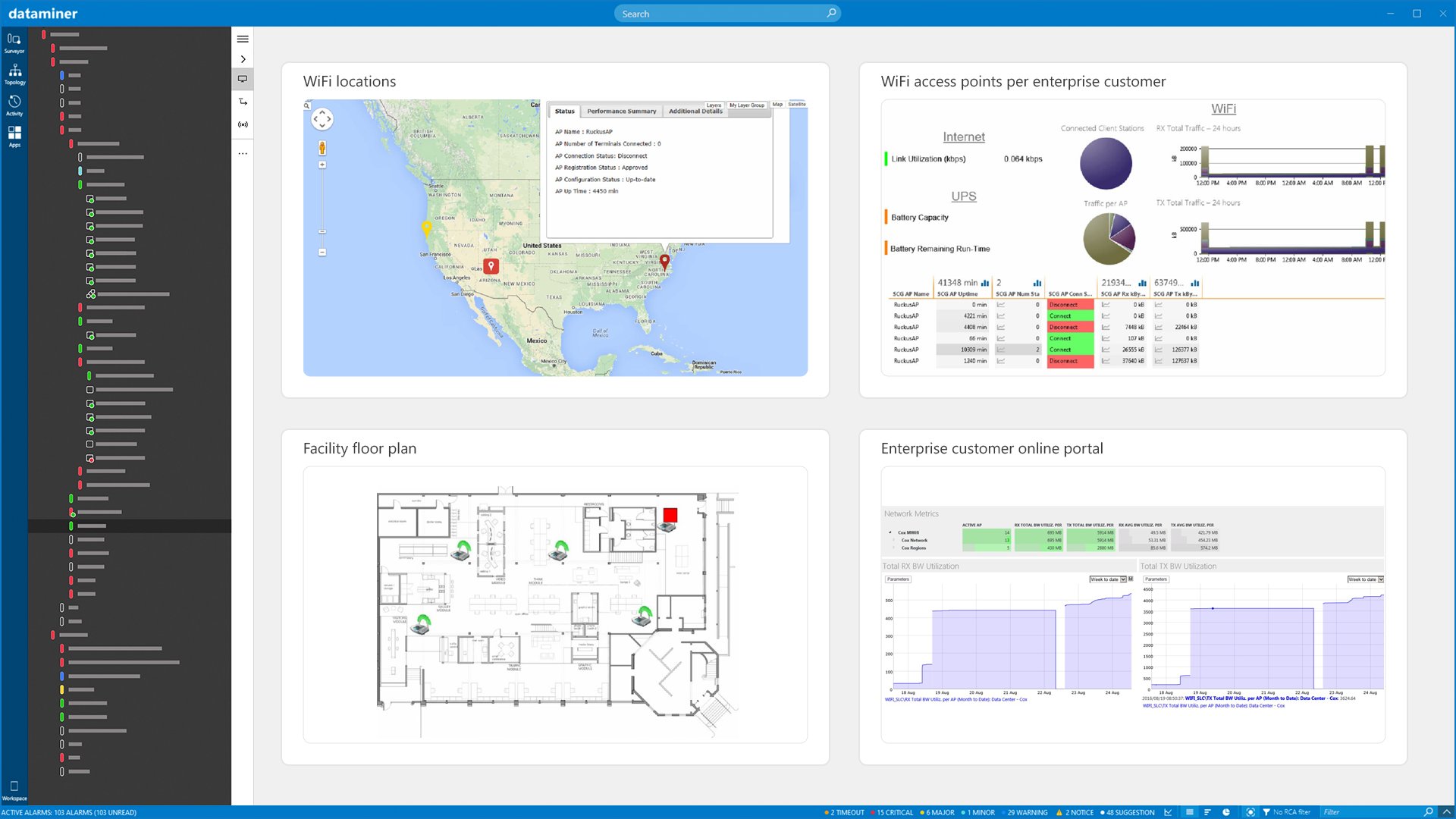 A supplier-agnostic platform, enabling operators to combine a single management plane with absolutely any selection of different network elements.
Standards-agnostic: Covering all standards (WIFI4 or IEEE 802.11n, WIFI5 or IEEE 802.11ac, WIFI6 or IEEE 802.11ax), all bands (2.4 GHz and 5 GHz), and all RF technologies (DSSS, FHSS, HR-DSSS, OFDM), channels and radio types (SISO, (MU)-MIMO).
Support for networks of any size, from single-office or campus networks to multi-tenant setups or clusters, including multiple networks spread across a bigger geographical area.
Straightforward access to configuration, status, load, latency and usage information for network, access point or client components.
Support for deployment, provisioning, operation, and optimization, including workflows such as background scanning, power adjustment and channel migration for maximizing coverage and minimizing interference, optimizing roaming, etc.
The full IT stack is covered, including the physical, data link, network, transport and application layer, with the possibility to customize KPI and KQI sets to perfectly match the system's operational and business requirements.
Flow monitoring: Visualization of traffic per application, protocol, source or destination IP address, etc. using protocols such as NetFlow, SFlow, JFlow, etc.
Data aggregation and filtering capability to enable zooming in to specific networks, LANs (SSIDs), network elements (AP or controllers), or client devices (both single units or groups).
AI-assisted data trending to provide crucial support for workflows such as capacity planning and troubleshooting.
Powerful fault and performance management and OSS integration options maximize efficiency in network operations and unlock true closed-loop operation.
Synthetic testing to verify the performance of the network in general (e.g. up/download speed, latency, etc.) or of specific components (e.g. captive portal, DNS server, etc.), to verify compliance with service-level agreements (SLAs).
Firmware and configuration management.
Dashboard sharing with e.g. tenants or contractors in the context of SLA reporting or to support maintenance associated with specific trouble tickets.
Associated Markets:
Service Providers
Service Providers - Broadband
Service Providers - Broadband - WiFi