Direct-to-Home broadcasting (DTH)
Direct-to-home (DTH) broadcasting, in many cases satellite broadcasting, is consumed by more than a tenth of the world population today, with many thousands of TV channels available on satellite DTH platforms. Naturally, with a business model built upon "uplink once" and "consume endlessly", a satellite DTH system needs to be secure and robust. Every uplink, RF carrier and program may have multiple hundreds of thousands of viewers at any given time. During high-profile events, the number of consumers tuned into a single channel may even run into millions. Secure and reliable operations are largely the result of automation. That is where DataMiner plays a pivotal role, managing and orchestrating any DTH platform: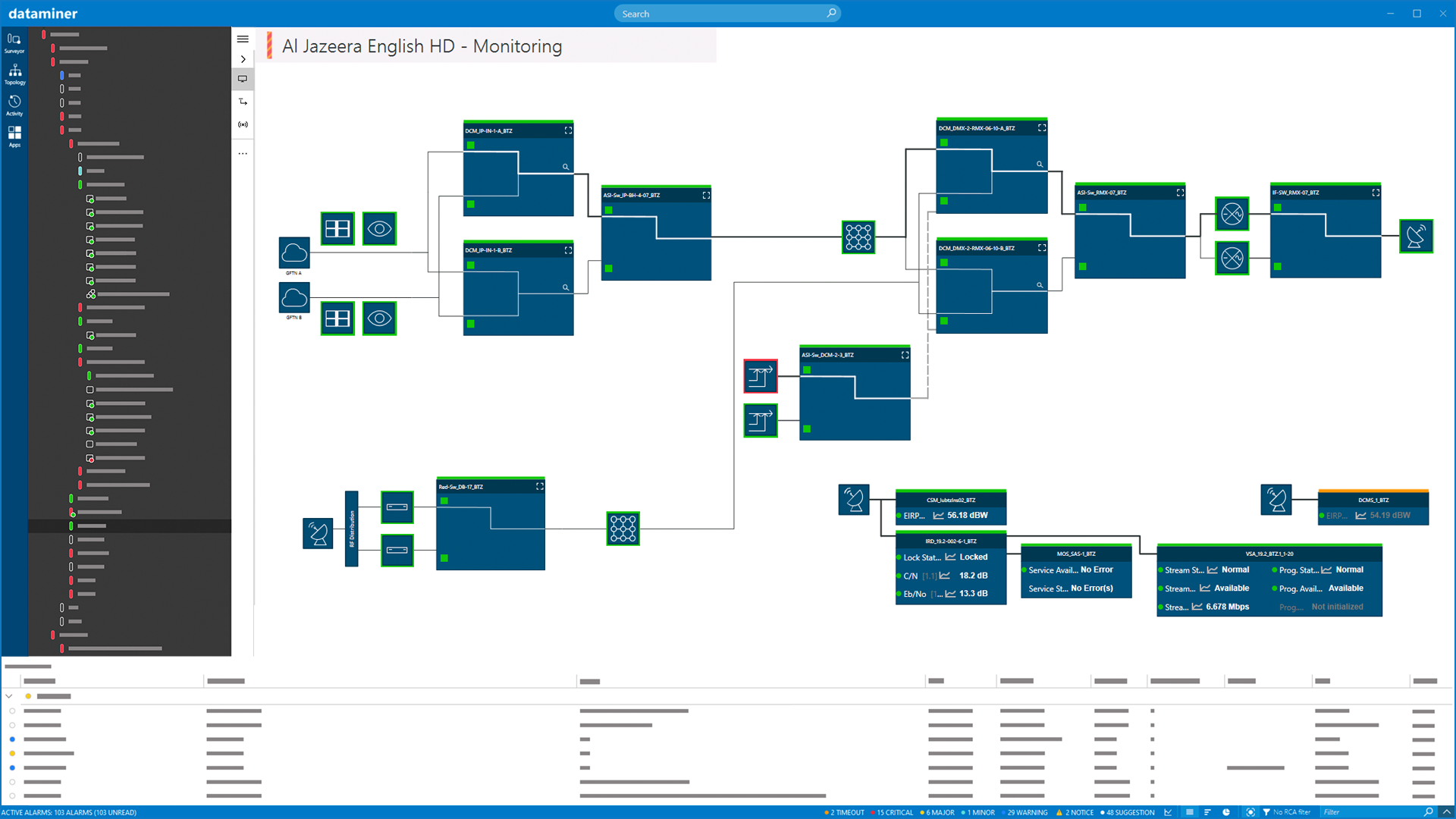 DataMiner interfaces with any local, remote and cloud instances from any vendor or technology supplier: steerable antennas, RF amps and exciters, de-icers, frequency up- and down-converters for any band (C, Ku, Ka, X, etc.), RF MCPS/SCPC modulators and modems for DVB and other waveforms, beacon receivers, video headends for linear and on-demand content, confidence monitoring probes, compliance recorders, multiviewers, spectrum analyzers, cloud transcoders, cloud playout, weather stations, etc.
Optimize your reliability: DataMiner automates geo-redundancy switching including inter-site connectivity orchestration (optical or IP), transport redundancy, element redundancy, source redundancy, etc.
Mitigate the effects of environmental conditions: weather conditions, dust storms, sun interferences, etc. DataMiner automation performs automated corrections where possible to reduce the impact, taking into account the different interference effects on different bands (C-Band vs. Ka-Band). For example, DataMiner automation performs uplink power control (AUPC) by receiving stats from beacon and remote receivers (SNR, EbNo, RF levels), and by controlling the uplink modulator.
Depending on the local receiving conditions, consumers may receive better or worse signals. DataMiner integrates with online weather stations and uses that data to provide instant feedback to operators, all on one single screen. DataMiner can even overlay geographical maps with real-time weather information.
Interference may occur on the satellite broadcast network, either caused on purpose or by operational mistakes. DataMiner retrieves Carrier ID (CID) information from mods and demods. It can also automatically tune a spectrum analyzer to a given transponder slot and measure whether carriers are present or not.
Management of carriers and TV services needs to happen accurately and in a controlled manner. Every wrong configuration may affect millions of viewers. DataMiner Service and Resource Manager (SRM) plans and orchestrates the life cycle of carriers and programs end to end. Indeed, all resources and capacity required in the media headends, RF systems, and even on transponders are carefully reserved by DataMiner to support any planned channel or carrier change. Once the time arrives to implement the change in the network, DataMiner autonomously performs the full orchestration of the infrastructure.
Management by exception: Since channel lineups change very often, schedule-aware confidence monitoring of media and RF is essential to any DTH operation. As DataMiner orchestrates RF carriers and TV channels, it also orchestrates A/V monitoring probes and spectrum analysis probes. As a result, DataMiner always monitors carriers and services that are supposed to be on air, and never generates alarms for carriers and services that are not expected to be broadcast, allowing your operators to focus on what is important.
DataMiner Spectrum Analyzer provides full operational monitoring as well as deep test and measurement capabilities. The spectrum analyzer integrates with any hardware measurement unit and shares the available analyzers to perform round-robin RF signal health checks, deep carrier measurements, or both. The DataMiner Spectrum Analyzer comes with many advanced features such as spectrum capture and recording, advanced visualization and markers, presets, detailed spectrum views and comprehensive spectrum chicklet overviews, advanced alarming based on user defined RF profiles, etc.
DataMiner service assurance and SLA reporting uses any counter and metric from your headend, uplink and probes. In addition, stats retrieved from multiple specialized confidence monitoring probes, test and measurement equipment, test robots, and even synthetic tests executed by DataMiner itself are used to calculate overall service health, availability and performance.
To successfully deliver content, the playout and content acquisition must run flawlessly. DataMiner manages and fully automates TVRO content ingest, as well as file asset ingest and playout. Media functions such as playout, media format conversion, A/V transcoding, subtitle management, compliance recording, etc. are all controlled and monitored by DataMiner.
DataMiner provides an overview of your entire DTH operation from a single pane of glass, and also allows you to orchestrate and monitor your IPTV and OTT platforms. As a result, you not only benefit from having a single orchestration and management platform, but you can also efficiently reuse and share your infrastructure across multiple media delivery platforms, e.g. by operating one single converged headend.
Associated Markets:
Content Distribution
Content Distribution - DTH