Digital News Gathering (DNG)
The value of news is closely connected to how fast it is delivered to consumers. It is therefore essential to have all possible tools at your disposal as a news provider. Whether you contribute through 4G/5G, satellite, fiber or hybrid networks, a number of technical aspects are crucial to providing the fastest and most reliable news service to your customers. DataMiner ties together all these aspects of Digital News Gathering. Whether the challenge is the maintenance of the physical hardware in and around your news vans, the planning of your crews, or the automation and orchestration of live media flows or file flows to your newsroom, DataMiner has you covered, from before you even leave the station, until you are live on air. What does DataMiner have to offer to your DNG operation?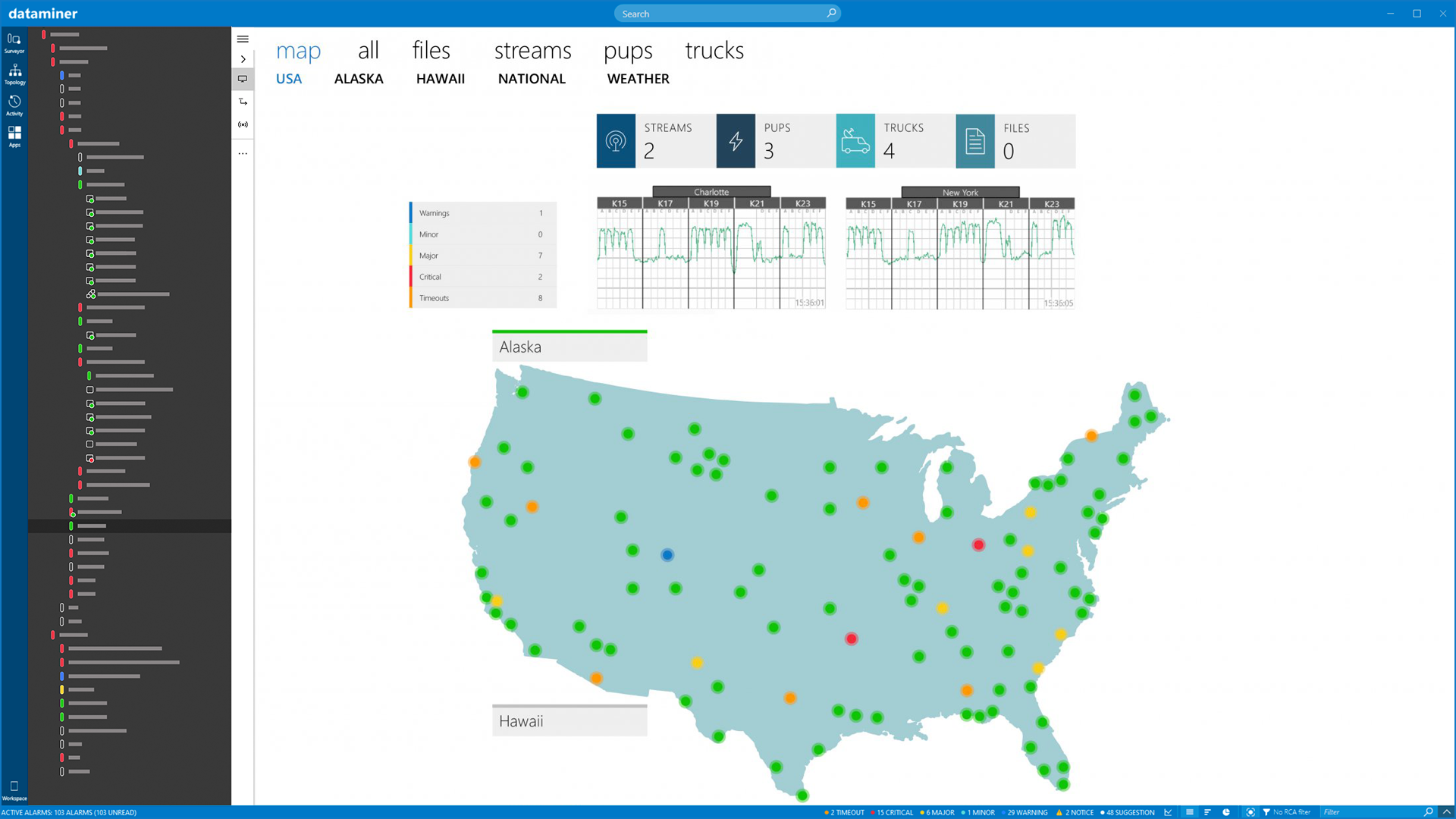 The possibilities for live connections to the station are numerous, but reliable management is neededto make sure the necessary bandwidth is always available. DataMiner manages all your different connection methods (SCPC, 5G or hybrid, VSAT, internet) and orchestrates your network traffic in the most optimal way, all with the focus on optimum availability and reliability in all circumstances. DataMiner supports any connection method, using any hardware from any vendor.

Internet connection monitoring.
SNG monitoring, SCPC and VSAT link orchestration and management.

In case of file-based production, DataMiner orchestrates your flows, enabling smooth transfer of low-res and high-res files between facilities and the field. It also automates the generation of low-res files where needed.

Orchestrate and monitor file exchange through platforms like Signiant, Aspera, etc.
Automate processes (DataMiner Process Automation):

Browse (low-res) file generation.
Transfer of browse and high-res files.
Consolidation of high-res files.
Publication.

DataMiner integrates your flows with media asset management systems, production asset management systems, and your newsroom computer system, allowing your reporters to focus on the story while the technical flows are handled transparently in the background:

Full integration with asset management systems.
Full integration with NRCS systems such as Avid iNews, etc.
DataMiner integrates with any NRCS or MAM system available on the market.

Schedule capacity reservation on your transponders (transponder slot management). Both your crews and equipment need to be scheduled. DataMiner can provide this scheduling for the crews, the vans, and the contribution equipment at the facility, with DataMiner Service and Resource Management (SRM) and Job Manager. DataMiner can even integrate this schedule with your NRCS system, as well as orchestrate your contribution encoders on location and decoders in the NOC, so that operating these is transparent to your users. DataMiner provides advanced capacity management processes to optimize the use of your equipment and data channels.

Schedule trucks, SNG vans, crews.
Schedule contribution encoders/decoders in your NOC.

Orchestration: DataMiner orchestrates the entire workflow in a fully automated or semi-automated manner.
Did every van leave with a complete inventory? Which vans need maintenance, and when is this best planned? With DataMiner inventory management and planned maintenance, keeping track of these issues becomes trivial:

Inventory each truck to ensure completeness.
Planned maintenance (integrated with planning).

Remote monitoring of devices: DataMiner enables technical and in-depth monitoring of your equipment, even when it is on the road. This minimizes downtime and operational cost of your equipment, and maximizes reliability of your operations, by allowing a quick and easy remote diagnosis of technical issues, even before they manifest themselves.

Remote support on news vans.
Remote vehicle management (connection, batteries, etc.).

With AI-augmented operations, DataMiner monitors the evolution of the performance of your equipment, and intelligently predicts when issues might occur, enabling you to solve problems before they can affect operations.
Integration of collaboration tools in your workflows: Whether your organization prefers Slack or Microsoft Teams, DataMiner can provide integration for these tools in your production and contribution workflows in a flexible manner.
Single pane of glass: DataMiner ties together all the aspects mentioned above, enabling you to manage your complete operation with a single user interface, for all your workflows, from content capture, production and playout to linear an OTT distribution.
Metadata-driven: All planning and orchestration benefit from a metadata-driven approach, providing a truly intelligent integration.
End-to-end integration: DataMiner enables you to integrate all your flows, with an infrastructure-independent orchestration platform that runs your production, playout and distribution pipeline on premises or in the cloud.
Associated Markets:
Media Production
Media Production - News Gathering
Government & Defense
Government & Defense - MWR Networks