Channel Playout
The general move to ICT solutions in broadcast and broadband, have impacted your affected playout operations, generating more possibilities, as well asbut also more challenges and questions. What kind of infrastructure to build? How to integrate best-of-breed products into a well-oiled, reliable operation? Will mythis new operation be as secure as it used to be? Whether your playout infrastructure is running on on premises or in the cloud, built upon modular functions or running as a channel-in-athe-box, DataMiner creates full visibility on the operation, and proactively increases channel performance and uptime.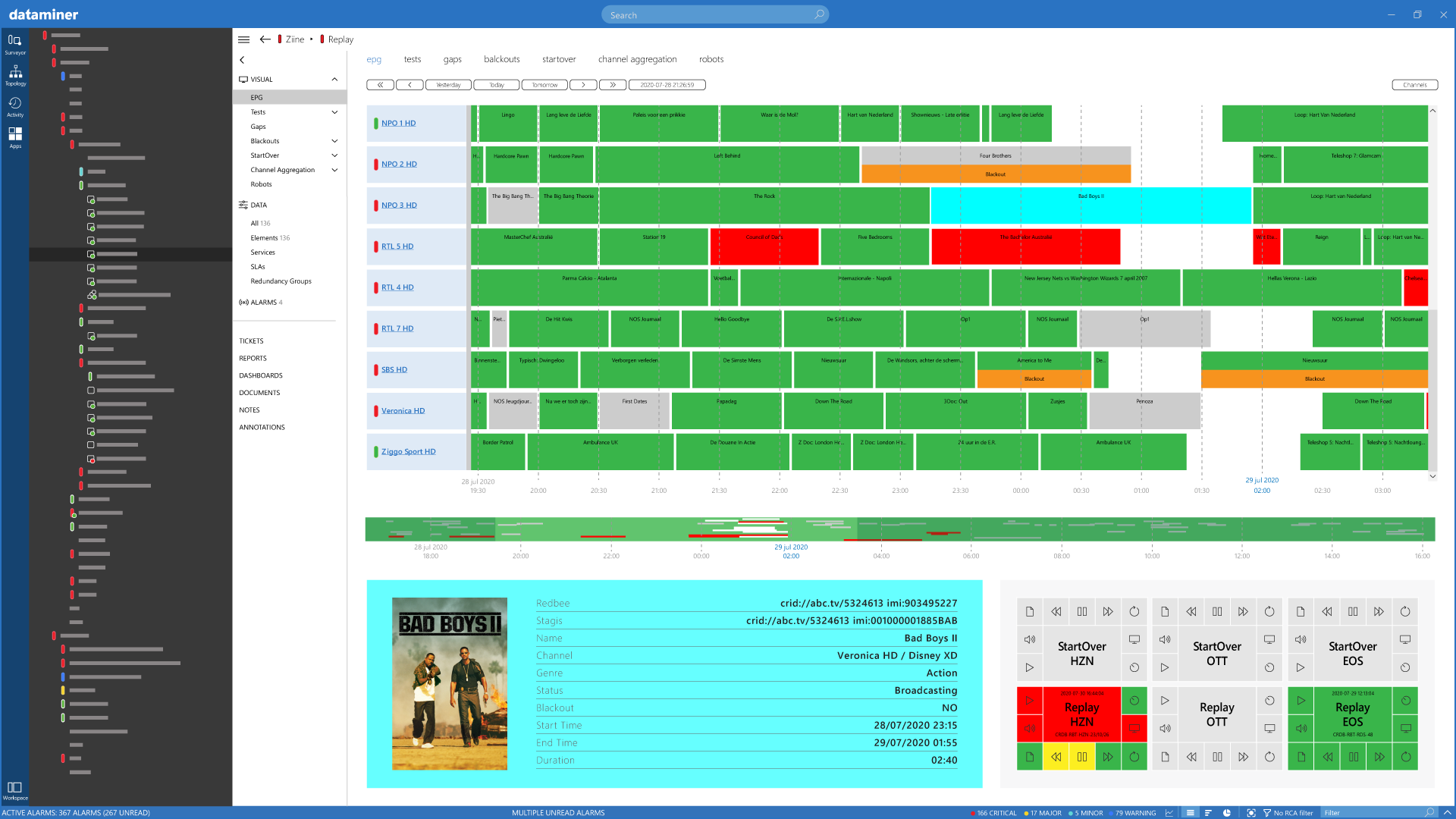 Manage your entire playout ecosystem including deep archive, nearline storage, playout automation system, traffic system, subtitle generators, graphics and logo inserters and monitors, A/V processors, switchers, confidence monitoring probes, multiviewers, analyzers, IT infrastructure, cloud connection and microservices, etc.
DataMiner adapts to any playlist format from any playout system vendor.
Monitor and control your playout chain, whether modular or channel-in-a-box, on premises or in the cloud. With DataMiner, you can even transparently operate a combination of all the above technologies, optimizing cost as well as availability and reliability. This allows you to scale your environment from very small to very large playout systems.
Manage the ingest of channel EPG data (TV Anytime or any other format).
Proactively track and route all your media assets from ingest to QC to distribution: video and audio files, graphics, subtitles, voice-over, metadata, etc.
Report missing media assets ahead of time (late arrival board), and compare actual clip durations with metadata.
Analyze and audit your off-air playlist to detect gaps and overlaps, start-time misalignments, commercial break monitoring, etc. with early-warning lists.
On-air and off-air playlist manipulation such as instant event replacement, event addition or removal, time adjustment, etc.
Configure, orchestrate and monitor all your signal routing and switching (SDI, SMPTE ST 2022, SMPTE ST 2110).
Collaborate: With the DataMiner Dashboards app, you can easily share on-air information, playlists and statistics with anyone inside or outside your organization, while keeping full control and maintaining the highest level of security.
DataMiner integrates with media services as well as with the underlying ICT stack, giving you full stack visibility and control over your playout operation.
DataMiner integrates with any probe and analyzer to perform on-air schedule-aware channel confidence monitoring including A/V formats, metadata format and metadata presence (logos, captions, subtitles, VITC, etc.).
The DataMiner platform provides full-stack, end-to-end service orchestration including distribution headends and streaming platforms for OTT, cable, DSL, FTTx, DVB-T2, ATSC, ISDB-T and satellite DTH.
As broadcasting and playout operations become more connected, DataMiner assists SecOps teams by detecting anomalies and automating security procedures.
Manage your playout operation in confidence, with DataMiner's full operational/business support suite (OSS/BSS).
Associated Markets:
Content Creation
Content Creation - Thematic TV Stations
Content Creation - eSports