The Project Collaboration module, which is part of the DataMiner Cloud Platform, has been launched!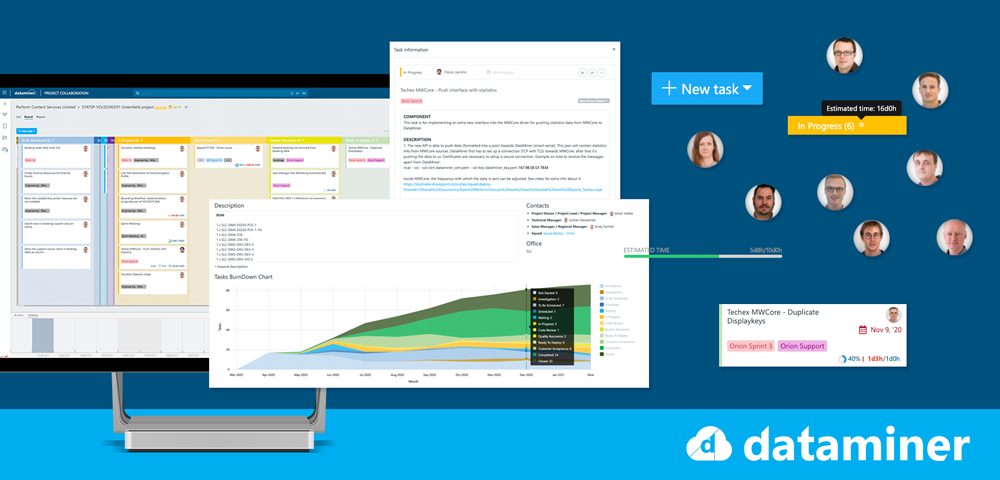 This new cloud module facilitates agile collaboration for distributed DevOps teams and is specifically tailored towards managing deployment and continuous evolution of ICT media and broadband industry ecosystems. It provides a wealth of features for agile distributed squads to intuitively manage all their activities and to track progress as they go along on their quest to deliver maximum value for their business.
The Project Collaboration module is a fully in-house developed solution, natively integrated into the DataMiner Cloud Platform. It is tailored exactly to the activities and processes involved in the agile build-out and continuous evolution of powerful ICT media and broadband industry platforms. This applies to the entire stack, from the development of new interface connectors on the data ingest and control layer, all the way across automation and orchestration workflows to the UIs for the users.
Stats Perform embraces new Project Collaboration module
At Stats Perform, our intention was to create a schedule that covers tens of thousands of live sporting events a year. We would use that schedule to drive our coverage and automate our resources. It needed to automatically route live events to the right products or offices, and manage the capacity of the platform and all the resources that define it.

We were looking for a company that used the same agile methodology as Stats Perform. So many traditional broadcast projects are "waterfall" in their approach and that is simply not how our company works.

Skyline not only could offer us the right software technology to achieve our ambitious objectives, but they were already agile, even sharing their own integration cloud project management tool "Collaborate" with their clients. Skyline's experience in monitoring and orchestration is boosted by their new resource scheduling tool. This greatly simplified the integration of our services, so that one application was able to schedule, automate and monitor our resources. We worked together very efficiently on the launch of the new platform and were delighted to deliver on time and on budget, and exceed our MVP goals.

We look forward to a long relationship with Skyline and to continuing to drive the automation and reporting of the Stats Perform platform to new heights.

Stats Perform
This new Project Collaboration module is all about bringing people together, empowering them to move easily and quickly, so that the users of this community can step into the new era.
Read more about the Project Collaboration module in the full press release.