Satellite Multi-Service Networks
The satellite business has to cope with increased pressure from traditional telcos and content providers. While content distribution mainly happened via satellite in the past, OTT delivery has become more widely available as a standard. In the news gathering business, there is more and more competition from 4G and 5G contribution. The main benefits of satellite networks, however, still remain. Uptime. Geographical availability. The new dawn of satellite is a hybrid one. As a satellite operator, you have to be able to combine multiple services (video, file transfer, telephony, VSAT, broadband, news contribution, etc.), multiple networks & constellations (LEO, GEO, high throughput), terrestrial infrastructure (fiber, cloud), and multiple terminals (mobile, OB van, sports venues, ships, aircrafts) to optimally use the capacity you have. What will give you the edge over the competition is your uptime, (bandwidth) efficiency, and flexibility. DataMiner will enable you to focus on these three points, providing you with full flexibility, and allowing you to focus on expanding and improving your services, while reliably automating your day-to-day operations. That's why DataMiner is a triple win for the future of satellite operations.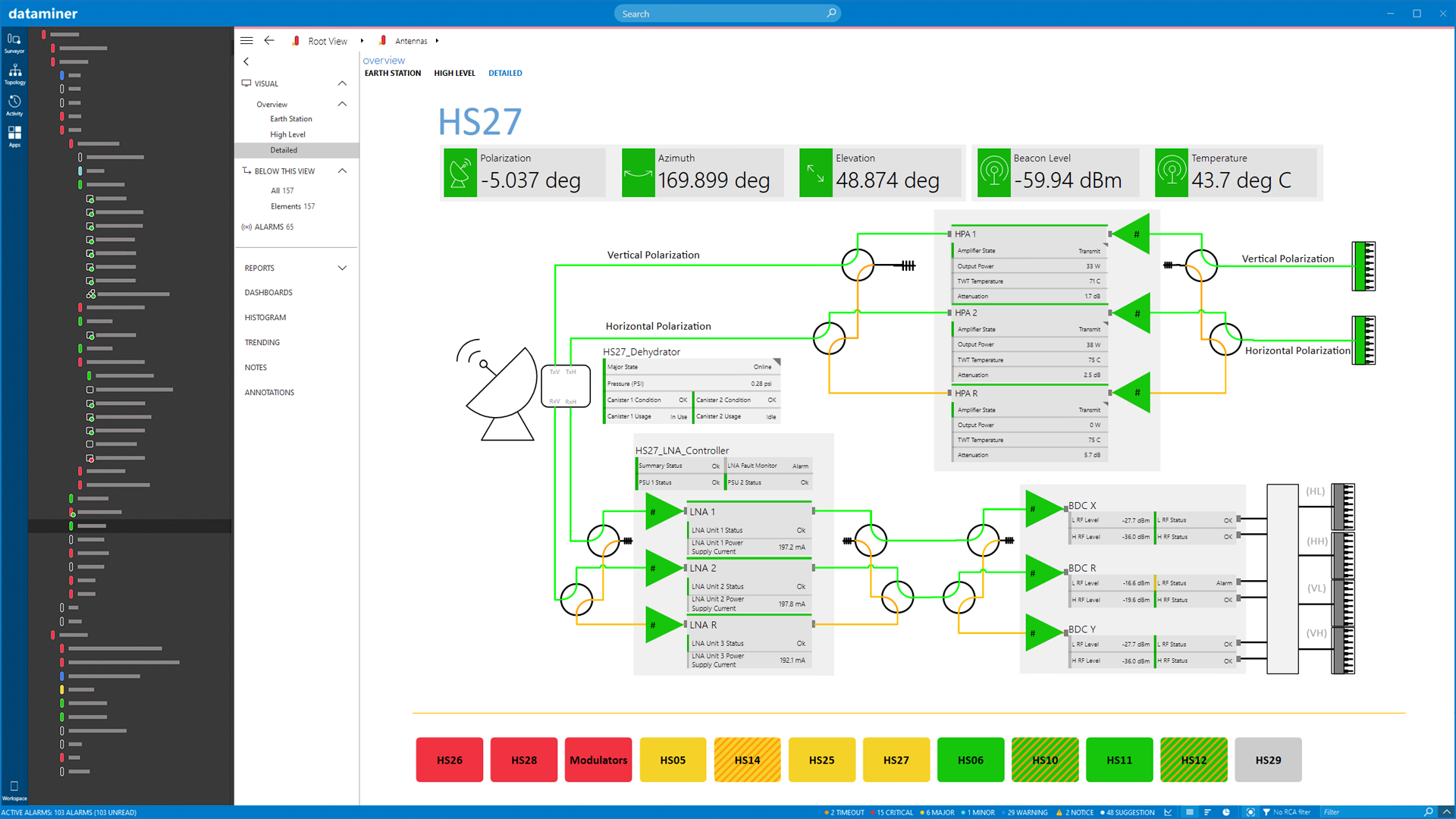 DataMiner monitors and manages any equipment from any vendor, be it hardware or software. This makes DataMiner the ideal companion for your migration from a hardware-based operation to a highly virtualized one.
DataMiner supports any type of constellation: LEO, GEO, high throughput, etc.
Flexibility: DataMiner allows you to manage and automate every part of your operation. This includes your satellite transceivers and modems, but also your ever increasing ICT infrastructure, through the complete ICT stack, including fiber links, network infrastructure, bare metal servers, containerized environments, or cloud environments. This way you'll have the flexibility you need to build hybrid services.
Uptime: DataMiner helps increase your uptime even further, automating complex processes, dynamically switching infrastructure upon occurrence of errors, but also automating manual procedures that could be prone to user errors. With features like synthetic testing and AI-assisted operations, you are sure to work with industry-leading fault management solutions. With our automation engine, integrating with weather services, you can even schedule the right backups before predicted solar events, etc.
Efficiency: DataMiner improves your efficiency, scheduling services optimally for transponder usage (e.g. file transfers at night) with DataMiner Service and Resource Management. DataMiner allows you to spin up services on the fly, as needed, and provide intelligent redundancy management, further optimizing your efficiency.
DataMiner spectrum management also improves your efficiency and uptime, by intelligently monitoring your spectrum.
DataMiner manages upgradeable payloads and upgradeable ground stations, managing virtual services, on premises or in the cloud.
Fully automated news gathering, hybrid with fiber, broadcast distribution, DTH, and DTT.
With DataMiner, you can profit from new technologies like SDN control and virtualized networking, adding DevOps-style flexibility. This will give you the competitive edge.
Multi-Service: Combine different services in a satellite network—such as OTT, data, TV, OD, as well as broadband, voice, media, etc.—thereby closing the digital divide and optimizing transponder capacities.
Multi-Network: Manage regular and high-throughput networks, LEO and GEO constellations, and optical links between satellites. Combine all of this with the management of terrestrial infrastructure (fiber converged, cloud, etc.) to build a true multi-network environment, providing optimal services to the customer. DataMiner will manage all networks as one and take care of the necessary capacity planning and reservations.
Multi-terminal: DataMiner allows you to connect with any product out there. DataMiner manages infrastructure down to the vessel, OB, sports venue, mobile terminal, or any other terminal. Use multiple kinds of terminals in one network. DataMiner manages not just modems, but the full terminals including video codecs, DTT transmitters, VSAT links, and the full transmitter sites including all ICT infrastructure.
Multi-infrastructure: Manage all different technologies—bespoke hardware (RF, VSAT, flat array antennas, tunable antennas), software infrastructure (whether virtual, on premises or containerized), etc.
VNO management: Manage your VNO services, including OSS and billing management with our Job Manager and OSS integrations.
Do you want to know more?
Associated Markets:
Service Providers
Service Providers - Satellite
Service Providers - Satellite - Satellite Operators
Service Providers - Satellite - Media
Service Providers - Satellite - Broadband & ISP
Service Providers - Satellite - Cellular (Cellular Backhaul & Trunking)
Service Providers - Broadband
Service Providers - Broadband - VSAT