All-IP SMPTE-2110 infrastructure

and media-over-IP monitoring

March 01, 2019

Our industry is continuously striving to improve the user experience while lowering cost. New IP-based media transport standards such as SMPTE 2022/x and SMPTE 2110 are the perfect data plane to achieve just that, as they allow for higher bit rates and quality, and they facilitate route diversity between video, audio and metadata flows. However, they also bring many challenges, including monitoring of a large number of IP streams, capacity planning, controlled switching of IP streams (SDN), and much more. With a real-life example, this webinar showcases how complex IP-based systems can effectively be monitored by broadcast and IT teams.
Your host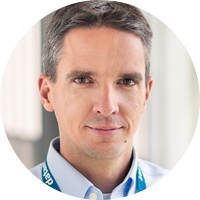 Thomas Gunkel
Market Director Broadcast
Skyline Communications
Our DataMiner Dojo Community allows you to connect with a global community of peers. Exchange ideas and experiences, leading you to new insights. Create your account at the click of a button