Automate your business – digital transformation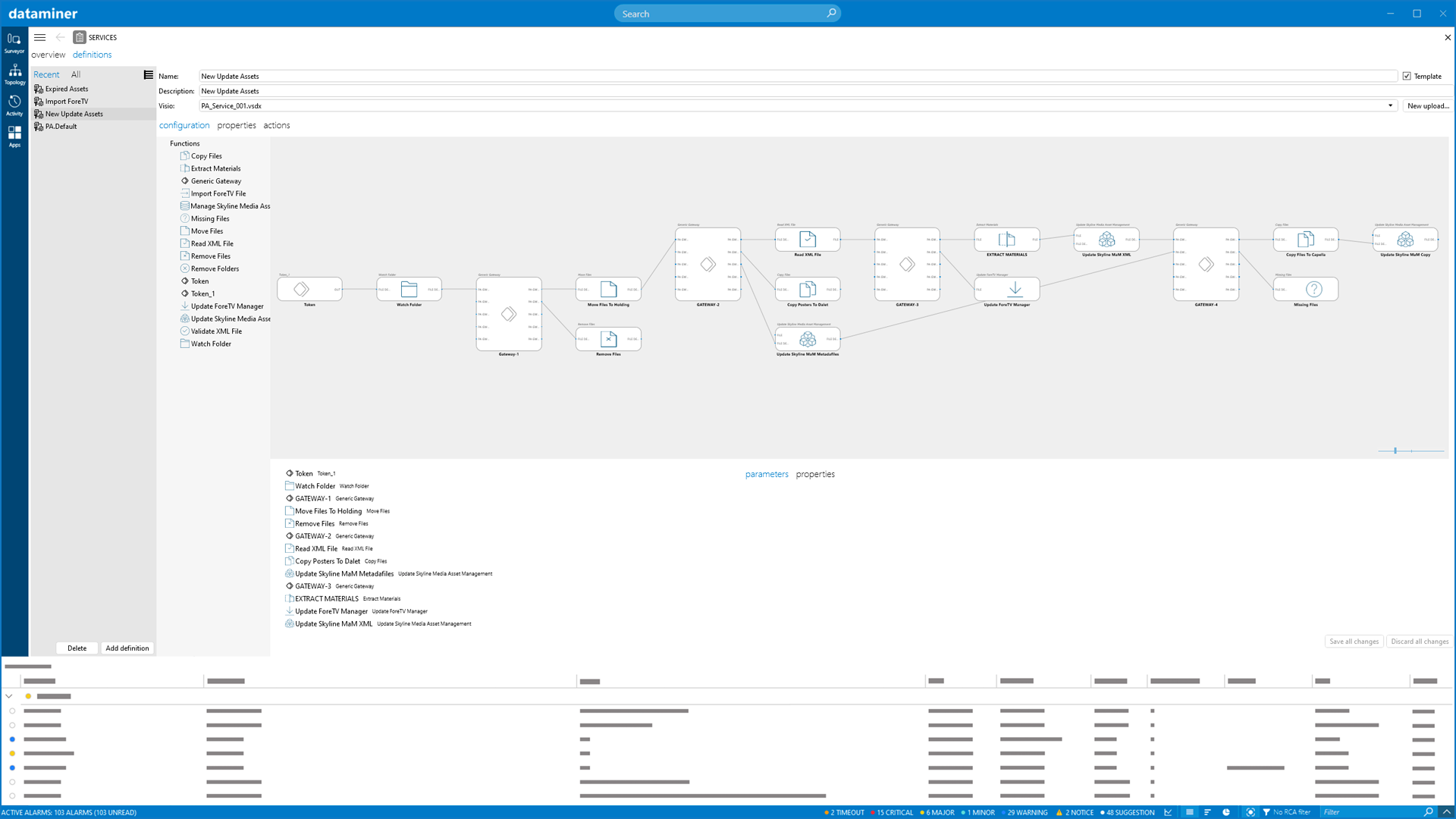 Many companies are accelerating their digital transformation programs, building a more efficient organization and delivering a better quality of service to their customers. Transformation programs touch many different areas of their business: commercials, operations, engineering, human resources, etc. One common and core capability organizations need is automation. Process auditing and redesign is where the transformation starts, automation is the technology that gets it done. DataMiner is an ideal fit for your process automation.
DataMiner process designer is built upon an industry-standard Business Process Model Notation (BPMN as defined by the Object Management Group OMG).
Design and run your processes instantly in an agile manner. DataMiner is a DevOps platform and enables constant process improvement.
DataMiner Process Automation (PA) allows you to design processes and data models, execute them, and monitor and optimize running processes.
DataMiner is the key engine to automate processes top-down:

Business processes, such as creation of a job based on an incoming purchase order, triggering billing systems when a service has been delivered, etc.

Operational processes, such as ticketing and incident management, network maintenance, network implementation, inventory management, etc.

Technical processes, such as service life cycle orchestration (LSO), network audits, network security, etc.

Select from a catalog of off-the-shelf process activities or create your own custom activities.
Make use of the out-of-the-box open API,allowing you to integrate and send messages with any third-party system. DataMiner can trigger external processes, or the other way around. This allows you to automate processes across the entire value chain, from supplier to partner and customer, whether on premises or in the cloud.
As processes rely on technical and/or human resources to execute well, the DataMiner unique resource planning and reservation technology is fully integrated with process automation
Processes can run permanently or be activated according to specific time schedules. You can for example opt to run synthetic testing only during nighttime, or process incoming jobs only during business hours.
Build your data lake with DataMiner: It is essential for your digital transformation to not only possess the right data but also be able to process it. With the DataMiner Generic Query Interface (GQI), a single query language and API that allow you to query, filter and aggregate vast amounts of data, you can get the most out of the data you collect in your DataMiner data lake, no matter how that data is retrieved or stored. GQI is completely agnostic towards the underlying data it queries.
DataMiner GQI works with real-time data, providing you with a real-time view on your entire operation.
Query DataMiner from any third-party application through the GQI open API.
DataMiner monitoring, on a technical and business level, integrates with your existing OSS/BSS systems, be it for ticketing, SLA-level monitoring, etc.
With the DataMiner Dashboards app, you can easily share information and collaborate with colleagues inside or outside your organization.
DataMiner assists SecOps teams by detecting anomalies and automating security workflows, so that security is built into your operations from the start.
Associated Markets:
Service Providers
Service Providers - Cloud
Service Providers - Cloud - IoT
Service Providers - Satellite
Service Providers - Satellite - O&G (Energy, Oil, Gas)
Service Providers - Network
Service Providers - Network - Media
Service Providers - Network - ICT
Government & Defense
Government & Defense - Disaster Recovery