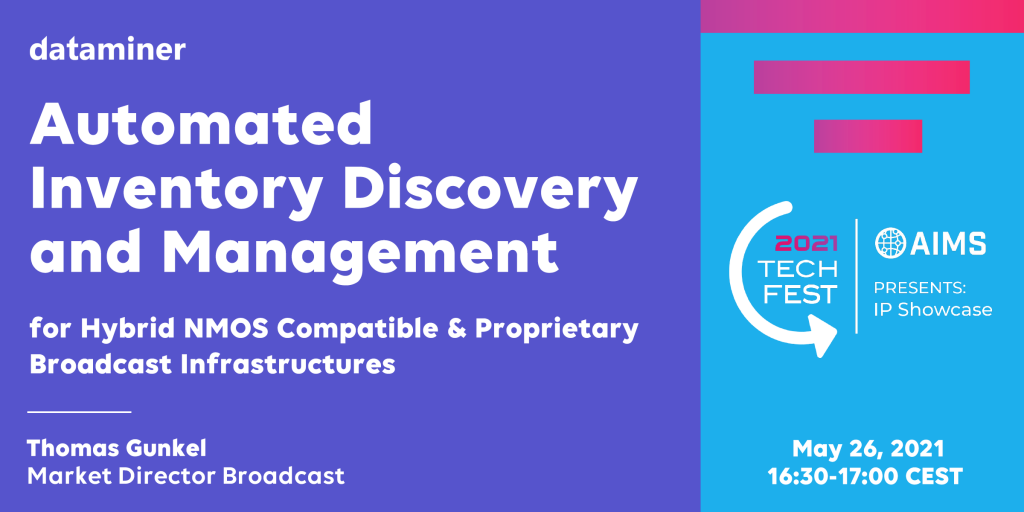 On May 25th and 26th, AIMS is organizing the AIMS TechFest. AIMS is an industry consortium dedicated to an open-standards approach to efficiently move from legacy systems to a virtualized, IP-based environment. The AIMS Techfest will focus on the great progress that has been made in moving to all-IP ecosystems.
On the second day of the event, Thomas Gunkel joins in with a presentation about Automated Inventory Discovery and Management for Hybrid Compatible & Proprietary Broadcast Infrastructures. Tune in on May 26th to watch it live!
Full agenda:
Wednesday, May 26, 16:00 to 19:00 CEST
16.00 – 16.30

IP Video/Audio Taxonomy — A Field Guide
Wes Simpson, Founder, LearnIPvideo.com
16.30 – 17.00 Automated Inventory Discovery and Management for Hybrid NMOS Compatible & Proprietary Broadcast Infrastructures
Thomas Gunkel, Global Market Director Broadcast, Skyline Communications
17.00 – 17.30 IPMX for Broadcast Installations?
Jean Lapierre, Senior Director, Advanced Technologies, Matrox
17.30 – 18.00 ST 2110 Over WAN — The Conclusion of Act 1
Andy Rayner, Chief Technologist, Nevion
18.00 – 18.30 ST 2110: Monitoring the Future of Live Remote Production
Kevin Salvidge, European Regional Development Manager, Leader Europe Ltd.
18.30 – 19.00 The Once and Future Impact of Moore's Law on Networking
Robert Welch, Principal Engineer, Arista Networking
---
AIMS TechFest is a series of live interactive virtual events. AIMS is committed to ongoing education around the use of open standards for media over IP, and these new virtual events will offer fresh perspectives on the value IP in broadcast and Pro AV workflows.
TechFest is also an opportunity to meet up with peers from across the industry to discuss current approaches to standards-based IP deployment and an opportunity for interaction and networking. Participants can move freely in a dynamic, online environment including a reception area and main stage, two meeting rooms just for meeting up with industry friends and colleagues, and specific rooms dedicated industry topics.